Black Fungus Reported Among Survivors of COVID in India, Some Patients Lose Eyesight
Cases of potentially serious black fungus infections have been reported in patients who have recovered from COVID-19 in India, according to news reports from the country. The infections, found in several hospitals in Delhi and Gujarat, are said to be responsible for at least eight patients losing their eyesight.
An expert from the U.S. Centers for Disease Control and Prevention (CDC) told Newsweek that the agency knew of the black fungus reports in India.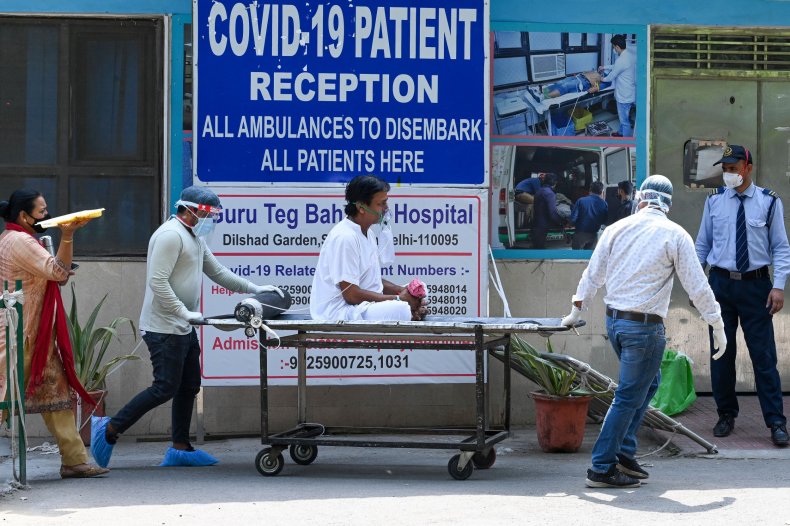 Black fungus infections—scientifically known as mucormycosis—have been found in at least 40 COVID patients in the western state of Gujarat, according to several major Indian news outlets. Though usually treatable, when left left untreated, mucormycosis can cause vision loss and increase mortality.
"We're aware of the reports of mucormycosis cases in India," Dr. Tom Chiller, head of the fungal branch at the CDC, told Newsweek via email. He also noted reports of cases of Aspergillus mold infection in patients with COVID-19 around the world.
India has recorded more than 21.4 million confirmed COVID-19 infections and at least 234,083 deaths. The country set a global record of 414,188 new cases in the past 24 hours. The 40 cases of mucormycosis that were recorded in Gujarat came from the city of Surat within the past 15 days, according to India Today.
The CDC's website notes black fungus is a rare but serious infection caused by naturally occurring molds or fungi classified as mucormycetes. It's commonly found in soil, leaves and animal dung. The fungal infection often affects the sinuses or lungs after the fungal spores are inhaled, but skin infections can result after cuts, burns or other injuries. The CDC reports that mucormycosis cases have an overall all-cause mortality rate of 54 percent, but it's unclear what the rates are for COVID patients.
Reports have previously linked the increased risk of the fungal infection with COVID-19, including a case study in an April 2021 issue of The BMJ medical journal of an Indian woman who got mucormycosis after recovering from COVID. Black fungus isn't considered dangerous to people with healthy immune systems, but individuals with low immunity—such as the diabetic woman in The BMJ study—are thought to be more vulnerable.
Dr. Anna Q. Yaffee, an emergency medicine physician and epidemiologist at Emory University and Grady Memorial Hospital, explained the likely way in which those first infected with the virus may then get mucormycosis. She told Newsweek: "Since steroids are a treatment given in some COVID patients, it is plausible that they could become infected with this fungus as the steroids could create an immunocompromised state."
This isn't the first time Gujarat has sounded the alarms about mucormycosis. In December, the state issued an advisory about the infection following its discovery in some patients who recovered from COVID.
Gujarat isn't the only area where cases have been reported, either. Dr. Atul Gogia from Delhi's Sir Ganga Ram Hospital told The Independent,in an article published Friday, that his hospital is seeing "at least a case of mucormycosis every day, but it is nothing unusual."
India also isn't the only country where the infection has been found in COVID patients.
"While surveillance of mucormycosis is limited, we have been seeing some of these types of cases in the United States," the CDC's Dr. Chiller told Newsweek. "Fortunately, they appear to be quite rare. Fungi are ever-present and can act in unpredictable ways, so it's important for clinicians to be aware of the potential for fungal infections among COVID-19 patients."