COVID-Positive Couple 'Knowingly' Board United Airlines Flight, Get Arrested
A couple have been arrested after boarding a Hawaii-bound flight despite testing positive for the COVID-19, state authorities said on Wednesday.
Wesley Moribe, 41, and Courtney Paterson, 46, of Wailua, on Kaua'i island, face reckless endangering charges after police said they put passengers "in danger of death." They have also been banned from United Airlines flights.
The couple received their positive results after taking part in Hawaii's pre-travel testing program, which allows travelers to get tested before taking a flight to the state.
However, the couple allegedly ignored warnings not to travel, left a quarantine station at San Francisco International, and boarded a United Airlines flight to Lihue.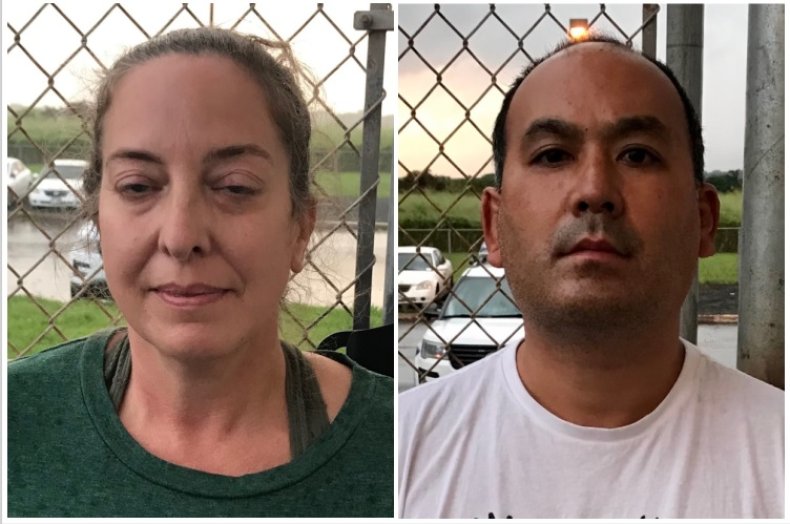 The two were stopped shortly after landing and arrested, before posting bail of $1,000 each and being released. A 4-year-old, who was traveling with the couple was given to the care of a family member.
"Despite knowing that they both tested positive, the couple ... still decided to board a United Airlines flight," Kaua'i Police said in a statement.
It added: "They knowingly boarded a flight aware of their positive COVID-19 test results, placing the passengers of the flight in danger of death."
There were 16 active cases of coronavirus in Kaua'i as of Wednesday, bringing the total since the pandemic began to 137.
Since December 2, all travelers arriving on the island must self-quarantine for a minimum of 14 days, regardless of whether they have tested negative.
Police chief Todd G. Raybuck added: "We continue to request visitors and residents alike to follow the Governor's Emergency Rules and take all necessary precautions to prevent the spread of COVID-19." Authorities "remain diligent in protecting the health and safety of our island," he added.
United Airlines passengers must acknowledge that they have not been diagnosed with COVID-19 in the last 14 days before flying, according to the airline's policy.
The company said it is investigating the incident and has banned the couple from using its airline, according to the Los Angeles Times.
In a statement to the newspaper, it said: "The health and safety of our employees and customers is our highest priority, which is why we have various policies and procedures in place as part of a multilayered approach to create a safer travel environment, including mandating that everyone onboard wears a mask."
Newsweek has reached out to United Airlines for further comment.
Update 4/12/20: This article has been updated to include photographs of Moribe and Paterson, as well as additional comment from Kaua'i Police.