COVID-Positive Girl Joins Family Christmas Dinner From Inside Plastic Bubble in Viral Clip
One New York family tried to make the best of an unfortunate situation when a family member tested positive for COVID shortly before Christmas. In the video now viewed over 10 million times on TikTok, @cristalarock posted her sister sitting in a plastic bubble while eating Christmas Eve dinner with the rest of the family in New Hyde Park.
"When your sister gets covid for Christmas ... ," she writes over the video.
Commenters were mixed on the family's decision to include the COVID-positive family member for dinner. Some chimed in to say the idea was "awesome" while others said the makeshift invention was "not doing a thing."
Crista LaRock told Storyful that everyone in the video lived together and that there was no extended family present.
"We included my sister in a way that worked for us!" she said.
In November 2020, Newsweek reported that Domenico Sartor nursing home near Venice, Italy, had placed a special anti-contagion curtain in one room to create a "hug room" where residents could embrace loved ones safely.
In August 2020, caretakers at the Tuscan Gardens of Venetia Bay assisted-living facility in Venice, Florida, installed their own hug walls made of curtains with arm holes cut out where family members could stick their glove-covered hands through, WFTS-TV reported at the time.
If one person in a household tests positive for COVID-19, it is important that that person isolates themselves as best as possible, ABC News reported.
"In a perfect world, [the person with COVID-19] would have their own bedroom, bathroom," Dr. Simone Wildes, an infectious diseases doctor at South Shore Health told the outlet.
Additionally, increasing ventilation throughout the home, having everyone who is able mask up and designating a single caretaker are all ways to help reduce the risk of spreading the virus throughout a household.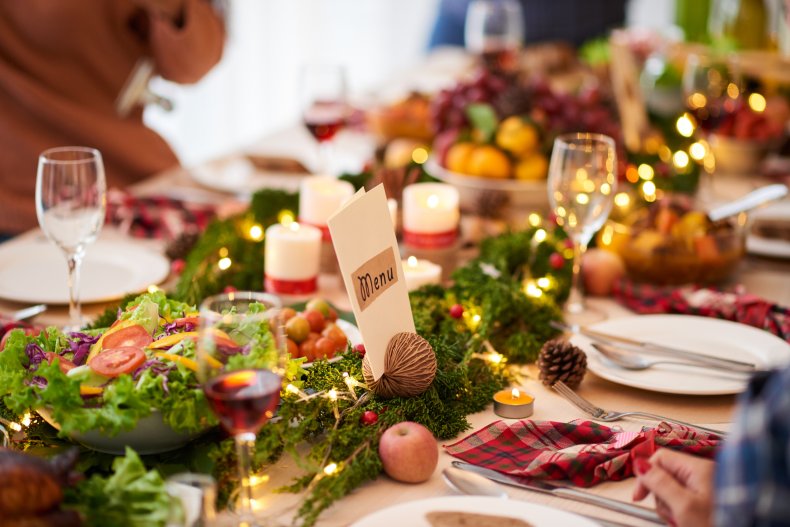 LaRock wrote and pinned a comment to the top of the thread on the video reading, "You all need to relax. We all LIVE TOGETHER and are all vaccinated and tested NEGATIVE," in response to criticism of the video.
"She was in the bubble to eat and spend little amounts of time in. That is what we as a family chose to do," she continued in another comment that was liked over 7,000 times.
One commenter chimed in to say they did not believe the enclosure was fully sealed.
"It is sealed! Enclosed on the top and bottom as well!" LaRock responded.
In the video, LaRock's sister is seen eating, then in another clip, while wearing a mask, interacting with dogs from inside of the plastic bubble.
"Tomorrow is never promised," one commenter added. "This is Awesome."
LaRock told Newsweek in an email that she got the idea from a friend after sharing how "devastated" her sister was about "missing" and "ruining" Christmas.
She said before she knew it, her friend sent her a link to a weather pod that could be used as a "bubble." She ordered it on Amazon and it arrived at her house the next day.
LaRock told Newsweek that she believed that the bubble worked and that no one else in her family tested positive for the virus. On the Sunday after Christmas, she said, her sister tested negative for COVID-19.
"We were safe and cautious while she was in the bubble. She was also only in the bubble to eat on Christmas Eve and Christmas day with us otherwise she was self-isolating in her room!"
Updated 01/12/2022, 5:26 p.m. ET: This story has been updated with comments from Crista LaRock.