COVID Protesters Extend Hotel Stays in Ottawa Amid Reports of Mask Disputes
While many anti-COVID mandate protesters have already headed home, some are reportedly extending their stay in Canada's capital city following the weekend's protests.
Steve Ball, president of the Ottawa-Gatineau Hotel Association, said hotels in the area have seen a number of protesters extend their bookings or rebook for the coming weekend. This is seen by some as an indication that mask and vaccine mandates protests could be prolonged.
"There have been reports that guests have extended their stay and some have rebooked for the weekend," Bell told Newsweek. "This is to be expected and shouldn't come as a surprise to anyone. It is expected the numbers will not be nearly the size of last weekend but time will tell."
Over the weekend, thousands of protesters gathered in Ottawa to protest the federal government's COVID response, demanding that mask and vaccine mandates be reversed and other restrictions lifted.
But many of the demonstrators struggled to find food and housing while in town because they refused to comply with the provincial mask mandate required for businesses like restaurants and hotels.
"We did have a mask issue the first weekend as hotels, like restaurants, retailers and all other indoor spaces are mandated to have guests wear masks or the business can be fined," Ball said. "We asked for leniency from fines as front desk staff cannot possibly manage and enforce this bylaw and it was creating conflicts in some cases with guests at check in."
He said Ottawa hotels saw just under 100 incidents that were reported to local police.
"For the most part I can say that it was reasonably respectful and most guests were having a good time. Very few were masking—that was an issue we ran into once they got into the hotel," Ball also told CityNews Ottawa. "But outside of that, there's always that fringe group that tend to want to make things their own and we had significant amounts of problems this weekend."
"The hotel staff were just trying to do their best to service the guests and meet the standards that are placed upon them," he added. "So, yeah, when someone goes off on one of these people, it's hugely disappointing. And my message is: For God sake, you're asking for respect, please provide some respect."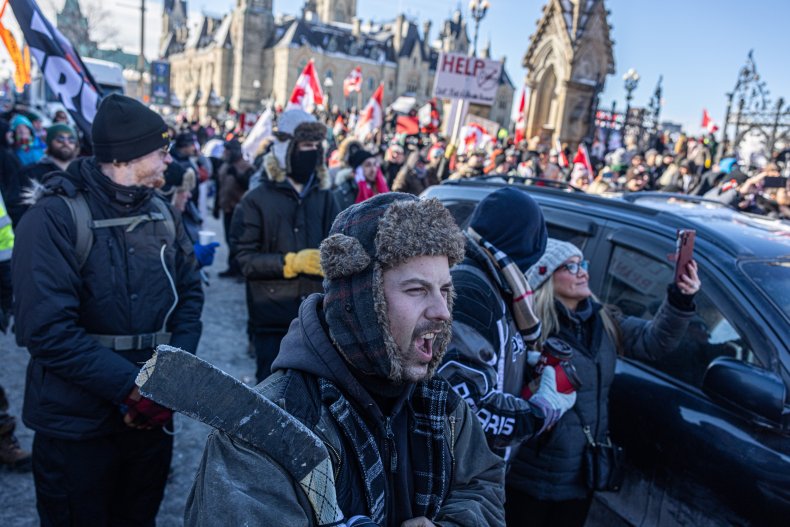 Prime Minister Justin Trudeau condemned the actions of some protesters on Monday after participants were seen waving Nazi flags, harassing local businesses and charity organizations, urinating on the National War Memorial and threatening police.
Trudeau said he will not meet with anyone involved, adding that he, along with other Canadians, "were shocked and frankly disgusted by the behavior displayed by some people protesting in our Nation's capital."
As protesters lingered in Ottawa, Monday was a bittersweet day for local businesses who had hoped to celebrate the province's first day of COVID reopening since the latest lockdown, but struggled to return to normal due to the protest.
"This morning was supposed to be a little bit like Christmas morning," Ball said. "We were getting a taste of back to business and we've all been excited for that. And in my industry in the downtown core, none of that's opening because first of all, they can't get supplies in because of all the road closures. The staff can't get to work. The pools, gyms and restaurants are not opening. Christmas morning isn't happening for us."
Ottawa Police thanked those affected by the protest on Monday, calling those living and working in the downtown core, "patient and resilient."
"We're doing everything possible to mitigate negative impacts on individuals, families, and businesses," police said in a statement shared on Twitter. "Public safety remains our paramount priority. The demonstration has scaled down over the last 12 hours."
Update 02/01/22 4:54 p.m. This story was updated with comments from Ball.