COVID Quarantine CDC Guidelines—How Long You Need to Isolate After Testing Positive
Americans infected with the coronavirus are still advised to follow the guidelines on isolation put in place in 2020 although there are calls for this to be changed. The rules on those in quarantine have been tweaked this month.
There has been a spike in COVID infections, which went to 126,967 new cases per day as of Saturday, according to data from Johns Hopkins University—up from an average of over 70,000 new daily cases per day at the start of November.
Here are the latest guidelines from the U.S. Centers for Disease Control and Prevention (CDC) on quarantine and isolation periods:
What Is the Difference Between Quarantine and Isolation?
A period of quarantine is for those who may have been exposed to the virus and may or may not have been infected.
A period of isolation is for those who test positive for the virus even if they do not have symptoms.
The CDC says unless fully vaccinated, someone must quarantine if they have been in close contact with someone who has COVID-19. Close contact is defined as being within 6 feet of someone for 15 minutes or more over a 24-hour period.
There is no need for those who are fully vaccinated to quarantine after contact with a COVID-infected person, unless they have symptoms.
Those in quarantine are advised to stay at home for 14 days after their last contact with a person who has COVID-19. They are also advised to stay away from people in their household if possible.
However, at the beginning of December, the CDC announced that the 14-day period could be shortened in two scenarios.
Quarantine could end after 10 days if no symptoms are reported. Also, it could be ended after seven days if someone tests negative and also reports no symptoms.
How Long Should You Isolate For?
The current CDC guidelines advise anyone who tests positive for COVID to isolate for 10 days.
Day 0 is considered to be the first day of symptoms, while day 1 is the first full day after the symptoms develop.
For those who test positive but never develop symptoms, day 0 is the day of the positive viral test while day 1 is the first full day after the positive test.
"If you develop symptoms after testing positive, your 10-day isolation period must start over," the CDC says. In this case, day 0 is the first day of symptoms and thus, day 1, the first full day after symptoms develop.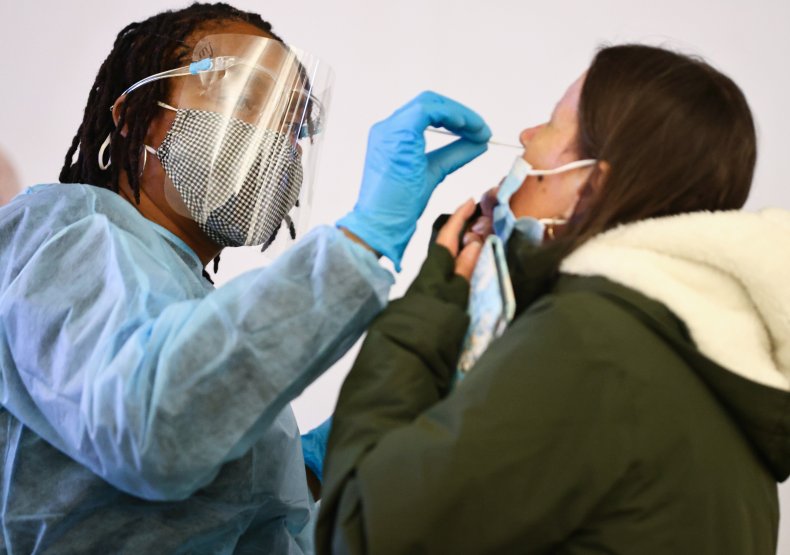 What Should You Do When Isolating?
Those who are in isolation need to stay at home "until it's safe for them to be around others" and infected people should also stay in separate areas or sick rooms, and if possible, use a separate bathroom.
Infected people are also advised to avoid contact with others in the same household, as well as pets and not share personal household items like utensils and towels. They are also advised to wear a mask around others if they can.
Could This Timeframe Change?
There are calls for the CDC to issue a new minimum isolation period for those who have been vaccinated and those who have been boosted.
The current rules were designed for people who are unvaccinated and health care experts are questioning the wisdom of keeping in a 10-day rule that would impact the ability of the health care system to treat the hospitalized.
It could also adversely impact the economy and people's incomes if employees who cannot work remotely are forced to isolate for the full 10 days.
The Omicron variant has emerged as the most dominant strain in the U.S, accounting for almost three quarters (73 percent) of new cases last week.
While believed to be more contagious, early signs suggest that the variant is not more severe than other strains and most cases appear to be mild among those fully vaccinated.
The U.S.'s top infectious diseases expert Dr. Anthony Fauci has given the strongest suggestion yet that the current CDC guidance might take into account how the disease has developed and people's different vaccination statuses.
Fauci told CNN "no decisions" had been made but that there was a discussion on whether to let infected health care workers without symptoms return to work sooner.
Fauci said health care workers who tested positive might be able to end their isolation period sooner if they don't have symptoms and wear N-95 masks and other personal protective equipment.
"If you get a health care worker who is infected and without any symptoms at all, you don't want to keep that person out of work too very long," Fauci told CNN.
Newsweek has contacted the CDC for comment.