COVID Relief Bill, Including Stimulus Checks, to Be Debated This Week
Congressional debates over the upcoming coronavirus relief package will continue in the U.S. Senate this week, after the chamber completes its scheduled hearings to confirm three additional Cabinet leaders appointed to serve under President Joe Biden's administration. Senate Majority Leader Chuck Schumer announced the legislative body's intent to begin debating Biden's $1.9 trillion economic stimulus bill on Monday.
"The Senate will have a busy week ahead of it. Today and tomorrow, the Senate will confirm two more members of President Biden's Cabinet," said Schumer. "As we continue the fight against the pandemic on all fronts, in particular the damage it has caused our schools and our economy, these nominees will have a difficult and important task ahead of them. It will be very good news once we have them confirmed and on the job."
Schumer delivered remarks during a session that saw lawmakers debating Miguel Cardona's nomination to serve as Biden's secretary of education, and officiating Sonceria "Ann" Berry as secretary of the Senate. Berry is the country's first Black Senate secretary, as well as the eighth woman to assume the position.
Alongside Cardona, the Senate is expected to confirm Rhode Island Governor Gina Raimondo as Commerce Secretary and Cecilia Rouse as chair of the president's Council on Economic Advisers (CEA) this week. Once confirmed, Rouse will also make history as the country's first Black CEA chair and become the fourth woman selected to lead the council.
The Senate could begin debates over the terms of Biden's coronavirus relief package, titled the American Rescue Plan Act, as early as Wednesday.
"Last week, the legislation passed in the House of Representatives," Schumer continued during Monday's floor speech, referencing the 219-212 House vote to approve the relief bill on Saturday. "This week, the Senate will take up the measure. Let me say that again, the Senate will take up the American Rescue Plan this week."
The bill largely passed along party lines in the House this past weekend—Democratic Reps. Kurt Schrader, of Oregon, and Jared Golden, of Maine, voted with Republicans to oppose its passage—signaling challenges ahead as it moves to an evenly split Senate. Vice President Kamala Harris, a Democrat, serves as the Senate's tie-breaking vote, which gives her party a slim majority.
"I expect a hardy debate and some late nights, but the American people sent us here with a job to do, to help the country through this moment of extraordinary challenge, to end, through action, the greatest health crisis this country has faced in half a century, and that's just what we're going to do," Schumer said of forthcoming debates.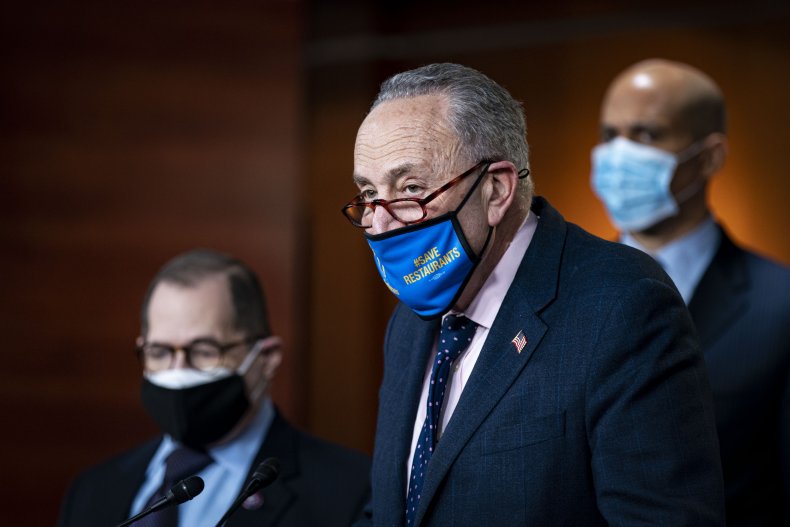 Republicans have already expressed reluctance to pass the relief legislation, which aims to strengthen the U.S. COVID-19 vaccine rollout, provide support to small businesses, extend broader unemployment benefits and distribute another round of direct payments to eligible Americans. In its current form, the bill aims to dispense payments of up to $1,400 to individuals who qualify, while married couples can receive up to $2,800, with additional funds offered to those responsible for dependents.
Schumer described the bill as "comprehensive legislation that will help us crush the virus, recover our economy and get life back to normal" during remarks on Monday, as the U.S. approaches the first anniversary of last spring's initial COVID-19 outbreak.
Newsweek contacted Schumer's office for further comment.