Two COVID-sniffing dogs in Miami International Airport's latest pilot program are reportedly more than 99 percent accurate at detecting the virus in their training.
Last week, a pair of dogs, named Cobra and One Betta, who were trained at the Forensic and Justice Center at Florida International University, began a 30-day program where they would detect COVID-19 among airport employees and alert when the virus is detected in a sniff test.
"We trained these dogs just using face coverings from patients, who, at a hospital, have COVID and those who do not," Florida International University's Kenneth Furton told CNN's New Day on Monday.
Cobra and One Betta are able to sniff out the virus through the breath and sweat of an infected person due to metabolic changes caused by COVID.
In published, peer-reviewed, double-blind trials, the dogs were found to accurately detect COVID-19 96 to 99 percent of the time. Cobra's accuracy rate is 99.4 percent and One Betta's is 98.1 percent.
"The big 'aha' for me was not only could the dogs be trained for this work, but that they were so accurate," Furton told the Washington Post last week.
"Everybody, including humans, are wrong at some point. But [Cobra's] almost never wrong," he added.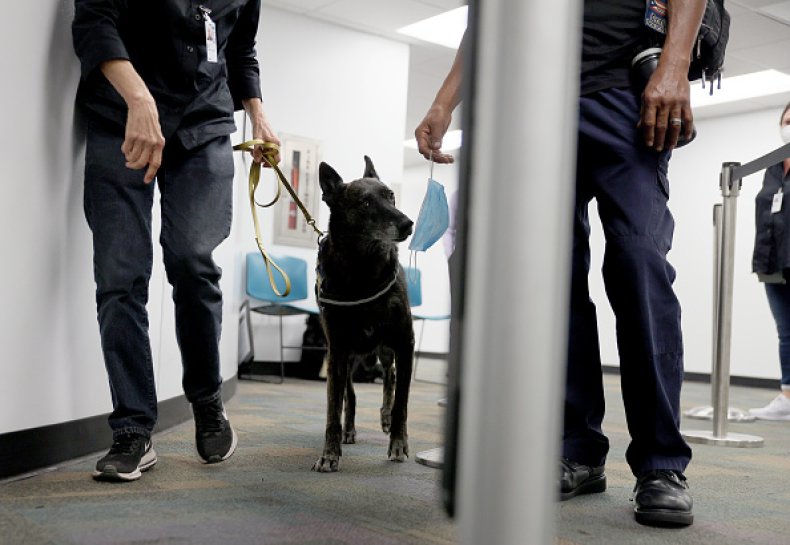 Cobra, a Belgian Malinois and One Betta, a Dutch Shepherd will be stationed at an employee security checkpoint, where they will sniff the masks of voluntary employees to detect the virus.
If an employee is detected to have COVID by the dogs, they will undergo a PCR test and wait for the results before returning to work, according to Furton.
The dogs are already hard at work and have been able to accurately detect the virus from the sniff tests.
"We had one employee, for example, who Cobra alerted to and it turned out they had just recovered COVID-19," Furton said.
Furton said after the pilot program is complete, researchers will reevaluate the data and decide if the canines will then be used to detect the virus among passengers, which could help deter travelers who may be considering lying about virus exposure of infection status.
Cobra and One Betta had been originally trained for agricultural detection and were found to be reliable at sniffing out laurel wilt, which is why they were selected for the program.
Fulton said it only took the dogs a few weeks before they became proficient at picking up the new odor.
During their real-world training, the two canines were deployed to Governor Ron DeSantis' emergency operation center to search contaminated surfaces, as well as the South Beach Food and Wine festival to search for infected people.