COVID Still Seeks Victims as Second Gentleman Douglas Emhoff Tests Positive
Doug Emhoff, Vice President Kamala Harris' husband, has tested positive for COVID-19. While Harris has tested negative, the White House says she's skipping a planned event out of caution.
Even as most COVID-19 restrictions are being relaxed in response to declining case numbers, Emhoff's positive test shows the virus remains a source of disruption for daily life even for those who are vaccinated and boosted. Emhoff's positive test is the first public case in either the first or second families since Biden took office.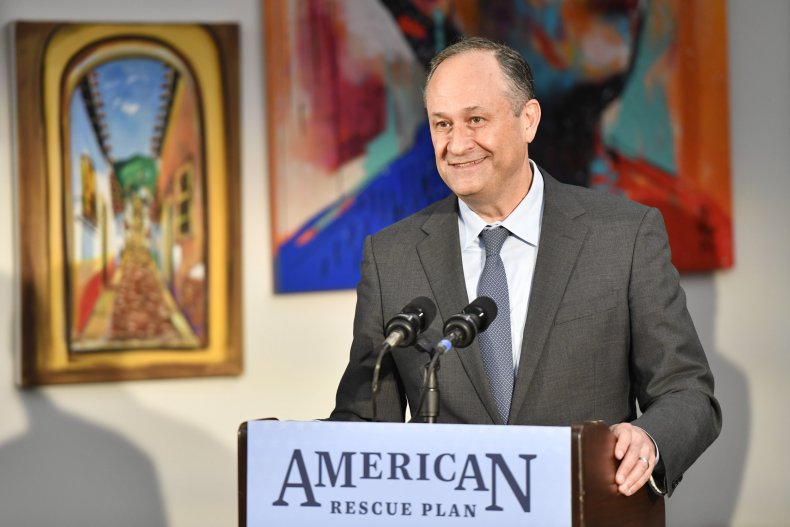 "My symptoms are mild and I'm grateful to be both vaccinated and boosted," said Emhoff on Twitter Tuesday. "If you have yet to get vaccinated and boosted, please don't wait."
Harris said she will continue to test, but out of caution the White House said she would not be attending a Tuesday event with President Joe Biden on equal pay as part of Women's History Month.
Earlier Tuesday, Harris appeared with Biden at an event where he signed a government funding bill into law. Harris recently returned from a trip to Eastern Europe that included stops in Poland and Romania to reaffirm U.S. support for the NATO military alliance as Russia continues its invasion of Ukraine.
The news of Emhoff's positive test result comes as Biden prepares for a trip to Europe next week for a NATO summit. The result also comes the same day the Biden administration said it would reopen tours of the White House to the public beginning April 15.
"The White House will continue to closely monitor the COVID-19 situation with guidance based on recommendations from the CDC, and other public health officials and medical experts, and reserves the right to adjust availability of the public tours as necessary to adhere to the latest health guidance," the Biden administration said in a statement.
The statement also urged those who have tested positive for COVID-19 or have had symptoms 10 days prior to the public tour to stay home. Masks will be available for those who choose to wear them.
Former President Barack Obama on Sunday posted a tweet saying he had a mild case of COVID-19. "I've had a scratchy throat for a couple days, but am feeling fine otherwise," he said, adding "Michelle and I are grateful to be vaccinated and boosted, and she has tested negative."
Nearly 77 percent of Americans are fully vaccinated, reducing their chances of having a severe COVID-19 infection.
As of Monday, the weekly average of new cases in the U.S. was 32,458, according to the Centers for Disease Control and Prevention (CDC). That's significantly down from the average that crested 800,000 during a surge of cases in January 2022.
Multiple members of Congress reported testing positive during the surge driven by the Omicron variant. On Tuesday the Senate voted 57-40 to repeal a federal mask-wearing requirement on public transit. The White House opposed the move and the Transportation Security Administration (TSA) last week extended the rule through April 18 upon recommendation by the CDC.
Newsweek has reached out to the White House for comment.