The case of a man with no history of mental illness attempting to take his life after developing COVID-19 raises questions about the potential psychiatric effects of the disease, according to doctors.
The unnamed 37-year-old mental health nurse based in the U.K. was taken to hospital after trying to end his life, and suffering from psychosis. The man had no notable history of physical or mental illness, according to the case study published in the journal BMJ Case Reports. The patient, who was of Black ethnicity, was married with two young children and had been living in the U.K. for a number of years.
Before the incident, he experienced common coronavirus symptoms over a five-day-long period, including a fever, cough, breathlessness and body aches. He also had severe insomnia.
The facility where the man worked was hit hard by the coronavirus, and a number of patients had died of COVID-19. The patient later told his doctors that he became preoccupied with biblical passages at this time, as he thought they were linked to events in his life.
After his breathlessness worsened, an ambulance was called to his house, but medics concluded he did not need hospital treatment, and they advised him to keep isolating at home.
Later that night, his family noticed he had started to act confused, and was behaving "bizarrely." He said he had seen and heard the devil, and was responding to hallucinations.
Overnight, he became more anxious, and consumed with worry that he would infect his family. At around 4 a.m. he started cleaning out the shed in his garden so he could be away from his children.
Still worried about his breathing, the man visited an emergency department at his local hospital that morning, but tests showed he did not need to be hospitalized. His family said they were worried about his mental state, but his psychiatric health was not assessed.
After going home, he went to the bathroom and said he would wash in order to prevent his family members getting infected. Around 20 minutes later, his wife heard loud noises coming from the bathroom, and found he had harmed himself in a way that suggested he was trying to end his life.
When the first responders arrived at the man's home, he told them "this is not me." He was taken to a local trauma center.
Chest scans at the hospital showed he had symptoms seen in those with moderate COVID-19.
The team concluded a number of factors contributed to the man's mental health deteriorating: being infected with the coronavirus, as well as suffering from severe insomnia, as well as stress, and worry.
At the hospital, the patient said he was surprised that he had tried to hurt himself, denied that he was suicidal and said he was eager to recover and see his family.
The man struggled to recall the events leading up to his hospitalization, but said he remembered feeling extremely worried about the coronavirus, having insomnia, and being preoccupied with religion.
He was able to make a good physical and mental recovery, according to the team.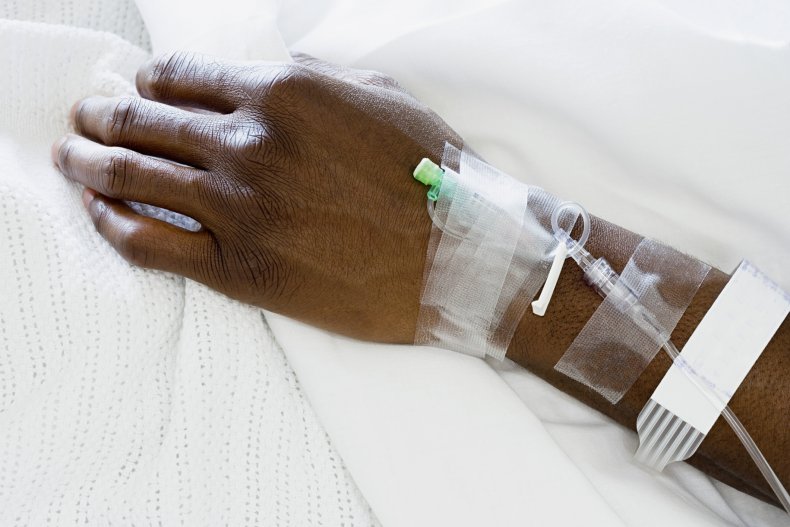 Case study co-author Dr. George Gillett of the U.K.'s Oxford University Clinical Academic Graduate School, told Newsweek the man's story is important because it adds to a number of reports of COVID-19 patients having "profound" psychiatric disturbances.
"It is important not to draw premature conclusions about what caused his mental health deterioration, but the case does emphasize that the potential psychiatric consequences of the biological and social factors associated with COVID-19 deserve further research," said Gillett.
Gillett said anyone experiencing distressing thoughts or symptoms should seek medical attention, either through their family doctor, calling 911 (or 999 in the U.K.) or by visiting A&E in an emergency.
"It is worth emphasising that, even if psychiatric experiences of this kind are shown to be related to COVID-19, they would be incredibly rare," said Gillett. "Of the millions of COVID-19 cases worldwide, there have only been a handful of case reports of patients who have experienced psychotic-like symptoms in the context of COVID-19 published in the medical literature."
If you have thoughts of suicide, confidential help is available for free at the National Suicide Prevention Lifeline. Call 1-800-273-8255. The line is available 24 hours, every day.
About the writer
Kashmira Gander is Deputy Science Editor at Newsweek. Her interests include health, gender, LGBTQIA+ issues, human rights, subcultures, music, and lifestyle. Her work has also been published in the The Independent, The Independent on Sunday, The i Newspaper, the London Evening Standard and International Business Times UK.