COVID-Vaccinated Teachers, Staff at Florida School Must Stay Away From Students, Co-Founder Says
A private school in Florida told teachers and staff it will not employ anyone who receives the COVID-19 vaccine, and those who already took the vaccine would have to stay separate from students, the Associated Press reported.
Leila Centner, the co-founder of the Centner Academy in Miami and a anti-vaccination activist, told employees in a letter last week that she made the policy decision with a "very heavy heart." She asked those who have not received a COVID-19 vaccine to wait until the end of the school year to get vaccinated.
In a letter to parents, Centner included an unfounded claim that unvaccinated women have experienced miscarriages and other adverse reproductive problems from standing near vaccinated people.
"No one knows exactly what may be causing these irregularities, but it appears that those who have received the injections may be transmitting something from their bodies to those with whom they come in contact," Centner said in the letter. "Until more is known, we must err on the side of caution when it comes to the welfare of our students and the school team."
These claims have no scientific backing. Dr. Taraneh Shirazian, an NYU Langone gynecologist, told AP that "you can't pass it from one person to another if you stand next to someone."
"That's a very horrible misconception because it opens up this crazy thinking that you can stand next to people and get what they have, which we know historically has in public health really created a lot of damage," Shirazian said.
Centner said the school is "100% in favor of personal Health Freedom and 'my body my choice,'" but she is now enacting this policy because of "the potential impact of one person's personal health decision on many other students and faculty."
"If it is determined that this information is inaccurate or unfounded, then we will gladly reverse our decision," she added. "The health and safety of our students has always been, and remains, our #1 priority at Centner Academy. Our responses and actions have consistently been out of an abundance of caution and thoughtful decision-making when risks to our children are presented."
For more reporting from the Associated Press, see below.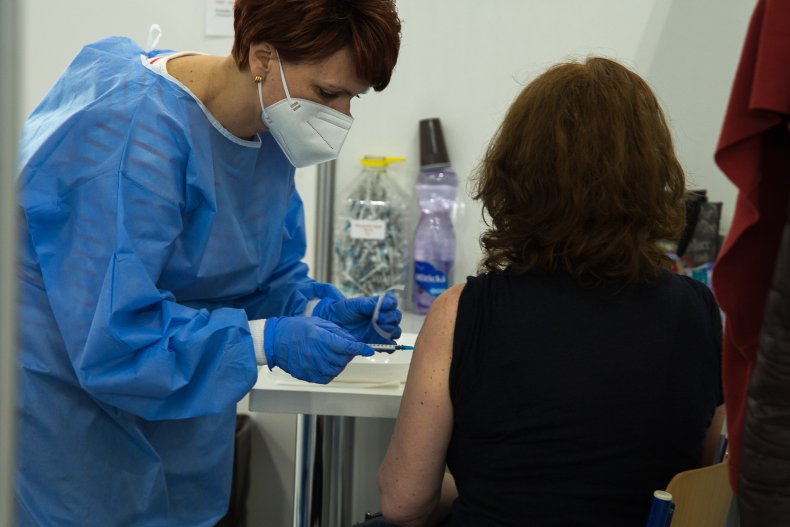 The Centner Academy in Miami told parents on Monday informing them of a new policy for its two campuses for about 300 students from pre-kindergarten through eighth grade.
The Florida Department of Education did not immediately respond to a request for comment on the school's stance on the COVID-19 vaccine.
The Food and Drug Administration, Centers for Disease Control and Prevention and leading women's health authorities have declared the COVID-19 vaccines being used in the U.S. to be safe and effective, and they are undergoing unprecedented scrutiny for safety. Around the country, teachers were prioritized for early access to the vaccines to protect them from exposure to the coronavirus as schools reopened.
Dr. Aileen Marty, an infectious disease specialist with Florida International University's Wertheim College of Medicine, said there is no evidence that unvaccinated people face any risks from the vaccinations of others.
Centner and her husband, David Centner, started the school in 2019 after moving to Miami from New York. The school's website promotes "medical freedom" from vaccines and offers to help parents opt out of vaccines that are otherwise required for students in Florida.
Earlier this month, Centner criticized measures by the CDC to curb the spread of the virus, and said her school went against the guidelines from the moment it reopened in September.
"We did not follow any of the tyrannic measures that were in place. I did not force our kids to wear a mask," Centner said while attending a Health and Freedom rally for a Republican candidate that featured supporters of former President Donald Trump and critics of public health restrictions in Tulsa, Oklahoma.
Newsweek, in partnership with NewsGuard, is dedicated to providing accurate and verifiable vaccine and health information. With NewsGuard's HealthGuard browser extension, users can verify if a website is a trustworthy source of health information. Visit the Newsweek VaxFacts website to learn more and to download the HealthGuard browser extension.