Walmart, Sam's Club COVID Vaccine Appointment Eligibility and How to Book Online
Walmart and Sam's Club are offering free COVID-19 vaccinations at select locations across the country. Eligible customers can book an appointment at the Walmart and Sam's Club websites.
Walmart and Sam's Club stores began administering vaccines through the federal pharmacy program on February 12. More than 1,000 Walmart and Sam's Club pharmacies in 22 states received federal vaccine allocations that week, according to Walmart.
Eligibility for COVID-19 vaccination at Walmart, Sam's Club
Eligibility for the vaccine varies by area. At the Walmart website, customers will find links to the sites of state health departments, where they can check the criteria.
How to book COVID-19 vaccinations at Walmart, Sam's Club
Customers can book their appointment at the Walmart and Sam's Club websites.
The Walmart site has a map showing the Walmart and Sam's Club locations where vaccinations are offered. Customers can zoom in or out and click on any point to see the store number and address.
"At this time, all Walmart and Sam's Club vaccination appointments can only be made through the online scheduler. Appointment availability is based on current allocation, so appointments will be limited based on quantities allocated by federal and state governments," the Walmart website advises.
Below are the 22 states where some Walmart and Sam's Club stores are offering vaccines from the federal allocation:
Alaska
Alabama
Arkansas
Colorado
Florida
Georgia
Idaho
Indiana
Kansas
Louisiana
Maine
Minnesota
Missouri
Mississippi
Nebraska
Nevada
Oklahoma
South Dakota
Tennessee
Texas
Utah
Wyoming
Below are locations where the retailers are offering vaccinations through partnerships with state, territory and district governments:
Arkansas
Chicago
Delaware
Georgia
Indiana
Iowa
Kentucky
Louisiana
Maryland
New Jersey
New Mexico
Pennsylvania
Puerto Rico
South Carolina
Tennessee
Texas
Virginia
Washington, D.C.
Wyoming
COVID-19 vaccine appointments at Walmart
To book your slot at Walmart, click on the "Schedule now" hyperlink. Customers will then be directed to a page where they can enter a zip code or the name of a city and state to view a list of venues offering appointments.
The website states: "The Walmart scheduler is currently not available in some locations. Be sure to check back often for availability as the vaccine continues rolling out to more stores."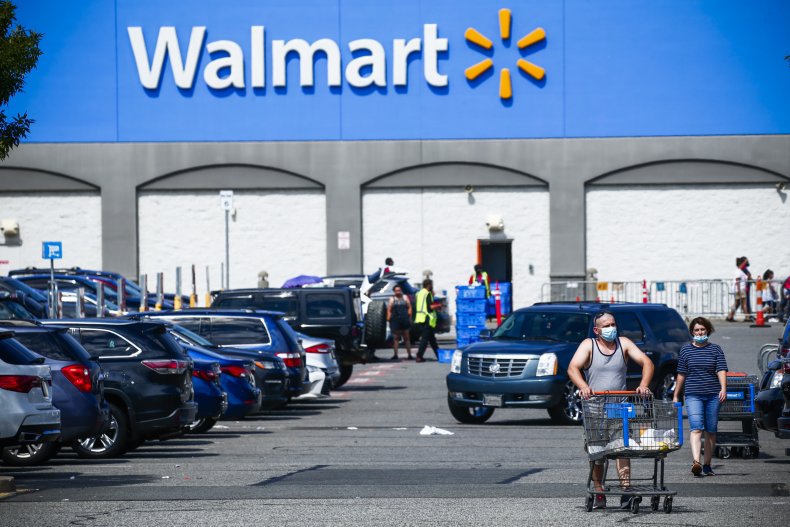 COVID-19 vaccine appointments at Sam's Club
Customers do not need to be a member of Sam's Club to book a vaccination at one of its stores.
To book a slot, click on the "Make appointment" link under the COVID-19 vaccine header. This will open up a new page where customers will need to check their eligibility.
They will next be prompted to sign in with their Sam's Club membership details or to create a guest account to proceed.
Sam's Club states: "We are rolling out the vaccine to select clubs as they are approved by state and federal governments, and your local club may not yet have been selected to administer the vaccine.
"The locations are determined by the state and federal government to administer to specific populations as determined by the state. The availability of vaccines will continue to change, so we appreciate your patience and please continue to check back."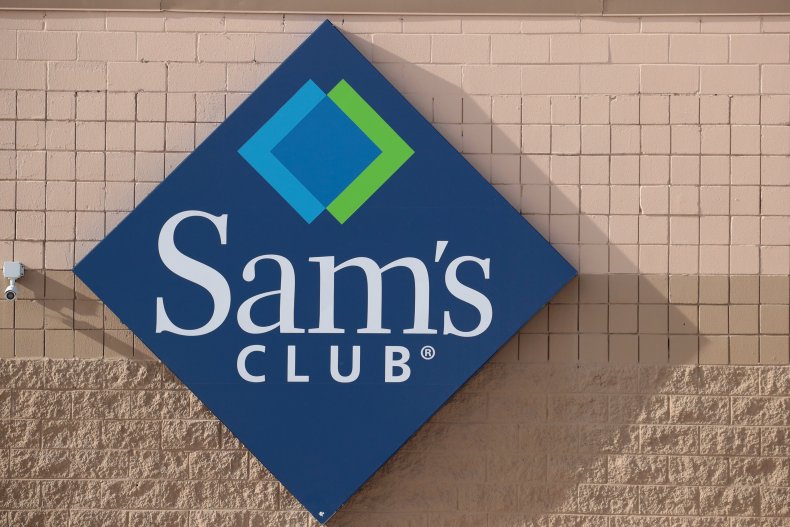 What to bring to your COVID-19 vaccine appointment
Those booked for a vaccination should bring both their pharmacy and medical health care insurance cards (if they are different) to their Walmart or Sam's Club appointment.
The retailers said: "Some health plans pay for the COVID-19 administration fee through the health benefit and some pay through the pharmacy benefit. Customers may also need to bring eligibility documentation as required for their state, signifying they are in the current priority group."
The wider picture
The novel coronavirus has infected more than 111.8 million people, including over 28.1 million in the U.S., since it was first reported in Wuhan, China.
More than 2.4 million people have died worldwide and more than 63.1 million have recovered as of Tuesday, according to Johns Hopkins University.
The graphic below, produced by Statista, shows which countries have the highest number of vaccine doses administered per 100 people.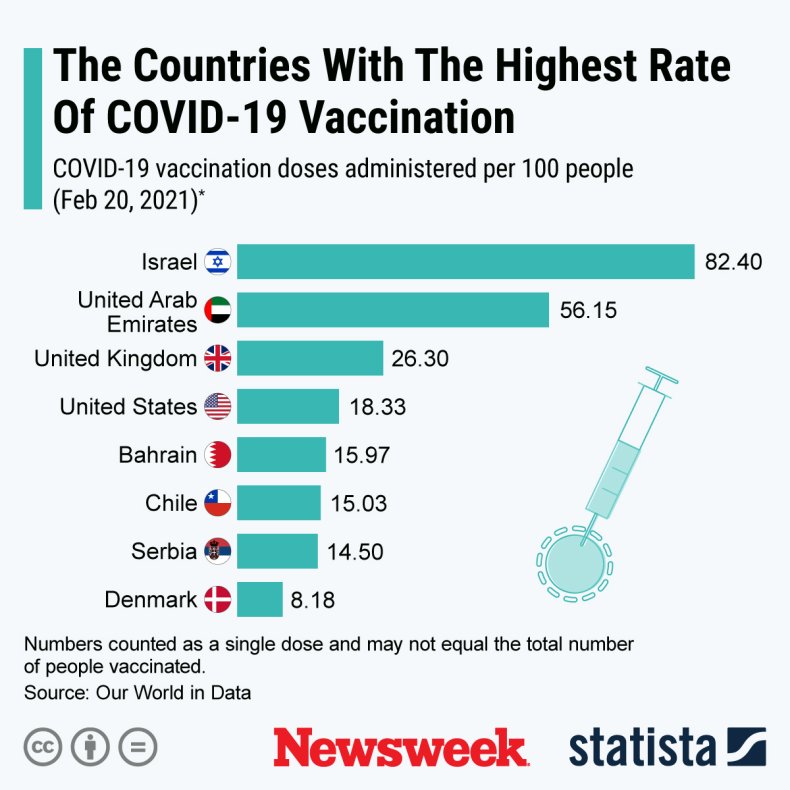 The graphic below, produced by Statista, illustrates the spread of COVID-19 deaths across the U.S.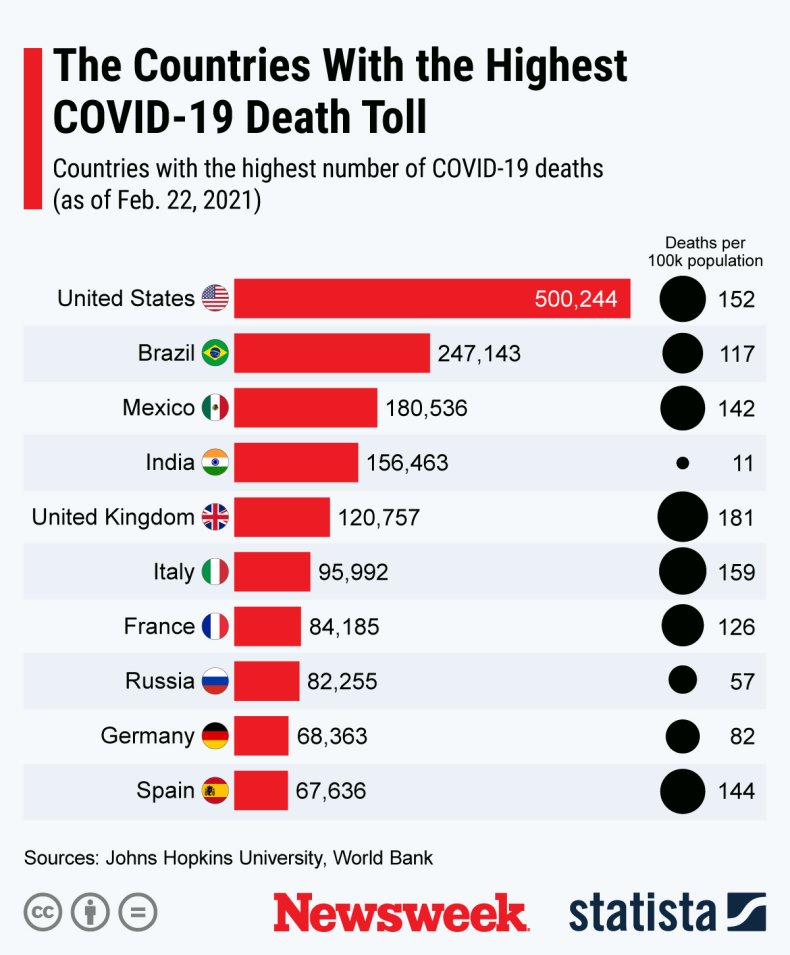 Newsweek, in partnership with NewsGuard, is dedicated to providing accurate and verifiable vaccine and health information. With NewsGuard's HealthGuard browser extension, users can verify if a website is a trustworthy source of health information. Visit the Newsweek VaxFacts website to learn more and to download the HealthGuard browser extension.