COVID Vaccine Allergic Reactions in Alaska Were 'Expected': Official
Two healthcare workers in Alaska have had allergic reactions after receiving the Pfizer COVID vaccine—but the state's chief medical officer, Dr. Anne Zink, has said such responses are "expected" and sites that administer the shots are equipped to deal with them.
A healthcare worker in Juneau with no history of allergies had an anaphylactic reaction to the vaccine on Tuesday, according to Alaska's Department of Health and Social Services. Anaphylaxis is a severe, potentially life-threatening reaction. Ten minutes after having the jab, the woman became flushed and short of breath. The U.S. Centers for Disease Control and Prevention (CDC) recommends that those who get vaccines are monitored for 15 minutes—and her symptoms emerged during this period.
The patient was given an antihistamine and admitted to hospital when it did not work. She was given drugs over an IV drip and kept overnight. She was in a stable condition, according to a press release issued on Wednesday.
Dr. Lindy Jones, emergency department medical director at Bartlett Regional Hospital, where the woman received her shot, told The New York Timesthe patient was observed in an intensive care unit throughout the night after her symptoms went away then came back twice. She was taken off the drip early on Wednesday morning and has been given drugs including the severe allergy medicine epinephrine. The woman was due to stay in hospital for another night.
On Wednesday, a second healthcare worker who had the vaccine at Bartlett Regional Hospital reported puffy eyes, feeling lightheaded and suffering from an itchy throat 10 minutes after the jab, the hospital said in a statement seen by The New York Times. The man was treated with antihistamines and epinephrine, but was not thought to have experienced anaphylaxis. He was well after an hour and sent home.
The incidents come after two healthcare workers in the U.K. had allergic reactions after taking the Pfizer-BioNTech vaccine.
Alaska's Dr. Zink said in a statement: "We expected that a side effect like this could occur after reports of anaphylaxis were made in England after people there received the [vaccine].
"All sites that are approved to provide vaccinations in Alaska must have medications on hand to deal with an allergic reaction and that was the case in Juneau."
Distribution of the vaccine will continue as planned, the health department said. The reaction was reported to the CDC and facilities providing the vaccine in Alaska were notified.
As shown by the Statista graphic below, the incidents come amid a climate of vaccine hesitancy among some Americans, which appears to have reduced in recent months.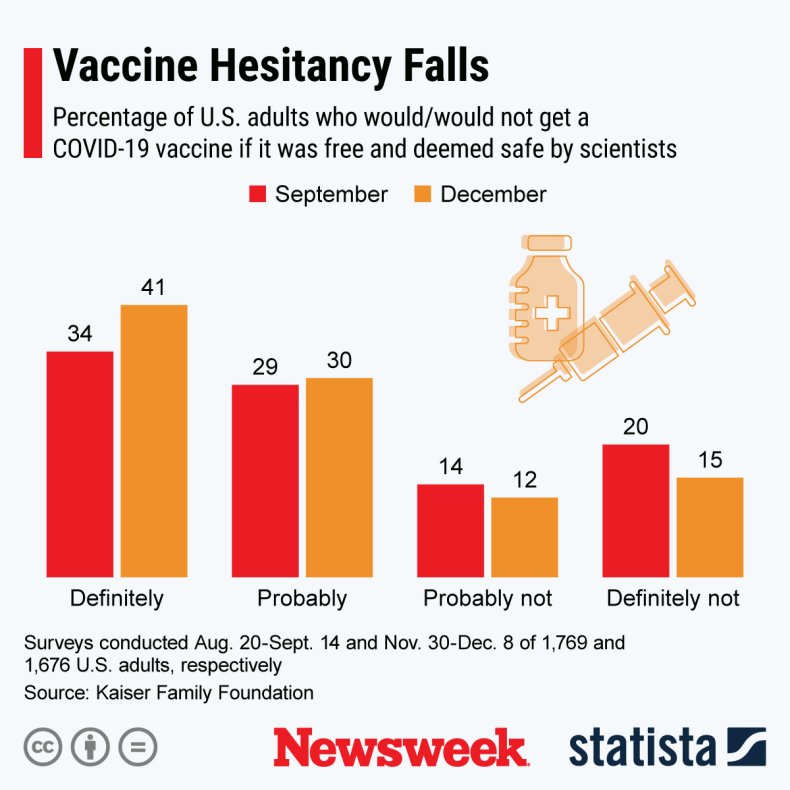 Experts sought to allay potential fears about the vaccine. Dr. Paul A. Offit, a vaccine specialist who sits on an independent advisory panel to the U.S. Food and Drug Administration, told The New York Times: "I don't think this means we should pause, not at all." Researchers needed to identify the component causing the reaction, he added.
Dr. Dena Grayson, a health commentator, tweeted: "A health worker in Alaska experienced a severe allergic reaction to Pfizer's #coronavirus vaccine, believed to be similar to the those that 2 health workers in Britain had. These reactions are VERY RARE >40,000 people have been safely vaccinated."
Dr. Leana Wen, an emergency room physician and visiting professor at the Milken Institute School of Public Health at George Washington University, tweeted: "Remember that we can treat allergic reactions. It is much harder to treat consequences of #covid19."
Before the incident, experts told Newsweek the Pfizer vaccine is safe for most people who use EpiPens.
This article has been updated with a graphic.