COVID Vaccine Clinic Forced to Cancel as Ineligible Line-Cutters Register for Shots
More than half of the people who signed up for appointments at a COVID-19 vaccination clinic scheduled to take place later this week in Pasadena, California, were ineligible to receive doses under the state's current vaccination tier system, a city spokesperson told Newsweek.
In response to the rush of ineligible appointments, city officials decided to postpone the clinic, which was initially scheduled for Thursday. City officials have not yet rescheduled the clinic but are hoping to hold it next week, according to city spokesperson Lisa Derderian.
Of the 1,500 people who made vaccination appointments for the Thursday clinic, more than 900 were deemed ineligible, Derderian said. Those ineligible individuals did not work or live in Pasadena, nor were they members of groups that the state currently prioritizes to receive COVID-19 vaccinations, she said.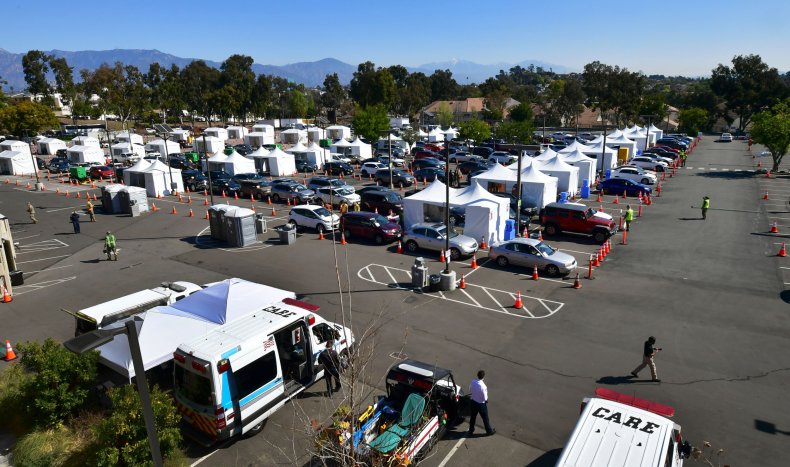 While Derderian said it is possible to manage a handful of ineligible appointments, the flood of more than 900 was too much for city officials to follow up with individually, necessitating the postponement of the Thursday clinic. Those who are eligible to receive COVID-19 vaccines will be contacted so they can reschedule their appointments, she said.
"This has taken away from our vulnerable senior population, restaurant and grocery workers and others in this current tier who need to be vaccinated to meet the next red tier or reopening phase later [this] week or next," Derderian said in an email to Newsweek. "We don't have the staff, resources or time to call these over 900, so we need to cancel everyone and make phone calls to reschedule the legitimate registrants."
The need to reschedule appointments adds to the nerves of some senior citizens who are already anxious about getting their COVID-19 vaccines, she added.
Derderian said the problem with hundreds of ineligible people registering for vaccine appointments was first brought to the city's attention by a reporter with The Los Angeles Times, which initially reported on the ineligible appointments.
In a Tuesday interview with KNBC-TV, Derderian said city officials send appointment sign-up links to residents who are eligible to receive vaccines with instructions to not share the link with others outside the eligible tiers.
"People know what tier they're in. And if there's any question, they should make that phone call, like this reporter from the LA Times did," Derderian told KNBC-TV.
The Pasadena Public Health Department has on its website a list of residents who are eligible to receive COVID-19 vaccines based on the state's tier system, along with vaccine safety information and answers to frequently asked COVID-19 vaccine questions.
California has reported more virus infections than any other U.S. state since the start of the pandemic, with more than 3.5 million total cases reported statewide by Tuesday. Located in California's hard-hit southern region, Pasadena reported a case total just shy of 11,000 by Tuesday, according to Pasadena Public Health Department data.
Newsweek, in partnership with NewsGuard, is dedicated to providing accurate and verifiable vaccine and health information. With NewsGuard's HealthGuard browser extension, users can verify if a website is a trustworthy source of health information. Visit the Newsweek VaxFacts website to learn more and to download the HealthGuard browser extension.