Fact Check: Have 966 People Died After Receiving the COVID vaccine?
The U.S. COVID vaccine rollout has seen over 90 million people receive at least one dose, according to Centers for Disease Control and Prevention data as of March 7.
Scientists told Newsweek on February 24 that serious side-effects from the vaccine were rare at a time when 65 million doses had been given. Some examples of common reported side-effects include pain at the site of injection and tiredness.
There also have been reports of people dying after receiving a vaccine, based on data from the CDC's Vaccine Adverse Event Reporting System (VAERS) reporting database. VAERS is a U.S.-based early warning system for vaccine side-effects.
Healthcare professionals are required to report certain adverse events that occur after vaccines to the system, but it is not designed to give information on what caused the events, such as deaths.
The Claim
Far-right U.S. news outlet The Epoch Times reported on March 6 that 966 people had died after having the Pfizer or Moderna COVID vaccines.
The report said it had drawn the data from VAERS reports between December 14, 2020 and February 19, 2021.
According to the report, 472 people died after receiving a Moderna vaccine, while 489 died after receiving a Pfizer vaccine. Additionally, five people died after receiving a jab from an unknown manufacturer.
The report also included data on age group and gender. It showed the largest proportion of deaths—29 percent—occurred in people ages 80 to 89. It also showed males accounted for 55 percent of deaths to 43 percent of females. It said the deaths had occurred between 0 and 49 days after vaccination, with 94 unknown.
The article has been shared on Twitter, and users have gained hundreds of retweets and likes from posting a screenshot of the VAERS data reported by The Epoch Times.
The Facts
There are hundreds of reports of people having died after getting a COVID vaccine, but that does not necessarily mean the vaccine was the cause.
Using WONDER, the CDC's VAERS database search tool, Newsweek gathered adverse report data specifically on deaths following a COVID vaccine from Moderna or Pfizer. It is important to note that our data contained VAERS reports processed as of February 26.
Newsweek selected only deaths as an adverse event, and selected the COVID vaccine as the only vaccine in the dataset. We specified Pfizer and Moderna as the vaccine manufacturers. We also chose our symptom onset interval as "All days," which ranges from 0 to over 120 days. We did not specify gender or age in the overall results. Our time frame ran from the earliest possible dates, "before 1990," to ensure every COVID vaccine was included.
Our VAERS result showed 970 people died after being given a Pfizer or Moderna vaccine shot. Of those deaths, 495 occurred following a Moderna shot, and 475 occurred following a Pfizer shot. Newsweek contacted Pfizer and Moderna for comment.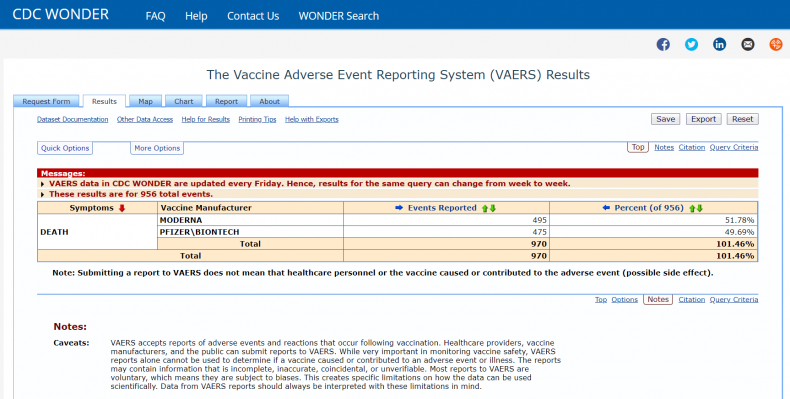 This differs slightly from The Epoch Times' data, which showed 489 people had died after receiving a Pfizer shot and 472 died after receiving a Moderna shot. However, the final result is close.
It is unclear why data seen by Newsweek differed from The Epoch Times' data. This might be because the data had been updated since The Epoch Times ran its VAERS query. The outlet did not specify when it ran its data query, but the CDC website states that its VAERS data on WONDER is updated every Friday. The Epoch Times did not specify whether it had used WONDER.
The Ruling
Mostly True.
The VAERS database is dense with data and the WONDER system might return slightly different statistics depending on how the user wants the data to be displayed, even if the search parameters are kept the same. Newsweek could not independently replicate the exact method The Epoch Times used to gather its data, but our VAERS death results were very close to those reported by the outlet.
However, it is false to say that COVID vaccines have caused 966 deaths, because the VAERS database is not designed to give this information. For example, in the dataset published by The Epoch Times, one of the people who died after getting a vaccine had also been injured in a car crash between getting the jab and the date of their death, but the case was still included in the dataset.
The CDC said on its adverse events page, updated March 1: "To date, VAERS has not detected patterns in cause of death that would indicate a safety problem with COVID-19 vaccines."
Kent Woods, former chief executive of the U.K. Medicines and Healthcare products Regulatory Agency, previously told Newsweek that a person suddenly dying after having a vaccine is not proof that the vaccine caused the death.
Newsweek, in partnership with NewsGuard, is dedicated to providing accurate and verifiable vaccine and health information. With NewsGuard's HealthGuard browser extension, users can verify if a website is a trustworthy source of health information. Visit the Newsweek VaxFacts website to learn more and to download the HealthGuard browser extension.