COVID Vaccine-Holocaust Comparison Argument From Oath Keepers' Lawyers Denied by Judge
A federal judge ruled a document submitted Saturday by the attorneys for two Oath Keepers awaiting trial in connection with the January 6 riots at the U.S. Capitol could not be filed.
The proposal, which at one point compared COVID-19 vaccines to the Holocaust, was called "bombastic" by U.S. District Judge Amit Mehta.
The lawyers argued that their clients were exposed to "coerced medical experimentation" through COVID-19 vaccines while in detention. However, Mehta stated the D.C. Department of Corrections does not force vaccinations.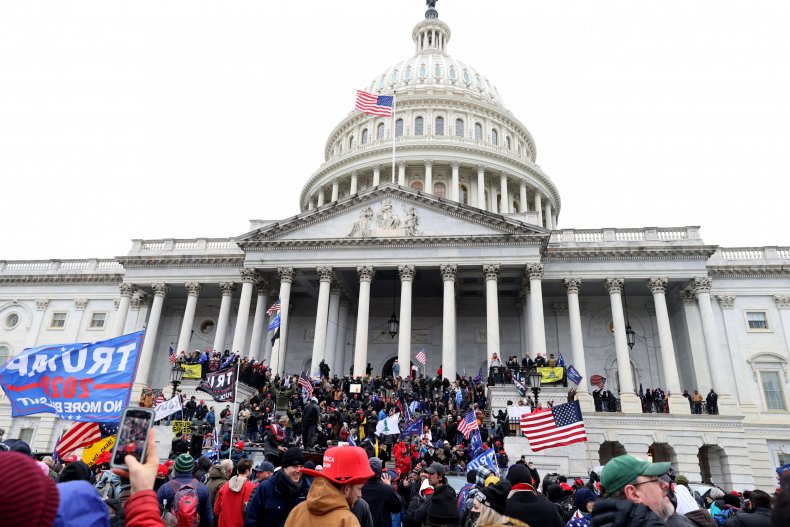 Attorneys Brad Geyer and Jonathon Moseley represent Kelly Meggs, the Florida chapter leader of the Oath Keepers, and Kenneth Harrelson, a member of the far-right militia. The two men have been in a Washington D.C. jail since their arrests in February (Meggs) and March (Harrelson).
The motion, which was filed on October 30, from Geyer and Moseley was a request to exceed the 45-page limit on filings. Their outline said the conclusion would start at page 129.
"Both men believe the COVID[-]19 vaccines present health risks and they should not [be] punished because they refuse to provide uninformed consent," attorneys wrote in the document.
The two lawyers included an outline of the brief they wanted to file. The website Law & Crime obtained a copy of the lawyers' document, which included subheadings like SCOTUS Could Not Have Foreseen the Holocaust; Patents Hinting at Undisclosed Ingredients; Pseudo-Science Displaces Science; Mandatory Everything; Forced or Coerced Medical Experimentation on Prisoners is Forbidden and C19 Conspiracy Structure.
Geyer, who frequently tweets anti-vaccine posts, shared the PDFs of the documents on Twitter along with a message announcing the motion.
"Whatever motion Defendants intend to file, the court will stop reading it after page 45," Judge Mehta wrote in rejecting the lawyers' request, according to Law & Crime.
"The court will not allow this case to become a forum for bombastic arguments [...] or propagating fringe views about COVID-19 or vaccinations," Mehta wrote. "To this court's knowledge, the D.C. Department of Corrections does not require any person held there to accept a COVID-19 vaccine. If that is the intended basis of Defendants' motion, they must file a brief of no more than five pages (excluding exhibits) establishing such a mandatory policy before the court will accept a longer filing."
Mehta previously ruled against Meggs' release prior to his pending trial due to threats made against House Speaker Nancy Pelosi.
"I'm going to go on a killing spree," Meggs allegedly wrote in a message to his wife late on election night 2020. "Pelosi first."
Meggs and other Oath Keepers have been accused of trying to find Pelosi once they entered the Capitol on January 6.