The National Guard has been seeing higher re-enlistment rates across the country despite some pushback on the Pentagon's COVID-19 vaccine mandate.
The Army Guard reported that it retained 116 percent of its 2021 goal, with the Air Guard reporting similar figures, according to the Associated Press.
Army Brigadier General Isabel Rivera Smith, director of the joint staff for the New York National Guard, told AP that the state Guard has seen a "significant increase in our retention rate" since March of 2020.
"We believe that it is because of the impact that our service members have made during this COVID pandemic," Smith said.
The Guard has been hit with a large number of requests for help throughout the pandemic, serving in hospitals and vaccination centers, as well as helping with various natural disasters. It has inspired more people to join or rejoin.
Colonel Wes Nichols Jr., the Air Guard's deputy director for personnel and recruiting, told AP: "The whole idea of neighbors helping neighbors is really inspiring."
While the Pentagon's vaccine mandate for all Guard members has not had an effect on the enlistment rate, some are still concerned it might. Though a judge rejected Oklahoma Governor Kevin Stitt's attempts to block the mandate in December, The Hillreported that Texas Governor Greg Abbott is also challenging the mandate.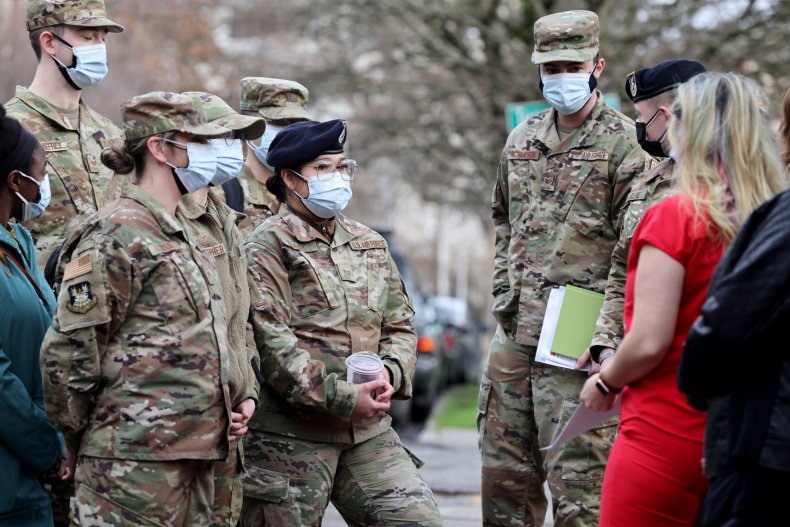 In some states, unvaccinated Guard members have proved to be an issue.
Ohio's Statehouse News Bureau reported that while about 93 percent of the National Air Guard is vaccinated, in Ohio's Air Guard, the figure falls to about 53 percent. That lessened the number of people Governor Mike DeWine could send out assist the state's hospitals that were overwhelmed by COVID-19 cases.
Major General John Harris Jr. of the Ohio Guard said in an interview for The State of Ohio that readiness is of the utmost importance, which was why he moved up the state Guard's vaccination deadline to March 31 instead of the Pentagon's June 30 deadline.
"We have to be able to respond as we are, and that means we have to be ready," he said. "So waiting until June to get ready is unacceptable for me, quite frankly."
In Iowa, Major General Benjamin Corell, head of the state's National Guard, told AP that the Iowa Guard's overall re-enlistment rate jumped from 58 percent when he started the job to 79 percent last year, with that rate jumping even higher to 90 percent when looking at just the Iowa Air Guard.
However, he said he is still concerned that people not wanting to get vaccinated will affect the numbers, as he said he has heard that a small number plans to leave rather than comply with the mandate.
"We grow people over time, and the potential loss of that experience is concerning to me," he said.