COVID Vaccines Won't Be Mandatory for Tennessee Schoolchildren Says Governor, 'Vaccines Are a Choice'
It will not be mandatory to have any approved COVID vaccines in Tennessee schools, the state's governor has said—stating that "vaccines are a choice."
Gov. Bill Lee said on Tuesday that, once approved, such injections will "ultimately really be able to handle" the coronavirus pandemic.
The Republican added: "Vaccines are a choice and people have the choice and will have the choice in this state as to whether or not they should take that vaccine."
Tennessee's health commissioner has said the first doses of a new COVID vaccine could arrive in the state around mid-December, before a wider rollout likely by early summer.
According to the state's vaccine distribution plan, the first batches would be reserved for frontline health care workers and first responders. They would then be followed by other health care workers, older adults in care facilities, and those at high risk of complications from COVID-19.
Lee's remarks are the latest example of the governor choosing not to enforce statewide measures against coronavirus.
Public schools remain open across Tennessee, where there is no statewide mask mandate and no official limits on Thanksgiving gatherings.
Announcing the reopening of schools in July, he said: "Providing parents a choice in their children's education is incredibly important."
Earlier this month he told residents: "We're not going to mandate how a family gathers at Thanksgiving. I want to be real clear about that."
There have been nearly 346,000 recorded cases of coronavirus and 4,372 related deaths in Tennessee since the pandemic began, according to data compiled by John Hopkins University. A record high case count of 7,951 was recorded on November 16.
The governor's comments come after results from late-stage trials of three vaccines—from Moderna, Pfizer and AstraZeneca—suggested they could curtail the virus.
Are vaccines mandatory in U.S. schools?
Parents in every U.S. state are required to vaccinate their child against some diseases, including polio and measles, to enroll them in public school. No such laws apply to coronavirus vaccines, which have not yet been approved. Some state laws offer exemptions to these requirements because of medical, religious, and philosophical reasons.
How will the U.S. roll out vaccines?
Manufacturers have all said their vaccine contenders could be ready soon, however each must be approved by regulators before being introduced to the general public.
Dr. Rick Bright, an expert who sits on President-elect Joe Biden's COVID-19 task force, has said that once approved "the hard stuff" of rolling out the jabs will begin.
"The vaccine doesn't save your life, but vaccination does," he told MSNBC last Wednesday. "Remember that vaccines don't deliver themselves, we need to make sure that we have a complete vaccine campaign rollout.
The graphic below, provided by Statista, shows the effectiveness of the top COVID-19 vaccine candidates.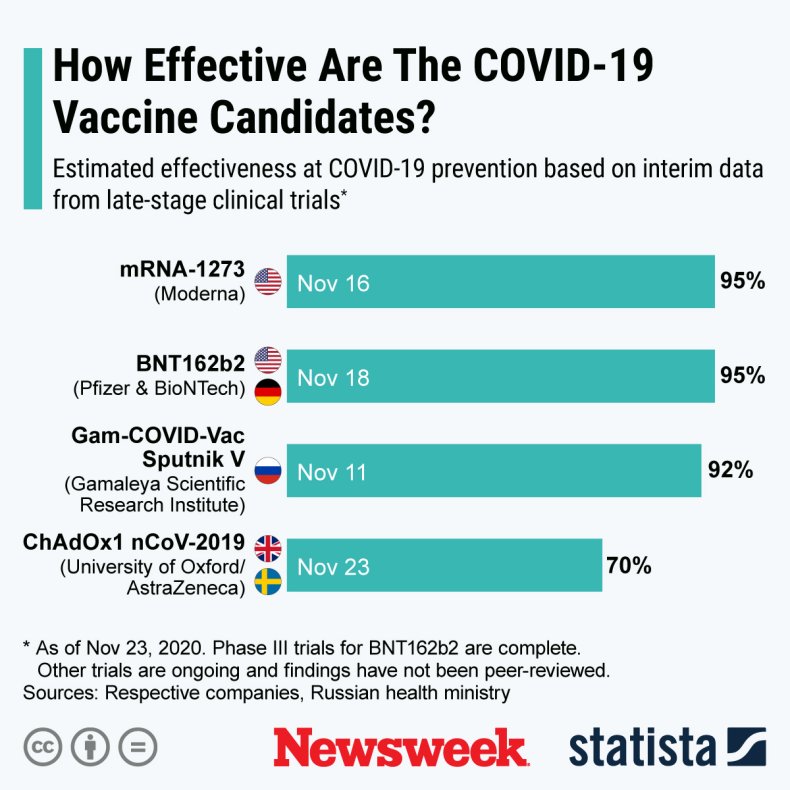 Amid growing fears over the anti-vaccine movement, many countries are facing tough questions on how to safely and quickly distribute millions of doses.
Some commentators have highlighted South Korea's approach to tackling recent fears over a flu shot to help ensure enough people are vaccinated to curb the spread of COVID.
"South Korea is doing everything right," Dr. Noel T. Brewer, a professor in the health behavior department at the University of North Carolina told The New York Times on Tuesday.
"The government is gathering data, giving information to the public quickly and standing up for their vaccination program. That will ensure public trust, and help the program."