When Will a COVID Vaccine Be Ready in the U.S.? Fauci Says December Is Possible
The U.S. government's top infectious disease specialist, Anthony Fauci, said Monday that a coronavirus vaccine could be available for a limited section of the American population by the end of the year.
Fauci made the comments on NBC News' TODAY show following the announcement from American biotech firm Moderna that its COVID-19 vaccine candidate is 94.5 percent effective, according to an early analysis of data from an ongoing, large-scale, Phase III clinical trial.
This news comes soon after a collaboration between American pharmaceutical giant Pfizer and German biotech company BioNTech, as well as the Russian Gamaleya Research Institute of Epidemiology and Microbiology, announced that their COVID-19 vaccines had "more than 90 percent" and "92 percent" efficacy respectively, based on early data from similar large-scale trials.
It is important to note that these trials have yet to be completed and their conclusions published in peer-reviewed scientific journal. But they represent a significant step forward in the race to develop a coronavirus vaccine.
Fauci, director of the National Institutes of Allergy and Infectious Diseases, said he expected the Moderna vaccine to get emergency approval from the Food and Drug Administration (FDA) before the end of the year. After this it would be available to administer, with high-risk groups likely first in line.
"I don't want to get ahead of the FDA. But the data are striking, they're really quite impressive. Now we have two vaccines that are really quite effective. So I think this is a really strong step forward to where we want to be about getting control of this outbreak," Fauci told NBC, referring to the Pfizer and Moderna candidates.
"We project by the end of December that there will be doses of vaccines available for individuals in the higher risk category from both companies, we hope. And this is something we're looking forward to," Fauci said.
After announcing the early results from its large-scale vaccine trial, Moderna said it planned to apply to the FDA for an emergency use authorization in the coming weeks. The company said in a press release that it would have 20 million doses ready to ship in the United States before the end of the year, and hopes to manufacture 500 million to one billion doses globally in 2021.
Fauci also said it was conceivable that we could have several more efficacious vaccines in the near future, in addition to the Pfizer and Moderna candidates.
"One of the things that's common about these vaccines, even though the platforms are different, the Moderna and the Pfizer one are strikingly similar. But other types of vaccine platforms are using what's called the spike protein of the coronavirus. Virtually all of the other vaccines rely on that spike protein. So to me that gives me hope that more than these two will also be effective," he said.
The graphic below, provided by Statista, shows the claimed efficacy of the current vaccine candidates.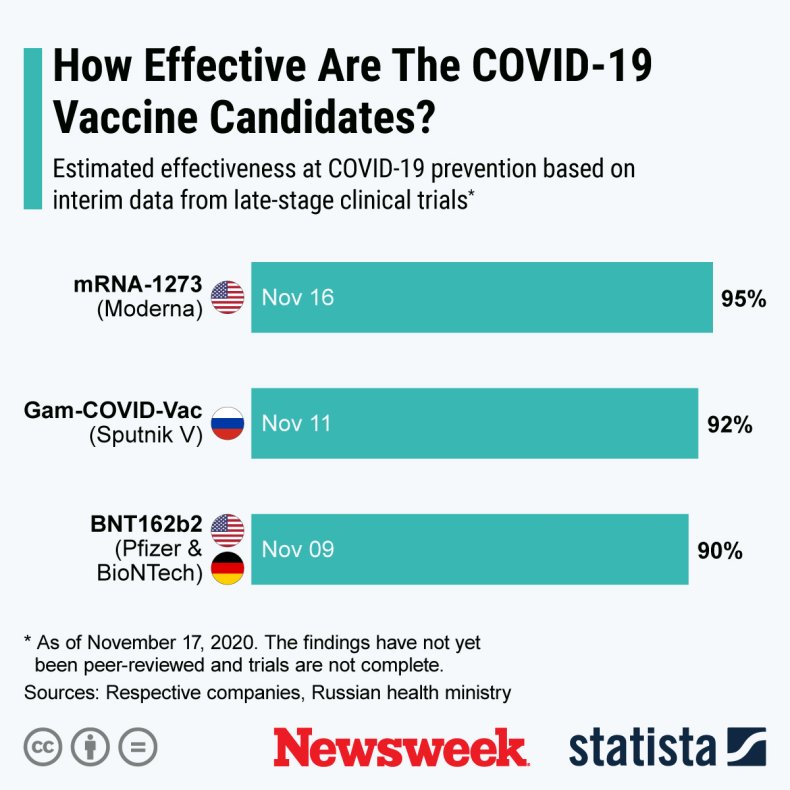 Currently, more than 50 coronavirus vaccine candidates are being tested in human clinical trials, with 12 in large-scale Phase III trials. The fact that so many are under development simultaneously boosts the chances that one could be available soon. However, the process of drug development rarely occurs without hiccups.
Peter Openshaw, a professor of experimental medicine at Imperial College London in the U.K., who is not involved in the development of any of the aforementioned vaccines, said in a statement that the latest news from Moderna was "tremendously exciting" and "considerably boosts optimism that we will have a choice of good vaccines in the next few months."
"We need more complete details than we have in this press release, but this announcement adds to the general feeling of optimism about vaccines for COVID-19. What we still don't know is how long any protective immunity may last. For that, we will need to wait," he said.
Openshaw also said that the Moderna vaccine may have an advantage over the Pfizer vaccine because it can be kept in a conventional freezer for up to six months and then in a standard refrigerator for up to 30 days, unlike the Pfizer candidate.
If all goes well, Pfizer said it expects to apply to the U.S. Food and Drug Administration for an Emergency Use Authorization (EUA) for the vaccine later in November once more safety data has been collected. The company said it hopes to produce up to 50 million vaccine doses globally in 2020 and up to 1.3 billion doses in 2021.
But while a vaccine could be available for a limited number of people by the end of the year or early 2021, it is likely that vaccines will not be distributed to to the wider public in the U.S. until mid-2021 or later, Dr. Moncef Slaoui, head of Operation Warp Speed—a public-private partnership, initiated by the U.S. government, to facilitate the development and distribution of a COVID-19 vaccine—told NPR.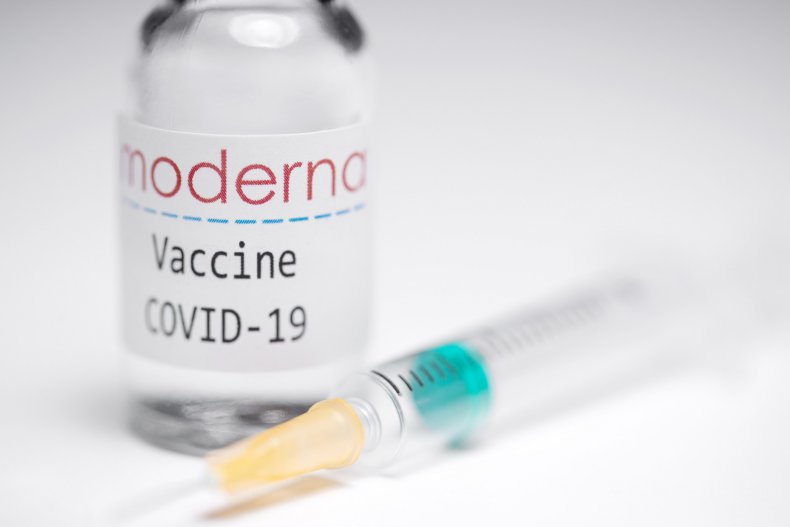 This article was updated to include an infographic.