A COVID-19 vaccine will not be publicly available in the U.S. until at least January, according to comments from Dr. Anthony Fauci.
Fauci made the remarks during a video question and answer session with the Journal of the American Medical Association on Wednesday. He said that five companies with vaccines in advanced clinical trials could be in a position to "move forward" in December, but the vaccines will not be available then, even if they sidestep the traditional approval process with an Emergency Use Authorization (EUA) from the Food and Drug Administration (FDA).
"By moving forward... they can apply for an EUA from the FDA," Fauci said, adding that a committee focusing on vaccines would then need to evaluate evidence for safety and efficacy.
"We're going to find out from that time in December, when at least one and maybe two of the five companies would have put in for an EUA, exactly when the EUA will be granted," Fauci continued. "Could be January, could be later, we don't know."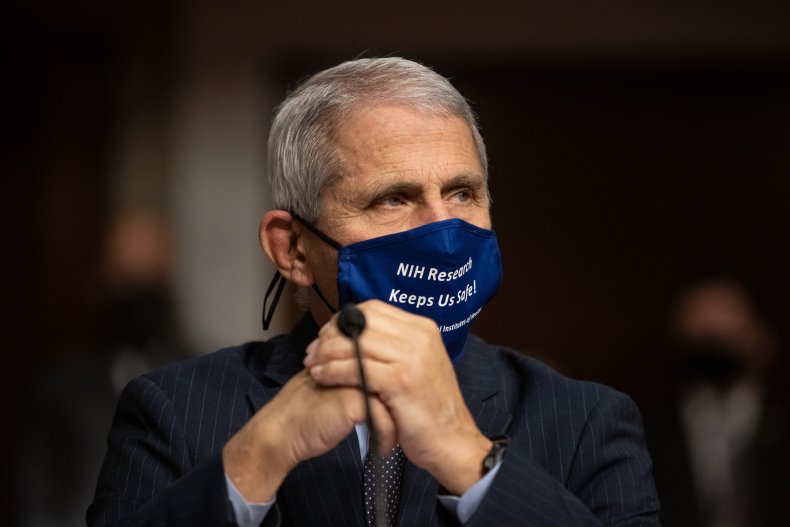 President Donald Trump has repeatedly pushed for a vaccine to be released before Election Day. During his final debate with Democratic presidential nominee Joe Biden last week, he said that one would be available "within weeks." The president's timeline is at odds with medical experts who warn that not enough research has been conducted to ensure the effectiveness or safety of any vaccine released that quickly.
The chances of a vaccine being released in time to boost Trump's reelection prospects now seem all but impossible. Pfizer CEO Dr. Albert Bourla ruled out the imminent release of his company's vaccine, or even final results from its trial, while telling investors to "be very patient" during a call on Tuesday, according to The New York Times.
Newsweek reached out to the White House for comment.
Fauci was also asked about the safety of Americans potentially traveling and gathering during the upcoming holiday season. He cautioned that those who want to avoid spreading infection may want to rethink their holiday traditions during the pandemic, noting that current surges of COVID-19 have been driven by small family and social gatherings.
"You don't want to be the grinch that stole the holidays, but I think one family group and individual has to take a look at what the risk is to your particular situation," Fauci said. "If you're in a situation where you have people who are vulnerable and you really want to be safe with them, you might want to not bring them together into a big dinner or a big gathering where you have the possibility of a high risk of infection."
"If you look around the country now, many of the infections are in small family and friend gatherings such as dinner parties and small social gatherings," he added.