COVID Variant That Spreads Easily, Evades Vaccines Could Have 'Severe Consequences': Study
The worst kind of COVID-19 variant is one that can evade immunity and spread more easily, but when it comes to variants that have one trait or the other, Harvard researchers found ones that are more transmissible are more dangerous than those that could partially evade vaccines.
Experts have been concerned about the possibility for a COVID-19 variant to evade vaccines, thereby putting even those who have been inoculated at risk. However, a new study from Harvard found variants with partial immune escape cause a less severe impact on the pandemic, in part because they're more likely to cause breakthrough infections or reinfections, which tend to have more mild symptoms.
"Partial immune escape can have severe consequences, but mainly when paired with enhanced transmissibility," the study, published on Thursday in Cell, found. "Our findings suggest that variants with enhanced transmissibility have a strong tendency to invade and can significantly worsen an epidemic."
Researchers used a mathematical model to study the impact of potential COVID-19 variants on populations. When analyzing the data, they found variants that have enhanced transmissibility posed a greater risk because they easily spread in susceptible populations. They found that wasn't true of variants with partial immune escape.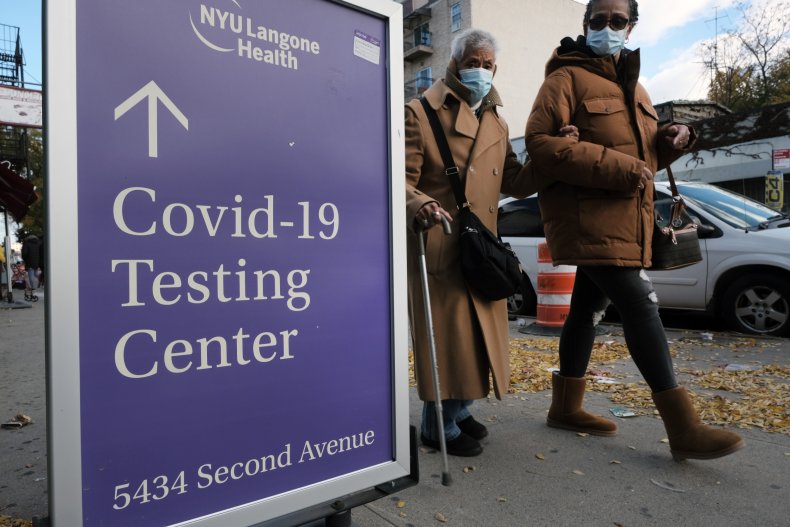 In that scenario, where a variant could infect people who should have immunity, researchers found infections primarily occurred in people who were vaccinated or recovered from the virus and therefore would likely experience only mild disease.
Mary Bushman, co-author of the paper, told Newsweek it's a "bit surprising" that immune escape alone didn't have more of an impact. Bushman noted that enhanced transmissibility is "so critical" because it allows a variant to "catch up" to existing strains, giving it a chance to "do a lot of damage."
The worst type of variant is one that can partially evade immunity and has increased transmissibility because it increases the number of breakthrough infections and infections in people who haven't built up any immunity, thereby likely increasing hospitalizations and deaths.
"Thus far, evidence of immune escape—the ability of a variant to evade the immune system and cause reinfections or breakthrough infections—has been a red flag," Bushman said in a Harvard T.H. Chan School of Public Health interview. "Our findings say it's maybe more of a yellow flag—this is not such a big deal on its own. But when it's combined with enhanced transmissibility, then it can be a really big deal."
Breakthrough infections and reinfections with variants that had one of the two traits-enhanced transmissibility or partial immune escape—comprised only 4 percent of all infections. However, when researchers modeled a variant with both traits, breakthrough infections and reinfections accounted for up to 80 percent of all infections.
Researchers based their hypothetical variants on the current variants of concern that are being monitored by the World Health Organization. The Alpha variant has enhanced transmissibility, Beta variant had partial immune escape and the Delta variant has both enhanced transmissibility and partial immune escape.
The Beta variant largely failed to take hold and significantly affect the COVID-19 pandemic, but the Alpha variant did and the Delta variant is now outcompeting every other variant. It's become such a dominant variant that it squandered the ability of several other variants of interest to spread.
Bushman told Newsweek that the virus shouldn't be able to evolve to be more and more transmissible "indefinitely" and it's unclear if there could be a variant that's even more transmissible than Delta. However, Bushman said SARS-CoV-2 has "defied expectations before" and researchers are still figuring out what the virus is capable of.
In the case of another Delta-like variant, the Harvard researchers found vaccinations could be highly beneficial because breakthrough cases would likely be more mild and it could help prevent a greater number of cases emerging.
Along with studying the impact of variants with different traits, researchers also analyzed the impact of public health measures on future waves of infections. They found when control measures are weakened, including a lower rate of infections or vaccine efficacy, the impact of variants with both traits is "even greater."
Given their findings and the potential for vaccinations to impact the future of the pandemic, the researchers said their work "underscores the importance of vaccinations on a global scale, as quickly as possible."
Update 11/22/2021 at 3:26 p.m. ET: This article has been updated to include comments from Mary Bushman.
Update 11/23/2021 at 8:42 a.m. ET: This article has been updated to clarify Bushman thought the virus couldn't continue evolving to be more transmissible "indefinitely." Not that the pandemic could go on "indefinitely."