Unvaccinated Should Be Lower Priority to Receive COVID Treatment, Doctor Says
MSNBC medical analyst Dr. Vin Gupta has said "negative incentives" should be considered to battle the Omicron surge—such as putting people who have chosen not to be vaccinated at the back of the line for treatment if they get seriously ill.
In a segment on Wednesday, MSNBC anchor Joy Reid asked the pulmonologist for his view on models that predict 140 million new cases in the U.S. from January 1 to March 1 next year.
Gupta said there needed to be a debate on what to do with the unvaccinated, who are taking "advanced ICU therapies from somebody who is vaccinated in the hospital."
He asked: "How do we rank—order that priority? We do it for organs, kidneys, livers, lungs. We say, 'Did you smoke? Did you drink recently?' If you did, you're lower on the list even if you need it. We need to start thinking of that model."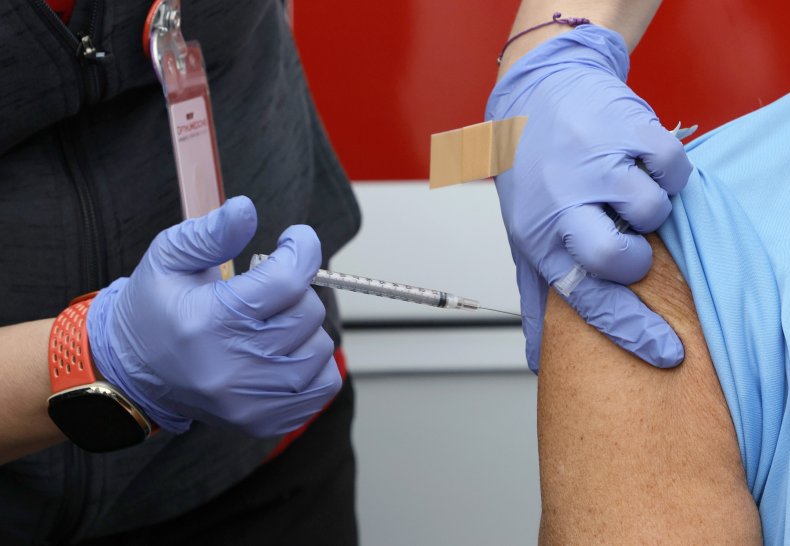 He added: "This is where it gets controversial, but we need to start talking about this—the bioethics of it, broadly—because this is not the last respiratory pandemic we're going to face."
Gupta made a similar suggestion on the program in August, telling Reid that "only the fully vaccinated" should be prioritized for ICU care and there needed to be a "rethink" about care rationing.
The Omicron variant has become the dominant COVID strain in the U.S. in just a few weeks, but the debate over treating unvaccinated people has been rumbling for months.
In July, David Andersen, a doctor from New London, wrote in a letter to Connecticut newspaper The Day that Congress should make it illegal for state and federal government, as well as private insurance companies, to pay to treat someone with COVID-19 "who chose not to be vaccinated for a non-health related reason."
Jonathan Meer, a professor of public policy at Texas A&M University, said vaccinated people had to pay for the unvaccinated through higher health insurance premiums. "Why should the vaccinated bear those financial costs," he wrote in an August op-ed for MarketWatch.
Linda Marraccini, a family doctor in South Miami, Florida, sent a letter to her patients earlier this year urging them to get the jab by September 15 or find another physician.
"The health of the public takes priority over the rights of any given individual in this situation," Marraccini wrote, according to NBC Miami.
Under the Emergency Medical Treatment and Labor Act, any hospitalized patient requiring emergency care has to be treated regardless of the circumstances, Medical Express.com reported.
In non-emergency situations, doctors can refuse patients as long as this is not due to their race, gender, sexuality or religion.
So, in theory, vaccination status could be a reason to refuse care, the outlet reported, and there could be an ethical decision made on whether to risk the safety of staff and other patients by treating unvaccinated people.
However, Dr. Jonathan Moreno, a professor of medical ethics at University of Pennsylvania, told Yahoo News in September: "We have to find ways to take care of people, even if we don't agree with their actions."