Prime Minister Boris Johnson Under Growing Pressure to Sack Chief Adviser
Prime Minister Boris Johnson is under increasing pressure to dismiss his chief adviser for breaking lockdown rules during the height of the pandemic.
Dominic Cummings was reported to have traveled 264 miles from his London property to his parent's home in Durham, despite suspecting that both he and his wife had COVID-19 symptoms.
Johnson imposed strict lockdown restrictions on March 23, when he told the public they "must stay at home" and that they must not meet family or friends that they do not live with.
Those with symptoms were told to self-isolate for seven days, while members of their household had to stay indoors for at least 14 days.
A junior minister has today resigned over the scandal.
Douglas Ross, the minister for Scotland, announced on Twitter: "I haven't commented publicly on the situation with Dominic Cummings as I have waited to hear the full details.
"I welcome the statement to clarify matters, but there remains aspects of the explanation which I have trouble with. As a result I have resigned as a government minister."
However, the prime minister has stood by his adviser, insisting that he acted "responsibly, legally and with integrity", after growing concerned that there would be nobody to look after his child if both he and his wife became ill with COVID-19.
Cummings admitted he made the trip to his parent's home on the night of March 27 after his wife fell ill and became concerned that if they both became ill, given that a number of people inside Downing Street had developed COVID-19 symptoms, there was nobody in London they could "reasonably ask to look after our child and expose themselves to COVID".
Dominic Cummings is seen as the mastermind behind the Vote Leave victory in the Brexit referendum, a role so pivotal that he was recently portrayed in a film by Sherlock actor Benedict Cumberbatch.
He is also seen as an important part of Boris Johnson's election victory in December 2019 and a core member of Johnson's closest confidantes.
A number of ministers sought to defend Cummings when the story broke, with Chancellor Rishi Sunak tweeting: "Taking care of your wife and young child is justifiable and reasonable, trying to score political points over it isn't."
Transport Secretary Grant Shapps insisted that once Cummings had reached his parent's property, he stayed put for 14 days.
However, additional eyewitness testimony reported by U.K. newspapers The Guardian and Daily Mirror, suggested that this wasn't the case and that Cummings had made a 60-mile round trip to a beauty spot.
He was spotted in Barnard Castle, a market town in County Durham in the northeast of England, on April 12, which Cummings has now admitted.
He says that the fact it was his wife's birthday on the same day was purely a coincidence.
It is also alleged by the newspapers that he was back in Durham on April 19, though Cummings says that this is false and can be proven with information on his mobile phone.
This was just days after he was photographed in London having recovered from the virus, suggesting that following his first trip across the country at the end of March he had made a second journey from the capital to north-east England.
Calls for Cummings to resign or be fired by Johnson were made not only by opposition leaders but also from Conservative MPs including Steve Baker and Simon Hoare, who called for him to step aside or risk undermining the government's message to the coronavirus outbreak.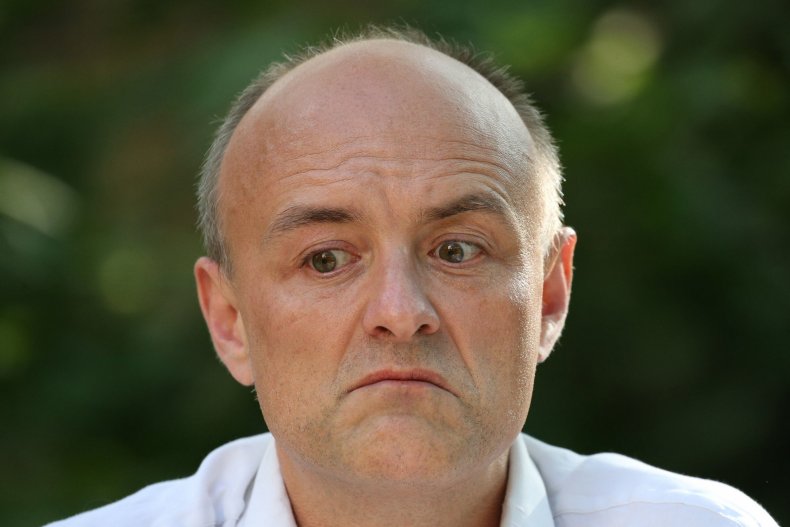 MPs also reported their inboxes being inundated with messages from angry and frustrated constituents, many of whom missed out on funerals of relatives and friends after following lockdown advice not to travel.
In an unusual step on Monday afternoon, Cummings gave a detailed account of his trip to Durham to journalists where he answered questions but refused to apologize or resign for the breach of lockdown rules, saying he "behaved reasonably."
Cummings said he drove to Durham to ensure there was back-up childcare available from his 17 and 20-year-old nieces and insisted he and his wife stayed in a separate building, away from his parents, and communicated with them by shouting.
He admitted making a separate trip after his family's 14-day period of isolation to Barnard Castle, a beauty spot 30 miles away from Durham, which he said was necessary to check his eyesight was good enough for the drive back to London.
Cummings denied making a second trip to Durham any time after his return to London on April 14.
Cummings said: "I don't regret what I did ... reasonable people might disagree."
Following the press conference, Johnson attempted to draw a line under the matter, backing his advisor and attempted to shift attention away from the political storm, as he outlined plans to reopen non-essential retailers will be able to reopen in England from 15 June.
The prime minister has insisted that Cummings had "no alternative" but to travel from London to Durham for childcare "when both he and his wife were about to be incapacitated by coronavirus".
He also defended Cummings reasoning for driving to Barnard Castle because of problems with his eyesight after the reason for the trip was criticized.
Johnson said: "I'm finding that I have to wear spectacles for the first time in years, because, I think, of the likely effects of this thing."
Meanwhile, the police and crime commissioner for Durham, Steve White, has asked the chief constable of the force he oversees to launch an investigation into Cummings.
A number of scientists have also warned that public loss of trust in the official advice as a result of the perception in double standards could severely damage the test-and-trace strategy that is vital to managing the coronavirus epidemic.
Stephen Reicher, professor of social psychology at the University of St Andrews, tweeted: "As one of those involved in SPI-B, the Government advisory group on behavioral science, I can say that in a few short minutes tonight, Boris Johnson has trashed all the advice we have given on how to build trust and secure adherence to the measures necessary to control COVID-19."
Johnson's attempts to consider the matter closed will also prove problematic, as opposition leaders meet on Tuesday to discuss the next steps in holding the prime minister and Cummings to account.
The Labour Party said the senior No 10 aide's statement was not good enough. A party spokesman said: "The British people were looking for at least an apology from Dominic Cummings for breaking the lockdown. They got none.
"The message from this government is clear: it's one rule for Boris Johnson's closest adviser, another for everybody else."