'News of the World' Star Michael Angelo Covino Talks Working With Tom Hanks, Indie Success
Michael Angelo Covino is adamant: Tom Hanks really is as nice as his reputation suggests. He told Newsweek of his co-star: "There's nothing to say other than what everyone experiences is kind of true. He's truly professional and truly cares about the people around him."
Covino, 36, acts opposite Hanks in News of the World. The film, which opened on Christmas Day, was directed by Paul Greengrass (United 93, three of the Bourne movies) and takes place in the immediate aftermath of the Civil War. Hanks plays a former soldier named Jefferson Kidd, who travels from town to town reading newspapers to largely illiterate people. Kidd comes upon an abandoned girl raised by a Native American tribe and is tasked with taking her to her only living relatives. On the journey, Kidd encounters Covino's character, a seedy man with the worst possible intentions.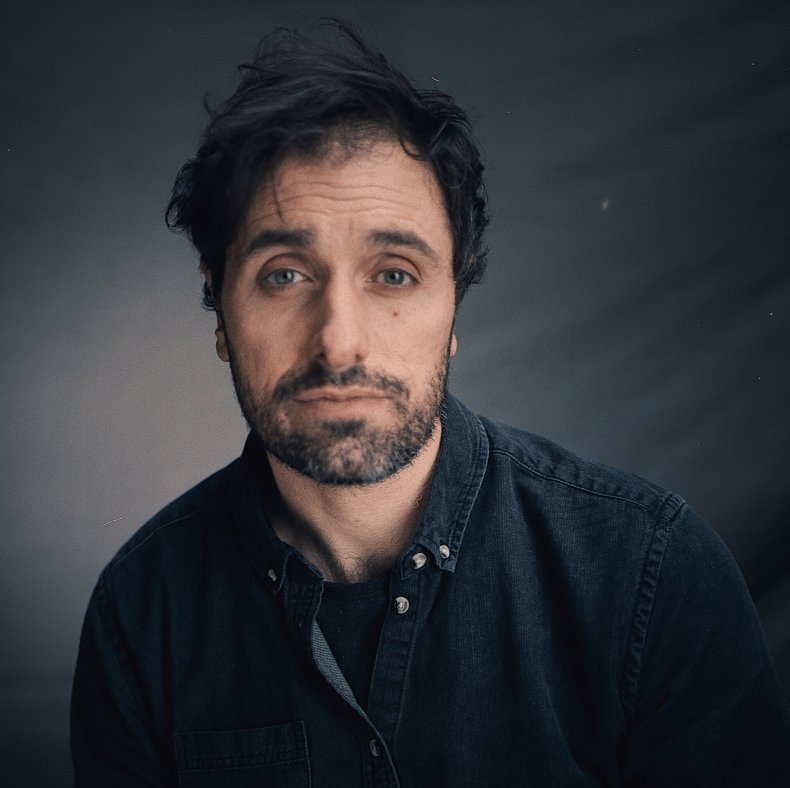 Yet, despite playing enemies on the screen, Covino has nothing but kind words for Hanks. In an interview with Newsweek, he offered the following take on the Oscar winner and all-around decent person: "If it's an all an act, he's a highly committed actor. I think it would be exhausting to be that kind and considerate and interested in other human beings as he is on a constant basis, even when the cameras aren't rolling. It was a pleasure just to experience that up close. He's not only immensely talented, but a very good guy. He's just a good dude."
While News of the World will surely shine the biggest spotlight on Covino that he's experienced thus far, he's also getting plenty of attention in the art house world thanks to the independent feature The Climb. The film is at times gut-wrenching, while also deceptively hilarious, in recounting the long-lasting friendship between two men, played by Covino and Kyle Marvin.
Marvin portrays a kind-hearted pushover, while Covino's character is—there's no other way to put this, really—a selfish screw-up. But for all the heinous and ridiculous things his onscreen persona does, it's hard not to still root for the guy. Covino discussed finding this balance: "I understood that the character meant to do well even though he was constantly making the wrong decisions, so I just had to trust in that. While playing that character, if I believed that in the character, then the audience might pick up on it as well."
Marvin and Covino likely had little trouble adapting to the characters they were playing, since they wrote the screenplay for The Climb. To help blur the line of reality, they also used their real first names for their roles. Of the film's larger theme of a lifelong friendship the endures toxic choices, Covino explained: "I think we were exploring these sort of broken, sometimes seemingly one-sided relationships—especially from from an outsider's perspective—and why they sustain, why we carry them with us, and why they're meaningful.… The main goal was to just entertain people, but I think the secondary goal might have been to look at relationships like this and try to ask the question, 'Why?'"
Covino and Marvin are best friends in real life, having met while making a commercial, though their bond doesn't appear to be nearly as troubled. They've acted in several shorts together and produced several others before making The Climb, their largest project as a duo to date. The film garnered many early positive reviews and was a hit at the Cannes and Sundance film festivals before its official November 13 opening. Covino also directed The Climb, and while he admitted there may have been some tense moments onset directing his friend, it was all in the name them working toward creating something special.
The creation is obviously an all-together different type of movie than News of the World, especially in terms of production, crew, budget, etc. The whole experience was eye-opening for Covino. "Everything changes, and nothing changes in a way," he said of working on his first major motion picture. "There's still a camera pointing at a couple actors, and they're saying lines. The difference is the footprint is hundreds of people versus 40 people, and the number of moving pieces that can get you to where cameras are pointing at two actors is so much bigger. It's so impressive to watch."
"These are the best of the best," he said of the crew. "You're dealing with a world-class director in Paul Greengrass and just these amazing, award-winning department heads. You're watching them operate on the highest level. That was just a bonfire for me, because I was like, Oh, I'm going to film school for four or five weeks. I'm just going to sit and watch and learn when I'm not when I'm not acting."
"But at the end of the day, it comes down to these basic things that all films have, which is people need to emote, and audiences need to care and understand about the characters on the screen. Tom Hanks is kind of the best at that," he continued before describing the work of the director. "Paul Greengrass really has just such a keen eye and understanding of human emotion, while also being brilliant in action sequences and that more kinetic stuff. My biggest takeaway was that, Oh, you can do this at the highest level and still be a really good person and treat people well and be collaborative."
His immediate future still doesn't seem to be focused on following up his work on News of the World with another big feature. Instead, he and Marvin wrote another film and a TV show they will begin working on soon. "We're very busy together," he said. "We're stuck together for at least another year."