Covington Catholic Cancelled Classes After Viral Video of Students in Trump 'MAGA' Hats Prompted Violent Threats
Covington Catholic High School decided to cancel classes on Tuesday after a weekend of controversy following a viral video featuring some of its students.
Principal Robert Rowe told WXIX that school officials met with local authorities and decided to cancel school and close the building on Tuesday to ensure that students, faculty and staff would be safe. Rowe added that all campus activities were cancelled for during the day on Tuesday, as well as, the evening.
"Students, parents, faculty and staff are not to be on campus for any reason," Rowe said in a letter. "Please continue to keep the Covington Catholic Community in your prayers."
The Park Hills, Kentucky, school's decision to close on Tuesday followed the publishing of a video of a student wearing a "Make America Great Again" hat standing in front of a Native American elder. The students were in Washington, D.C., for the annual anti-abortion rally, the March for Life, and were waiting for their busses at the Lincoln Memorial.
On Saturday, a video clip of a confrontation between a Native American elder, identified as Nathan Phillips, and a high school student, identified as Nick Sandmann, was published on several social media sites. Many of the students were wearing attire supporting President Donald Trump, prompting prominent people on social media to label the students as racist and bigoted.
In the video, Sandmann was seen standing in front of Phillips, who was playing his drum, and at one point the student smiled, which several people claimed was a taunting of sorts.
Kenton County Commonwealth's Attorney Rob Sanders told The Cincinnati Enquirer that Covington Catholic High School and some students received violent threats after the video was published. Before the school decided to cancel classes, officials were working with law enforcement to devise a safety plan.
"I think anybody threatening school children is completely wrong, and I won't stand for it personally," Lance Soto, co-chairman of the American Indian Movement Chapters of Indiana and Kentucky, which planned a protest for Tuesday, said. "Those people are not affiliated with us."
After the initial video was published, a longer video was released, which showed the high school students being targeted by a group of people identified as the Hebrew Israelites. Homophobic and racial remarks were shouted at the students and an African-American classmate of Sandmann's was allegedly directly called out.
"They called us 'racists,' 'bigots,' 'white crackers,' 'faggots,' and 'incest kids,'" Sandmann said, according to CNN. "They also taunted an African American student from my school by telling him that we would 'harvest his organs.' I have no idea what that insult means, but it was startling to hear."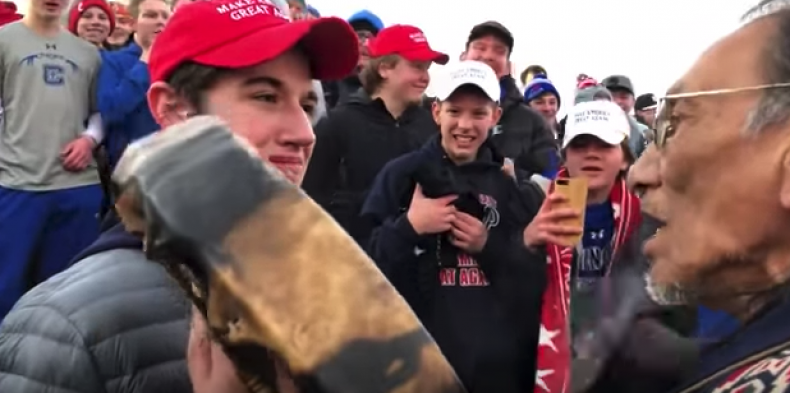 Although some claimed that the students chanted "build that wall," Sandmann said that in response to being "loudly attacked and taunted in public," student started one of their school spirit chants. While the students were chanting, Sandmann claimed he was approached by Phillips, who was accompanied by someone with a camera.
"The protestor everyone has seen in the video began playing his drum as he waded into the crowd, which parted for him. I did not see anyone try to block his path," Sandmann said. "He locked eyes with me and approached me, coming within inches of my face. He played his drum the entire time he was in my face."
Sandmann said he was "startled and confused" by Phillips's actions and worried that the situation was going to get out of hand so he tried to remain calm and motionless. The student said he respects everyone's right to free speech but was unsure why he was singled out.
Following the release of more details about the incident, many people who previously criticized the students retracted their social media postings and apologized for jumping to conclusions. Trump weighed in on the controversy on Monday, posting on Twitter that Sandmann and the Covington Catholic students were "treated unfairly" and "smeared by the media."
He affirmed his support on Tuesday morning and said that the students are "symbols of fake news and how evil it can be." Trump added that he was certain the students would use the attention they were getting for good and "maybe even to bring people together."