Covington Catholic Student Nicholas Sandmann Files $275 Million Defamation Lawsuit Against CNN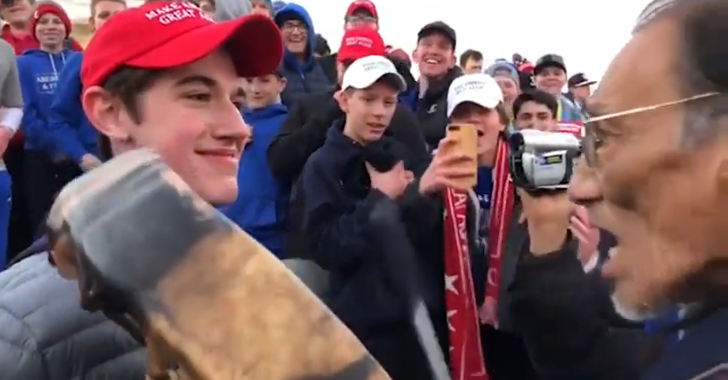 Covington Catholic High School teenager Nicholas Sandmann filed a $275 million defamation lawsuit through his lawyers on Tuesday against CNN, claiming the cable news network's coverage of the student's interaction with Native American elder Nathan Phillips earlier this year amounted to a "vicious attack."
On Jan. 19, Sandmann, 16, made headlines after a short video of his interaction with Phillips at the National Mall in Washington D.C. surfaced on social media, which apparently showed numerous teenagers taunting the Native American elder during a demonstration.
Sandmann and his fellow students faced widespread backlash over the clip, with prominent media figures accusing them of racism. However, two days later they were exonerated after a longer video of the incident was shared online which showed that Phillips initiated the confrontation after the students were provoked by another organization.
"In short, the false and defamatory gist of CNN's collective reporting conveyed to its viewers and readers that Nicholas was the face of an unruly hate mob of hundreds of white racist high school students who physically assaulted, harassed, and taunted two different minority groups engaged in peaceful demonstrations, preaching, song, and prayer," the lawsuit, filed in the U.S. District Court of Kentucky, read. "The CNN accusations are totally and unequivocally false and CNN would have known them to be untrue had it undertaken any reasonable efforts to verify their accuracy before publication of its false and defamatory accusations."
Sandmann is seeking $75 million in compensatory damages for the harm suffered to his reputation and the emotional distress he experienced as a result of the public outcry over the media reports. He is also seeking $200 million in punitive damages.
A CNN spokesperson declined Newsweek's request for comment.
Sandmann's lawsuit against CNN comes less than a month after he filed a similar suit against the Washington Post for $250 million. The complaint alleges that the Post attacked Sandmann for being "white" and sporting a "Make America Great Again" cap. The suit also said that the newspaper, who Sandmann's lawyers claim have a "well known" bias against President Donald Trump, "bullied an innocent child" without considering the consequences it could have on him.