Kentucky Firefighters Work to Rescue Cow That Was Swallowed Up by Giant Sinkhole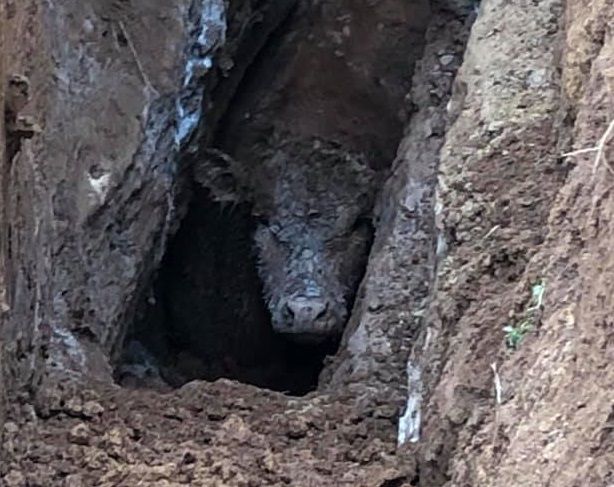 Emergency services in Kentucky have pulled together to help rescue a cow who became trapped after falling down a sinkhole.
The Lexington Fire Department was called to Lincoln County, along with Jessamine County firefighters, to help rescue the animal discovered to be around 15-20 feet below the ground after falling through the hole on December 8.
Read more: Knickers the giant cow is getting agitated at all this worldwide attention
Both teams managed to safely retrieve the cow who is now expected to make a full recovery.
"Crews worked together, using backhoes, to make the hole safe enough to dig out the cow and lift him to safety," the department said in a statement on Facebook. "Thankfully, the cow did not appear to be injured, and will spend the next few days resting before getting back to work grazing in the fields."
The incident occurred less than one week after the same department had to rescue a Lexington Police horse whose left hind leg became stuck in an uncovered utility hole.
The 17-year-old horse, Yoder, became stuck as he was walking with a group of other horses on their way to the Lexington Christmas parade, the local government said in a statement.
The horse shoe which Yoder was wearing at the time became wedged into one of the pipes. After using a pulley system to take the weight off the rest of Yoder's body, crews freed the horse from the hole by chipping away at the road to remove the pipe with Yoder's foot still wedged in it.
The pipe and the shoe were eventually also removed, freeing the horse after two hours.
"We treat it just like we would a human being," Lexington fire Battalion Chief Chris Ward told the Lexington Herald Leader. "Legs on a horse, we all know how fragile they are."
Yoder was then taken to the Rood and Riddle Equine Hospital, where thankfully x-rays revealed his leg was not broken. He was able to stand and eat by himself later that evening and is expected to make a full recovery.
"Our horses aren't pets. Our dogs aren't pets" added Lexington Police lieutenant Nate Muller. "Our lives often depend on the quality of animals that we have."