Washington Man Arrested Over Attempted Knifepoint Rape of Bikini Barista
Washington police have arrested a man accused of attempting to rape a bikini-clad barista in Kent at knifepoint after surveillance footage of the incident was released.
Detectives were called to Hottie Shots Espresso stand on 84th Avenue South at 4:45 a.m. on Tuesday 20 Februray following reports that a 30-year-old employee had been attacked.
The barista told police the suspect came to the window and ordered a drink. When she turned to make it, he climbed through the window and threatened her with a knife.
He forced the victim outside and into an alley, where he attempted to rape her before running away when he saw a car approaching.
Kent Police released surveillance video of the incident as part of an appeal to find the perpetrator.
Detectives have confirmed that a 33-year-old male has now been arrested after receiving " multiple tips" identifying the suspect, they said in a statement.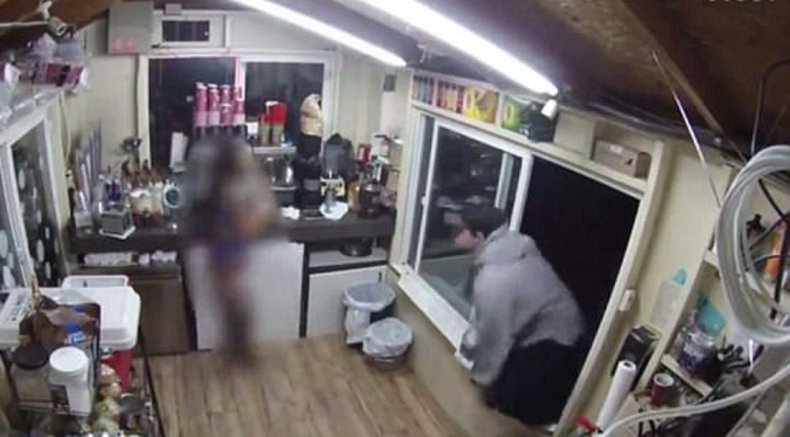 Detective Melanie Robinson told Q13 Fox: "We want to thank everyone that called in and identified this violent offender—our streets are safer because of each of you."
The victim, Madeline Guinto, said she feared for her life but wanted to "die fighting."
Guinto, who has worked at the stand for the past nine years, told Kiro 7: "He kept telling me, 'You're coming with me or I will kill you'. I was keeping as calm as I could be, but I was thinking I'm going to die trying to live. I'm going to die fighting."
She added: "This guy did not expect me to fight back. He didn't expect me to be as strong as I am. That's why I hope this would encourage other women to be ready. Don't work out just because you want to be skinny or fit into that bikini. You work out to be strong so you can fight back."
A second worker at the Hottie Shots Espresso stand told KOMO: "We've had a couple of robberies and I've actually been held up myself and that's terrifying in itself, but for the most part if you just give them some money, they go. This was a totally different thing. This was much scarier."
Robinson told KOMO before the suspect was caught: "He's obviously a coward who preys on young women and females who are working in situations just like this, and he's a coward because there's nobody else around to protect them but themselves."
<