'Cowards': Uvalde Cops Face America's Wrath Over Bungled Shooting Response
Police are facing heavy criticism and being labeled "cowards" for their response to the mass shooting at Robb Elementary School in Uvalde, Texas, this week.
A total of 19 children, two adults and the alleged shooter Salvador Ramos were killed amid the shooting on Tuesday. Outrage has erupted online and on cable news after it was revealed that local police went inside the building minutes after the gunman entered unchallenged but quickly retreated and took cover. Ramos was killed by border patrol agents more than an hour later.
Texas Department of Public Safety (TDPS) Lieutenant Chris Olivarez told CNN that police did not engage with Ramos further due to concerns that they would have taken fire and officers "could have been shot." The word "cowards" trended on Twitter in reference to the police after news of the delay emerged.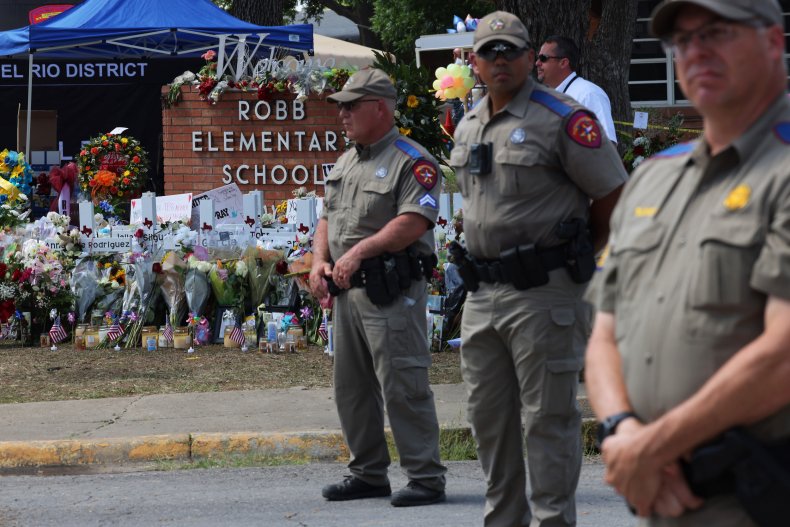 "The Uvalde police were a bunch of gutless cowards who shamed their badges," British TV personality Piers Morgan tweeted on Friday. "Heads should roll, and some of them should be charged with criminal negligence. They let those kids die."
"Republicans, Democrats, Independents and I think everyone agrees that the Uvalde police are cowards, liars and should be in prison themselves," tweeted conservative pundit Carmine Sabia on Thursday. "They are complicit in the deaths of these children."
"I am just going to say it: the Uvalde local police are cowards and failed to protect these children," civil rights attorney Jo Kaur tweeted on Wednesday. "They should be held accountable. They are no heroes."
"What happened in Texas was an act of evil," tweeted former GOP strategist and Lincoln Project founder Steve Schmidt. "The response of the Police represents the greatest act of public cowardice during my adult life. Despicable. Cowardice is deadly and immoral. The leaders of the Police Departments that are full of cowards should resign immediately."
"Every single cop who stayed outside like cowards while teachers protected their students should resign immediately," writer Roxane Gay tweeted. "They should live the rest of their lives in abject shame. What is the purpose of police if they won't do their jobs? I know the answer. I KNOW! But Jesus Christ."
On Friday, Texas Governor Greg Abbott said he was "absolutely livid" after having been "misled" about the police response. Abbott previously said that police acted with "amazing courage" during the shooting and that the massacre "could have been worse" if not for their actions. The governor later canceled his Friday appearance at the National Rifle Association's annual convention being held in Houston.
Texas state Senator Roland Gutierrez, whose district includes Uvalde, said during an MSNBC appearance on Saturday he wanted more answers about the police response. "We really have a lot of issues and a lot of failures that happened here. This community, and the country, deserves to know for sure," he said.
Meanwhile, former New York Police Department Detective Marq Claxton said on MSNBC on Saturday: "Instead of serving as an opportunity to rescue and save lives and mitigate damage and risk, it really was an act of group cowardice on one level and, without a doubt, professional incompetence on the part of the police officers on the scene."
"I'm in Germany and all I can think about are the children who were brutally murdered and how many of them could have been saved & had a chance to live their lives if only the Uvalde police officers had done the single most basic function of their job," tweeted author Don Winslow.
Washington Post columnist Henry Olsen slammed the police response, which he said "failed to protect innocent children."
"Misbehavior among law enforcement is especially egregious because the people they protect have surrendered their power to right wrongs on the expectation that officers will do the job better and more fairly. Police have an effective legal monopoly on the use of force in dangerous situations," he wrote.
The Fox News program The Five discussed Abbott's remarks on Friday afternoon. Several personalities suggested that the police acted inadequately, while others warned against "Monday morning quarterbacking" the response and criticizing the situation in hindsight.
Conservative commentator Eric Bolling called the police response "unforgivable" during his Newsmax TV show on Friday, noting that officers did not enter the classroom despite knowing "there was an active shooter" inside with children. Bolling also accused the school resource officer of "a total dereliction of duty."
The Uvalde Police Department's Facebook page was overwhelmed with thousands of angry comments from the public following the shooting. One Facebook user wrote that if police had been told "they were serving a no knock warrent [sic] on a black persons house they would have tripped over each other to get in," a comment that had been liked more than 700 times as of Friday night.
Newsweek reached out to TDPS for comment.