Cowboys Coach Jason Garrett Trends As More Coaching Changes Expected After Browns Fire Freddie Kitchens
The Cleveland Browns wasted no time firing Freddie Kitchens as its head coach after just one year directing the team. The Browns finished the season with a 6-10 record after a 33-23 loss on Sunday to a Cincinnati Bengals team that had won just one game this season prior to Sunday.
The Browns entered the 2019 season with high expectations after building a wealth of talent and a surprisingly-improved campaign in 2018. Quarterback Baker Mayfield returned after a successful rookie season, Odell Beckham Jr. was brought in as a star wide receiver to complement his college buddy Jarvis Landry, and Nick Chubb looked to be the answer at running back.
However, it wasn't enough for the Browns organization.
"I would like to thank Freddie for his dedication and efforts this past season," Browns general manager John Dorsey said on NFL.com. "We are disappointed in our results and feel a change is necessary. Freddie is a good man and good football coach. We wish he and his family nothing but success."
Other teams possibly making moves quickly include the Dallas Cowboys, as Jason Garrett won just three NFC East titles in 10 seasons at the helm. The Cowboys beat just one team this season that had a winning record.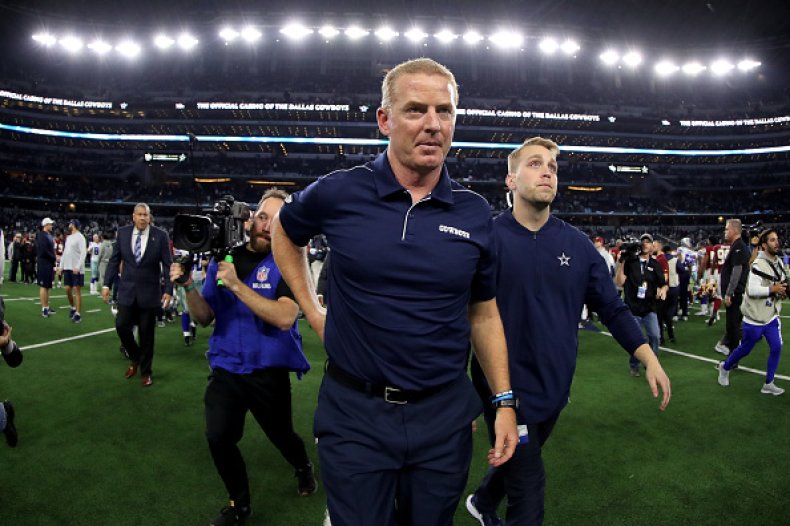 Twitter poked fun at Garrett, saying the 47-16 win over Washington on Sunday was his last as a Dallas Cowboys coach. Cowboys owner Jerry Jones did not speculate after the game on Garrett, whose contract expires this Wednesday after not getting renewed in the offseason.
One Twitter user said "I will remember Jason Garret wasting the most talented offensive unit the cowboys have had this decade."
Here are the other coaches around the league who could face departures, or teams looking to fill spots already vacated, per ESPN.
Washington Redskins — fired Jay Gruden after starting 0-5 in 2019
Carolina Panthers — fired Ron Rivera after 5-7 start and losing four straight games
Dallas Cowboys — Jason Garrett failed to make the playoffs after dismal 8-8 season and is not expected to return
Jacksonville Jaguars — Doug Marrone rumored to be fired after Sunday game
New York Giants — Pat Shurmur had back-to-back 5-11 seasons
Cleveland Browns — fired Freddie Kitchens on Sunday
Coaches on the hot seat for the 2020 season
Los Angeles Chargers — Anthony Lynn will get at least one more season in the Chargers' new stadium
Atlanta Falcons — The club announced Dan Quinn would be back in 2020 despite missing playoffs two-straight seasons
New York Jets — Adam Gase will get some leeway after a disappointing first season with the Jets