Cowboys Owner Jerry Jones Brags of 'World Record Attendance' for a Pandemic
The Dallas Cowboys didn't have the best record in the NFL this season by a long shot. However, Cowboys owner Jerry Jones boasted a mark set by those who showed up to watch his losing team.
Jones appeared on the radio show 105.3 The Fan on Tuesday in the DFW Metroplex, and he was asked about the future of defensive coordinator Mike Nolan, whose defense gave up more points in the franchise's history.
Jones waffled on the question, fumbled it around and then eluded to the attendance at his luxurious AT&T Stadium during the COVID-19 pandemic.
"Our stadium is—I'm going to segue for you—but our stadium is a great example," Jones said. "I think we set, and I'm going to arm-wave, but I think we set the world record for attendance of a venue this year in our stadium, in the middle of a pandemic. The results were extremely safe.
"My point is we have such a great fan base. We have such a great, if you will, football culture in our market.''
In other words, three things mattered in that statement, and here they are:
Everything is bigger in Texas, even attendance during a pandemic
Cowboys still make money from losing teams with poor defense
Nolan should probably update his resume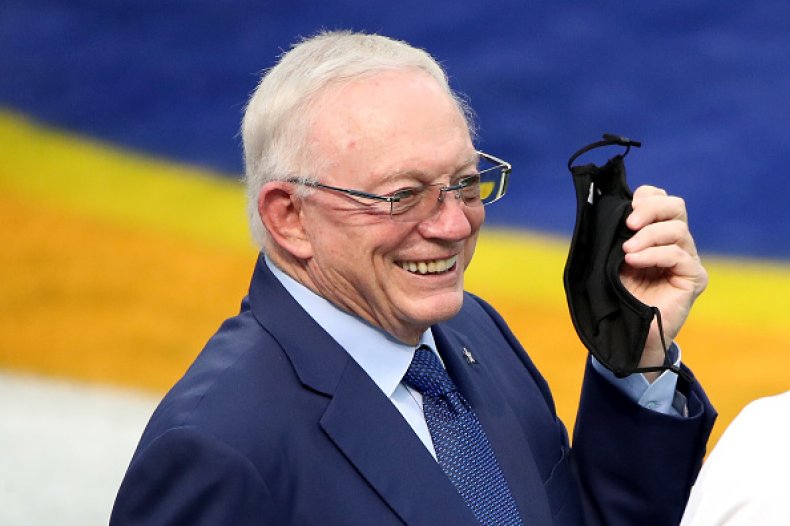 Dallas averaged 27,377 fans at AT&T Stadium in the 2020 season, with a high mark of 31,700 fans to see their hapless team almost beat an undefeated Pittsburgh Steelers on Nov. 8.
How did Dallas' attendance stack up against other teams that allowed fans? Well, the Jacksonville Jaguars were next in line with an average attendance of 15,919 fans. That's despite the Jaguars going 1-15 this year, with their lone win on the opening weekend.
Only about half of the stadiums in the NFL allowed fans during the 2020 season, and that will extend into the playoffs. The COVID-19 pandemic has taken the lives of more than 350,000 Americans, and it altered sports in America.
The state of Texas allowed fans at football games during the 2020 season (in a limited capacity), whereas some states and cities across the country did not allow spectators.
The Dallas Cowboys, which finished the season with a 6-10 record, had a slim shot to make the playoffs entering the final weekend of the season. The Cowboys eventually lost to the New York Giants, 23-19, on Sunday. The Giants were ultimately eliminated from the playoffs after the Washington Football Team won their game Sunday night.
AT&T Stadium in Arlington, which has also been dubbed "Jerry World" by so many people, doesn't just hold Dallas Cowboys games. It also hosts several college and high school football games every year. Most recently, the stadium hosted its annual Cotton Bowl game. It also hosted the Rose Bowl Game, which was moved from California to Texas this year—so it could have fans in attendance for the College Football Playoff semifinal game between Alabama and Notre Dame.
Jerry World also hosts the Texas state high school football championships every year. The Class 1A-4A championships have already been held, and the Class 5A and 6A state championships will be held the weekend of Jan. 15-16.
Do winning teams really matter for Jones when he can keep putting people in seats and charging outrageous parking fees? It hardly seems so.