'Cowboys for Trump' Ride Horseback to White House in Support of Donald Trump's Border Wall Policies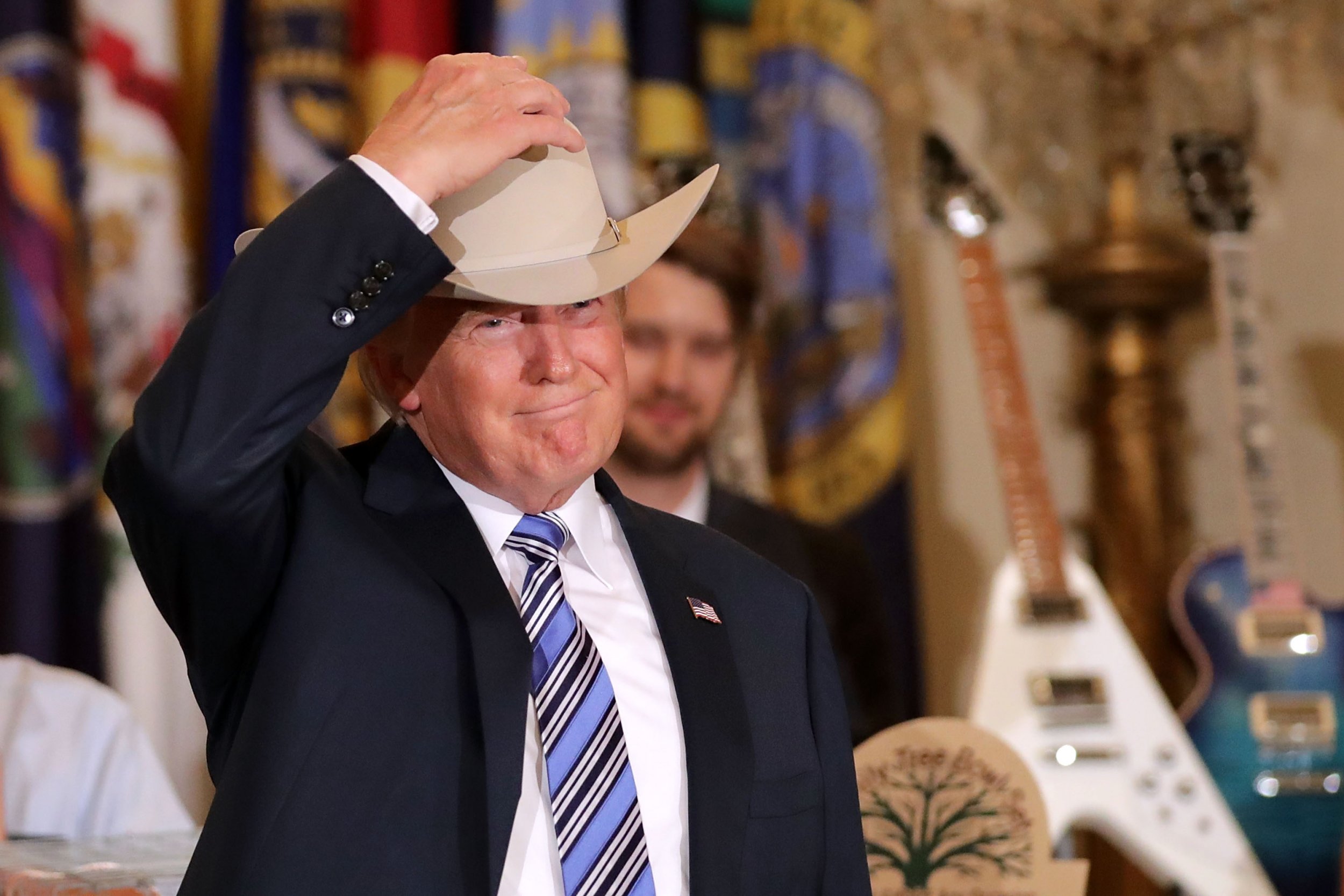 Starting in Maryland, men and women mounted horses and rode to Washington, D.C., to show their support for President Donald Trump's policies.
The "Cowboys for Trump," as the group has dubbed itself, began its trek to the White House on February 15 in Cumberland, Maryland. Organized by a group from New Mexico, the ride was designed to show support for America and Trump.
The three principal concerns of those involved in the ride, as outlined on a GoFundMe page, were securing the border, protecting the unborn and preserving the rights under the Second Amendment. The group said the U.S. was a place where "freedom and liberty ring," where justice is upheld and law and order are embraced and political leaders serve the people.
"Unfortunately, our nation's security is being used as a political bargaining chip with the residents of our nation's borderlands paying the price," the group said. "We believe we are a nation of laws and want to see those laws upheld. As a nation, we must stand behind President Trump and his push for strong border security."
Couy Griffin told KOAT that they're not against immigrants, they just want to make sure the people coming into U.S. have been properly vetted.
Traveling along the C&O Canal, the trip spanned about 173 miles and the riders managed to cover about 20 or 25 miles a day. As they rode, one of the participants carried an American flag and several others carried Trump campaign flags.
On Friday, they began making their way into the capital. In a video posted on Facebook this morning, one of the participants said their goal was to be at the White House by noon.
About a dozen people participated in the ride and Griffin told WTTG that he was surprised how quickly it came together, because there wasn't a solid plan. The group traveled from New Mexico to Cumberland, where they picked up 12 horses that were rented from a local farm.
"We come from a state that is affected by border security and immigration issues that we are seeing right now," Griffin said. "We just wanted to show President Trump we support everything he's doing."
The group doesn't have any plans to meet the president, and the riders aren't even sure if they'll see Trump, but they brought along a gift in case they do. Carried along their journey was a custom-made cowboy hat for Trump, which said on the inside in gold writing that it was made for the president. Griffin told WTTG that the group hoped the president would take a photo wearing the hat.
"He's standing up for us, he's standing up for the little guys, and we love him for it," Griffin told KOAT. "I'm not an emotional guy...but if I could shake his hand and tell him that I thank him, I would do it in a heartbeat."
At the end of the trip, the horses will be trucked back to Cumberland and the riders will return home to New Mexico.