Cops Surround and Shoot Coyote Dead After It Bites Fellow Officer
Police in Ohio were forced to use stun guns on and eventually shoot dead a coyote that had attacked a fellow officer.
An unnamed officer stopped to help a stranded motorist at the exit for Hamilton Road on Interstate 70 East, in Columbus, at around 7 p.m. on Thursday.
The coyote approached the officer soon after he got out of his cruiser and bit his lower body before the officer could respond.
The officer reacted by punching the coyote, which beat a hasty retreat. However, it returned shortly after, according to local network WCMH Channel 4.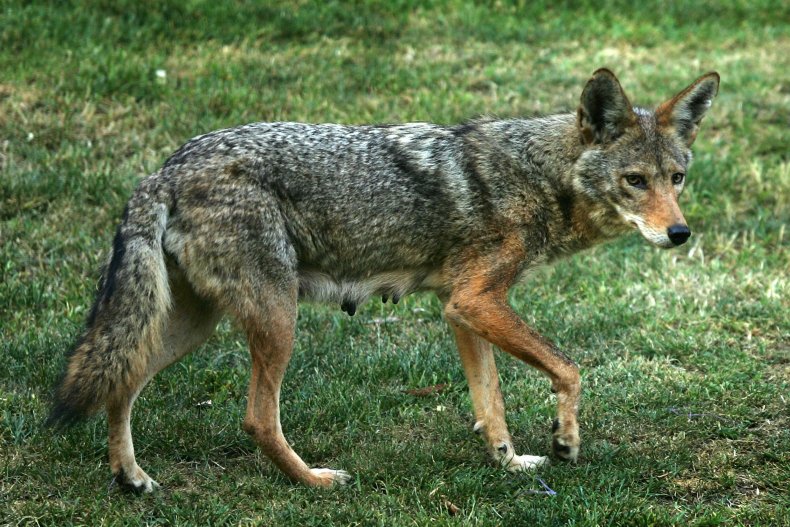 There were other officers on the scene when the animal came back. They used a stun gun on the animal, but to no avail. The animal ran toward a wooded area. Police then surrounded the beast before shooting and killing it.
The officer who was bitten was taken to a hospital with injuries and said to be in a stable condition. Police and animal control officers are investigating.
The news network ABC 6 reported that coyotes are common in the streets in Ohio at this time of year because of breeding season, which runs until the end of March.
The state's Department of National Resources said that in most cases, the animals posed little threat. However, it did suggest a number of measures to keep them at bay.
This included advising homeowners not to leave food and trash lying around and keeping pet dogs on short leashes when taking them for a walk.
If confronted by a coyote, people are advised to make noise by clapping their hands, yelling or stomping their feet, which should scare them off.
There have been several coyote attacks in Chicago recently.
This month, a five-year-old boy had to be taken to hospital after he was bitten several times, including on the head, by a coyote outside the Peggy Notebaert Nature Museum in Chicago.
CBS Chicago reported that hours later, a 32-year-old man was also bitten by one of the creatures in the same city, around two miles from Lincoln Park.
A Chicago police spokesperson told Newsweek the man walked into Northwestern Memorial Hospital with a "scratch to the buttocks," after the incident on January 8. It was not known if the two attacks were by the same coyote.
In December, a limping coyote mauled a poodle puppy in Chicago's Old Town. The pet managed to survive, according to the dog's owner, Linda Bacci.