Coyote Attack Leaves Texas Toddler in Critical Condition
A 2-year-old child is in a critical condition after being attacked by a coyote at a home in Dallas, Texas, according to police.
Police raced to a home in Royalpine Drive after they were alerted to reports that a child was attacked on the front porch before 8:30 a.m.
CBS affiliate KENS5 reported the child was sent to a nearby hospital shortly after police were notified.
According to the Humane Society, coyote attacks are incredibly rare and there have been two recorded instances of people being killed by the animal in the U.S. and Canada.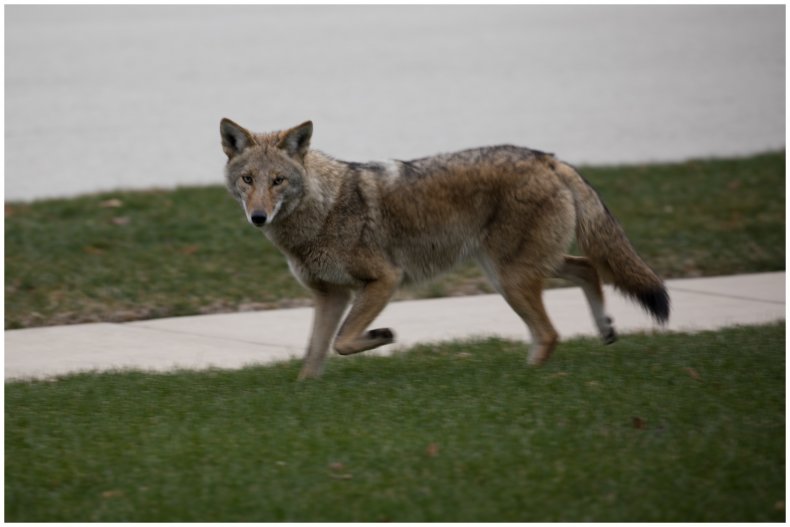 The animal welfare organization said the cases involved a child in southern California in the 1980s while the other victim was a 19-year-old woman in Nova Scotia in 2009.
An officer later found a coyote near a park on Royalpine and shot at it before it ran into the woods, according to the network. It is unknown if the bullet struck the animal.
After the officer shot at the coyote, the Dallas County Game Warden joined police to continue a search for the animal.
Dallas Animal Services told KENS5 the coyote was known in the neighborhood and that residents had been feeding it due to its lack of fear when coming into contact with people.
The group said in a release obtained by the network: "This tragic incident shows why it is critical that residents treat all wildlife as wild animals—when wild animals become too comfortable around humans, there is an increase in problematic and dangerous interactions such as this one that put both residents and the animal itself at risk."
A Richardson Independent School District representative told ABC affiliate WFAA that students at White Rock Elementary School were being kept inside the building while police carried out an investigation.
Newsweek has contacted the Texas Parks and Wildlife for comment.
According to the Humane Society, there are several precautions people should take to avoid having coyotes near where they live, which include:
Avoid feeding pets outside. If you must, feed them only once per day and remove the food bowl as soon as your pet has finished her meal.
If you compost, use enclosed bins and never compost meat or fish scraps. Clean up spilled bird seed around feeders.
Remove fallen fruit from the ground.
Keep trash in high-quality containers with tight-fitting lids and place the cans curbside the morning of collection (instead of the night before).