The Conservative Political Action Conference, commonly called CPAC, got underway on Friday.
A number of high-profile conservatives and Republican leaders are set to speak at the conference that will last through the weekend in Maryland.
Among the scheduled speakers are President Donald Trump, Vice President Mike Pence, Fox News's Laura Ingraham, right-wing personality Glenn Beck, Turning Point USA's Charlie Kirk, among many others. (The full list of scheduled speakers appears here.)
Thus far, a fair bit of CPAC has featured speakers going after the left and defending supporters of Trump. For instance, said Fox's Ingraham, of conservatives who are accused of racism: "Look right back at them and say, 'You're the real racist, you're the real misogynist.'"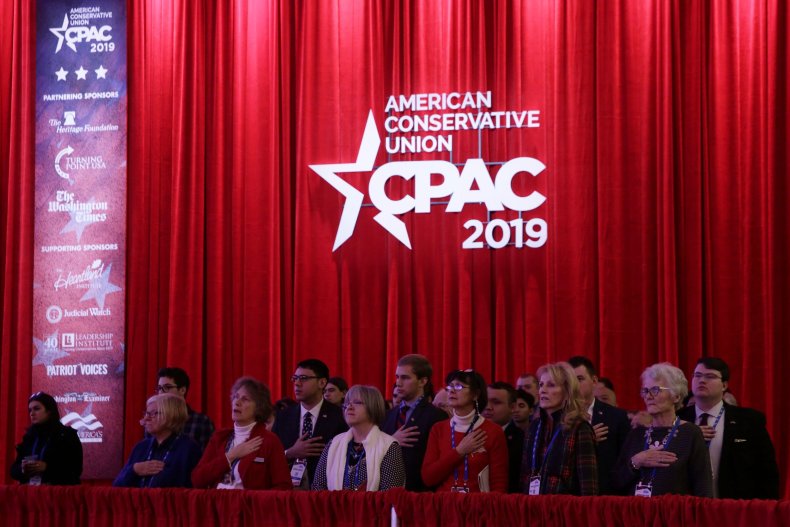 You can find the full schedule for CPAC here, but below are some highlights on the days to come. All times are listed in ET.
Thursday, February 28
2:10 p.m. - Director of the National Economic Council Larry Kudlow
2:50 p.m. - South Carolina Senator Lindsey Graham
Friday, March 1
7:50 a.m. - Glenn Beck, political commentator
8:05 a.m. - Candace Owens, Turning Point USA, director of communications and commentator
9:20 a.m. - Texas Senator Ted Cruz and National Review editor Rich Lowry talking about the border
10 a.m. - Vice President Mike Pence
10:45 a.m. - Liberty University's Jerry Falwell, Jr. and Donald Trump Jr., at Liberty University
11:50 a.m. - Ambassador to Japan Bill Hagerty and Commerce Secretary Wilbur Ross talk with Fox's Pete Hegseth
4:45 p.m. - British politician Nigel Farage
Saturday, March 2
10:15 a.m. - Mark Levin, talk-show host, and Julie Strauss Levin, attorney
11:30 a.m. - President Donald Trump
12:50 p.m. - Dennis Prager, co-founder Prager University and radio talk-show host
3:25 p.m. - Florida Representative Matt Gaetz
4:00 p.m. - Fox News's Jeanine Pirro
4:30 p.m. - Matt Schlapp, American Conservative Union (closing remarks)
Live Stream
If you want to follow along online, NBC News is streaming CPAC live at its YouTube page here. CPAC's Twitter page is also live streaming events here.