CPAC Attendees Take Issue With Fox-Branded Lanyards: 'I Feel Very Betrayed'
Conservative Political Action Conference (CPAC) attendees are upset over lanyards printed with the Fox Nation logo after the streaming service reportedly cut away from a speech on censorship.
Women at the conference in Dallas over the weekend spoke to Ivory Hecker—a former reporter for Fox's Houston affilliate—who was allegedly "muzzled" by Fox News. Hecker gave remarks on Project Veritas, a far-right journalism organization.
On Saturday, she posted a video of conversations with upset attendees to Twitter.
"Multiple ladies came up to me last night telling me they are getting rid of their CPAC lanyards because Fox Nation cut the live feed while I was speaking on stage about censorship," she tweeted.
A Fox Nation spokesperson told Newsweek the feed was never cut and they had already stopped streaming the event prior.
In a clip, a woman at the conference complains that Fox Nation should not have its logo brandished on the official CPAC lanyards.
"Fox Nation sponsored the whole CPAC, and then they are de-platforming Ivory when she's talking at CPAC with Project Veritas," the woman says. "That is unbelievably—I can't even describe how horrible that is in the United States of America."
The woman goes on to compare Fox's alleged cut from the speech to communism in China.
"I'll never watch Fox. You couldn't pay me to watch," a woman passing by said.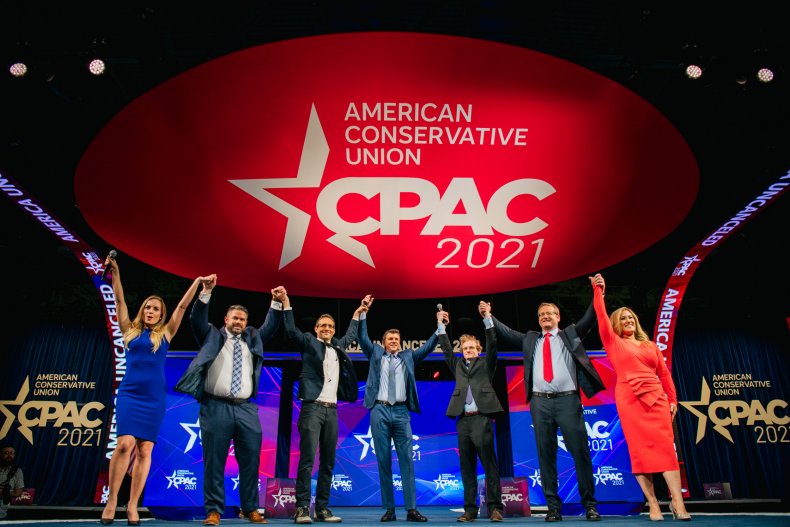 In the video, after the first woman recounts the alleged "de-platforming," the two women tell Hecker that the network is "liberally-owned."
"Exactly," says one, before addressing Fox News founder Rupert Murdoch: "Screw you Murdoch."
Hecker adds to the conversation: "It's getting creepy."
Hecker posted another video to Twitter without a caption that echoed the sentiment of the first. The second video showed a woman pointing to her lanyard saying she feels "betrayed."
"I feel very betrayed because this is all about uncensored and freedom of speech, and then here, I am walking around with a lanyard...so we are going to take this lanyard off tonight, and I will come with a different lanyard tomorrow," she says in the clip.
The woman also tells Hecker that she plans to speak with Fox Nation employees at CPAC the following day. She and a group of other attendees agree to walk up to the Fox team and drop their lanyards.
"I paid money to come listen to my freedom, and then [Fox News] takes down Project Veritas, which is all about our freedoms," the woman adds.
Hecker tells the group that she wanted to know what Fox execs were hiding and the camera person commends the ladies for standing up for their freedoms, calling them "true patriot[s]."
Newsweek reached out to Fox News for comment, but did not hear back by publication time.
A previous version of this story said the lanyard had a Fox News logo. The logo on the lanyard is that of Fox Nation. This story has also been updated with a comment from Fox.