Conservatives Praise Trump Amid Rising Tensions at CPAC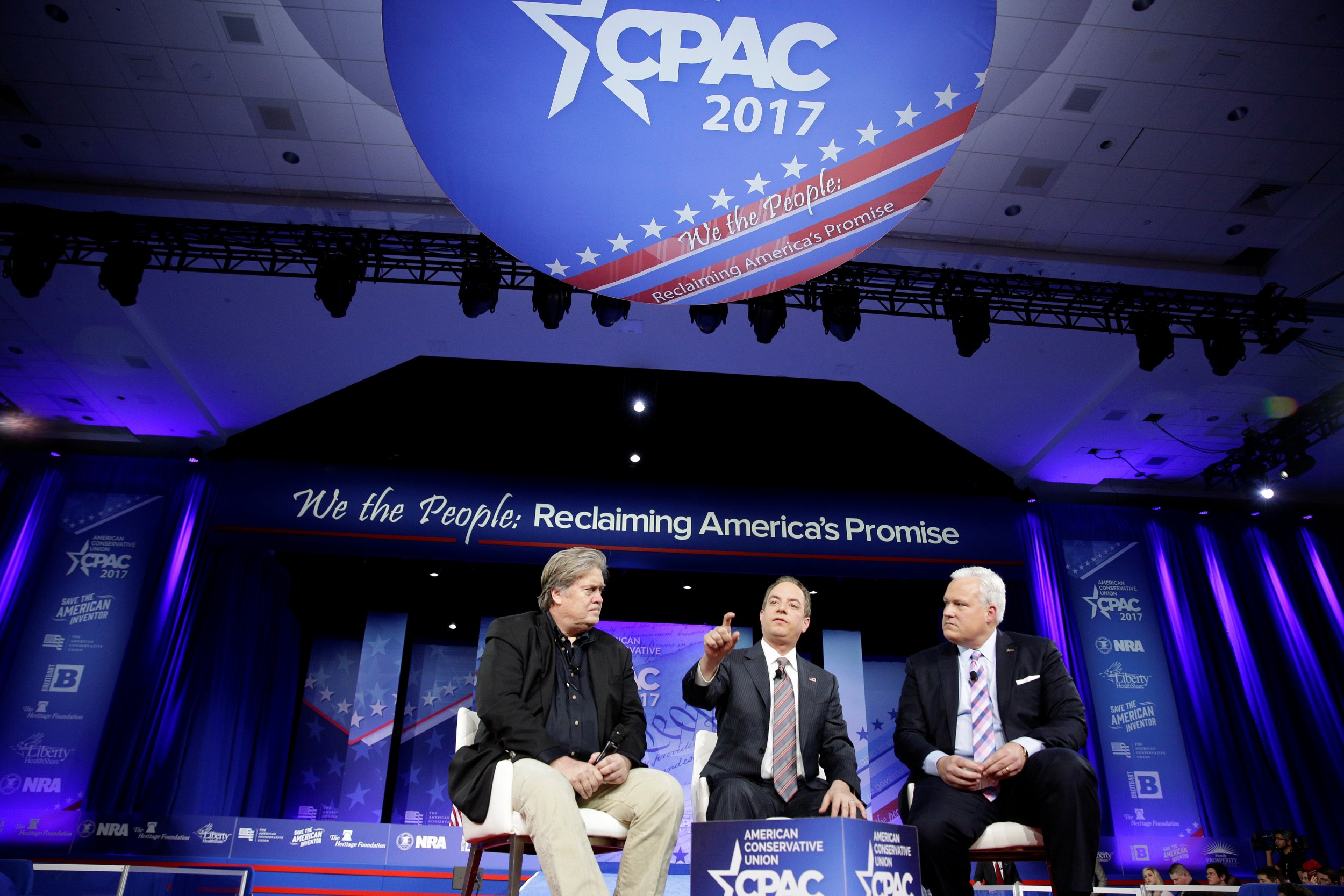 Conservatives are celebrating President Donald Trump's role in delivering them a victory in November's election, but beneath the surface at an annual convention this week lurk tensions central to how Republicans will govern.
At the four-day Conservative Political Action Conference, once a fringe event that is now decidedly in the Republican mainstream, Trump and Vice President Mike Pence will drop by to help fire up an estimated 10,000 activists.
Known as CPAC, the event is being held in suburban Maryland, just outside Washington, D.C., as Republicans who control the White House and Congress argue among themselves over issues such as trade, taxes and how to dismantle and replace President Barack Obama's landmark healthcare law.
White House adviser Kellyanne Conway, in remarks to the group, credited Trump with revitalizing the Republican Party's right wing.
"Every great movement ends up being a little bit sclerotic and dusty after a time, and I think they (conservatives) need an infusion of energy," Conway said, adding that Trump "went right to the grassroots and brought you along."
Just a month into his presidency, Trump is already being compared by some conservatives to their icon, President Ronald Reagan. He swept to power in 1981 with a small-government, free-trade, tax-cutting agenda that energized the Republican right-wing and molded the views of many of the CPAC faithful.
Trump so far has been "pitch-perfect with conservatives as he starts his administration," said Matt Schlapp, head of the American Conservative Union, which organizes CPAC.
Even so, some conservatives, including some at CPAC, are nervously watching Trump.
Trump has proposed a major expansion of government to police immigration. He has already canceled a trade deal with Asia-Pacific neighbors, and he has sharply criticized one between the United States, Mexico and Canada.
"I always worry any discussion about trade competition and tariffs ... misdirects the focus," said CPAC stalwart Grover Norquist, a powerful advocate of low taxes and small government.
On taxes, Trump has backed cuts in rates, but his position on a Republican tax package under debate in Congress is unclear.
Referring to the outline of a tax reform plan the president has floated, Norquist said, "Damn near the entire conservative wish list on tax policy is in his (Trump's) tax reforms."
Whether Republicans and Trump can come to terms over such issues will help determine how much real change they can effect in Washington, and how the voters treat them in two years in the mid-term elections, when ruling parties normally lose ground.
Some Republicans have expressed disappointment that Trump has not moved faster on tax reform and on repealing Obamacare, Obama's law on health insurance. Trump has not yet publicly proposed legislation of any kind, unlike recent first-term presidents.
Schlapp credited Trump with naming the most conservative Cabinet in a half-century and nominating a Supreme Court justice, Neil Gorsuch, who has conservatives' blessings.
Trump has also thrilled conservatives by working hand-in-glove with congressional Republicans on overturning or gutting a handful of Obama-era regulations, including one that prevented coal companies from dumping waste into rivers and streams.
Avoiding Alt-Right Controversy
CPAC organizers are trying to steer clear of controversy over the alt-right movement, a loose grouping that includes neo-Nazis, white supremacists and anti-Semites whom Trump has been slow to denounce. Trump chief strategist Steve Bannon, who formerly headed the Breitbart News Network that appealed to the movement, will speak at the conference.
"We don't think there's any role for the alt-right in the conservative movement," Schlapp said in a phone interview.
Even Republican moderates, represented by the Republican Main Street Partnership, gushed over Trump.
"No one is unhappy with what he's doing," said Sarah Chamberlain, president of the group with around 80 members of Congress.