CPAC: For Conservatives, It's Burning Man Meets the Super Bowl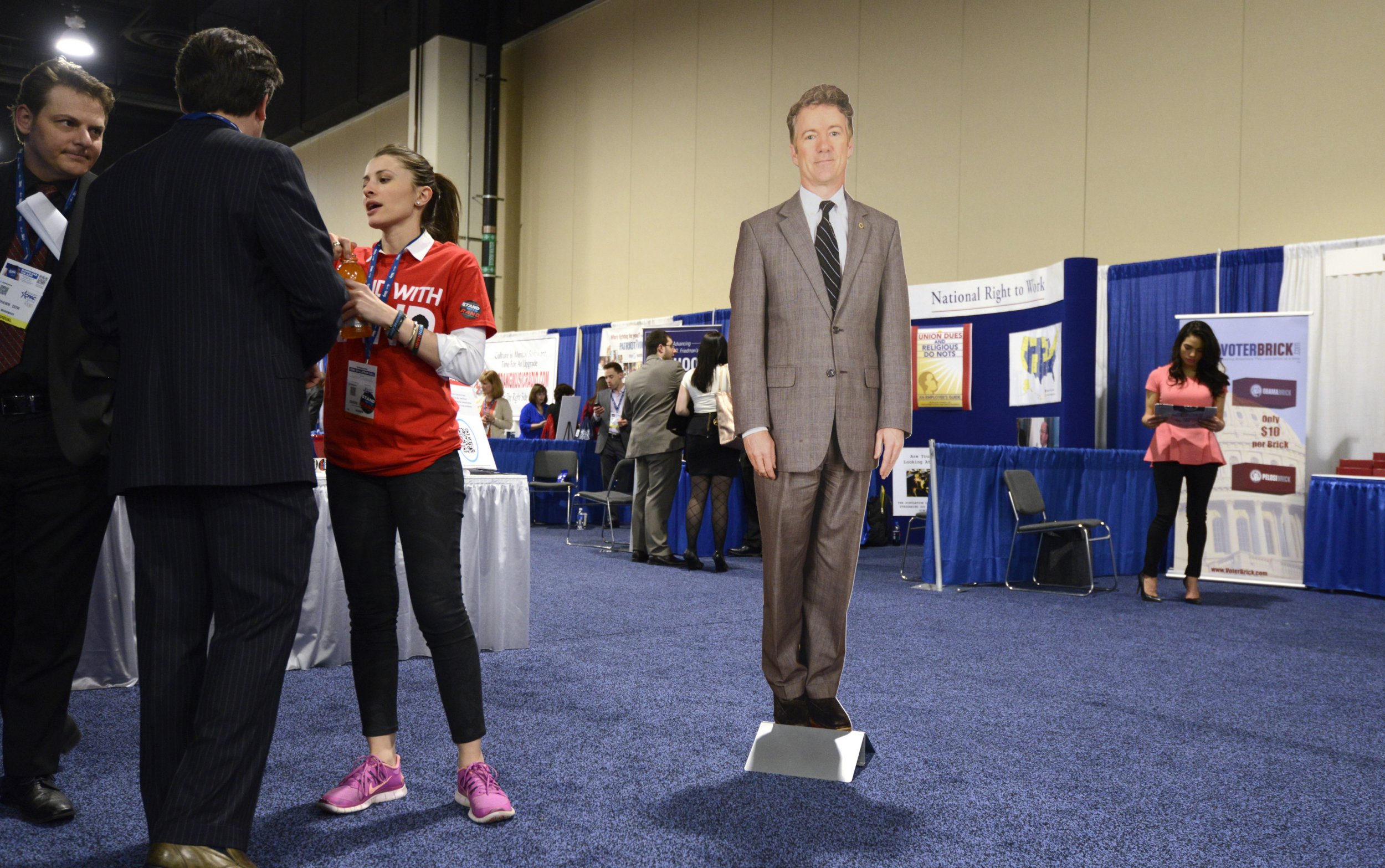 It's an industry trade show like Comic-Con, but also a feel-good festival à la Burning Man. It's got Super Bowlesque hoopla, and for activists on the right, the annual meeting is the get-together in Washington. Thousands of conservatives will gather Wednesday for the weeklong Conservative Political Action Conference (CPAC), where presidential hopefuls Jeb Bush, Rand Paul, Ted Cruz and others will try to woo their base in the lead-up to 2016.
The event, long held at Washington's Omni Shoreham Hotel, was moved by organizers to the recently built Gaylord National Resort and Convention Center in National Harbor, Maryland—a Democratic stronghold, but who's counting? Located near the capital, the hotel boasts a London-style Ferris wheel overlooking the Potomac River.
From the get-go, registrants will hone their organizing skills with panels about "The Power of Properly Applied Opposition Research" and forums with such titles as "How to Bring Conservative Speakers to Campus" and "So You're a Libertarian. Who Cares?" The first day of the conference will be all about activism training. Later, there will be more traditional sessions, such as "Common Core, Rotten to the Core?" and "There's No 'I' in Teamsters: Obama's Bow to Big Labor Bosses."
Later in the week, broadcasters Sean Hannity, Laura Ingraham and Mark Levin take the stage. And this year, they'll be closer to the audience. Organizers designed the podium to give the conference a more intimate feel.
The speakers almost always get a warm embrace. Aside from Bush, Paul and Cruz, this year's roster includes likely presidential candidates such as Bobby Jindal, Marco Rubio and Carly Fiorina, as well as former House speaker Newt Gingrich and neurosurgeon and author Ben Carson.
Some of the biggest names won't be announced until the conference begins. Sarah Palin regularly speaks and is a good bet to show this year. But House Speaker John Boehner and Senate Majority Leader Mitch McConnell won't attend, even though they've spoken at previous events . (Last year McConnell held a rifle over his head to demonstrate, in case you missed it, his support for gun rights.)
There's usually an electric vibe in the audience, like a rock concert, only instead of guitarist smashing his instrument, you have, say, Palin denouncing Obamacare. Unlike concerts, there's also free merch. Attendees will get PowerPoints and action kits about how to turn the speakers' ideas into reality. The only tension is whether some pols who deviate from the CPAC consensus—for instance, Jeb Bush's support of Common Core curriculum standards—will get booed.
The recrafted conference is largely the brainchild of Matt Schlapp, the new head of the American Conservative Union, which sponsors CPAC. The political director in the Bush White House, Schlapp is one of the most respected strategic thinkers in conservative politics, combining a familiarity with navigating Washington with an innate understanding of the party's activist base.
But like anyone dealing with grassroots activists, Schlapp knows that spirits can run high and disappointment can follow. Conservatives who were fired up about the Tea Party's 2010 congressional sweep were crestfallen two years later when President Barack Obama was reelected. Many thought Mitt Romney failed to present a full-throated defense of conservative values and ideas. Now, in the wake of last year's GOP takeover of Congress, conservatives hope that the right will stay fired up through 2016—and that CPAC will keep their enthusiasm burning.