The Surprising Omissions From This Year's CPAC
The Conservative Political Action Conference (CPAC) 2023 event has announced its speakers—and there are two significant omissions this year.
Neither former Vice President Mike Pence nor Florida Governor Ron DeSantis are expected to speak or attend the event, which is set to begin at the Gaylord National Harbor in Maryland on March 1 and finish on March 4.
CPAC often describes the event as being the largest and most influential gathering of conservatives in the world. A spokesperson for CPAC spoke to ABC News and confirmed neither Pence nor DeSantis would be at the event.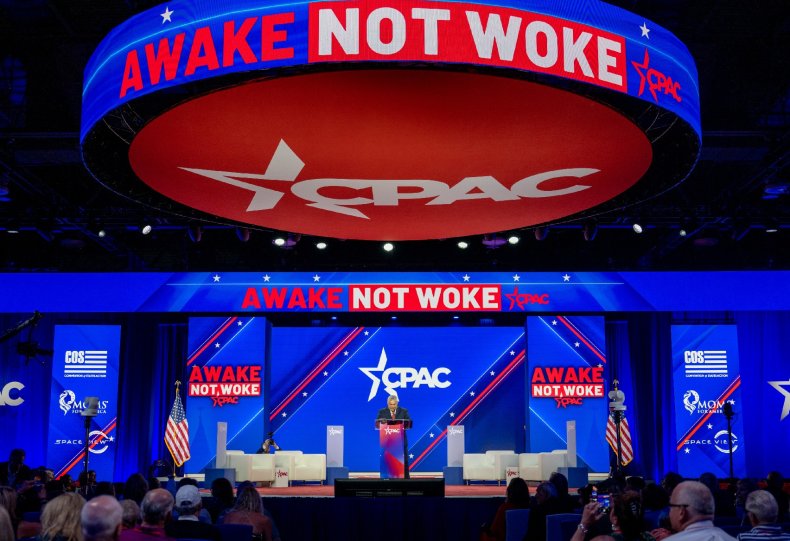 Spokesperson Megan Powers said: "It's a missed opportunity for any potential Presidential Candidate to not address the thousands of grassroots activists at CPAC this year. Luckily, CPAC attendees will get to hear from every announced Presidential candidate and over 100 premiere speakers, including over 30 elected officials."
Former President Donald Trump is expected to speak at the event. In the past, he has been critical of both DeSantis and Pence. In addition to this, former Ambassador to the United Nations Nikki Haley and American entrepreneur Vivek Ramaswamy are also expected to speak. They have both announced they too will be running for president in 2024.
In November, Trump announced that he would be running for president again in 2024, and will likely use CPAC to bring attention to this. While neither DeSantis nor Pence has officially said they are running in the election there has been speculation surrounding whether they would put themselves forward.
Most recently, Pence has admitted he is still discussing with his family whether he will run.
Rob Singh, professor of Politics at Birkbeck University in the U.K., spoke to Newsweek about Pence and DeSantis' absence and admitted he was surprised at the news.
"I can only speculate from afar, but I assume a couple of things may be in play here. First, it may well be that both DeSantis and Pence are calculating that it is better to stay away this year—partly, because of the recent controversy over the chair of CPAC, partly to allow others to deal with Trump and/or take his abuse," he said.
"They may think that staying away is preferable to getting a poor reception, or boos, at CPAC. Secondly, they may think that their time is better invested elsewhere, whether promoting the new DeSantis book or heading to Iowa, New Hampshire and South Carolina.
"Neither has announced officially as yet. They may think that, if necessary, they can attend next year, when the primaries are underway, without having lost momentum this year. Still, it is a little odd, given that so many other potential 2024 candidates are there in force."
Professor John Owens of the University of Westminster, London reflected on the reasons for their absence.
"One has to ask whether they are wary of Trump's lead in the Fox poll of Trump Party primary voters," he told Newsweek. "Of course, DeSantis has not yet declared while Trump, Pompeo and Haley have been invited to speak at the events, all of which makes the CPAC schedule a tad crowded."
Newsweek reached out to Mike Pence, Ron DeSantis and CPAC for comment.
Update 03/01/23, 8:04 a.m. ET: This article was updated with comment from John Owens.