Admittedly, CPAC is not a touchstone of mainstream Republicanism. It is a big room filled with the most activist of conservatives, which this year meant heightened levels of Trump support, election skepticism and mask resistance.
As the conference kicked off, organizers heard scattered booing at the very suggestion that the host facility required masks. But spirits quickly lifted as a litany of conservative faces and voices filled the weekend air with praise of Donald Trump, barbs against Joe Biden and clarion calls for bold conservatism as the path toward winning back the White House.
Outside the Orlando Hyatt Regency, across Republican America, voters can be found who are more ambivalent about Trump, and even a few who have never been fans. But those gathered for the former president's Sunday speech were ready for him to announce a 2024 campaign right then and there.
That was never going to happen. The 45th president will take his time pondering whether to attempt to become the 47th. But Trump made clear that along the way, he will be front and center, taking up space rent-free in the heads of supporters and critics alike.
Most in his voter base were pleased to hear his intent to stay in the fight, and relieved to hear he will not be starting a new political party, which he correctly observed would only split conservative votes, clearing the way for even more Democratic successes.
Among detractors, many Democrats mocked CPAC as a coven of crazies, continuing a campaign of stigmatizing Trump supporters as conspiracy theorists, insurrectionists and white supremacists. Those barbs are often echoed by the small but unbowed Trump-resistant wing of the GOP, which had to view the Trump CPAC appearance as evidence of their uphill climb. It will be revealing to see how effective any pitch will be from Republicans who seek to beat Biden in 2024, if Republican voters perceive them as having facilitated his win in 2020 by failing to back Trump.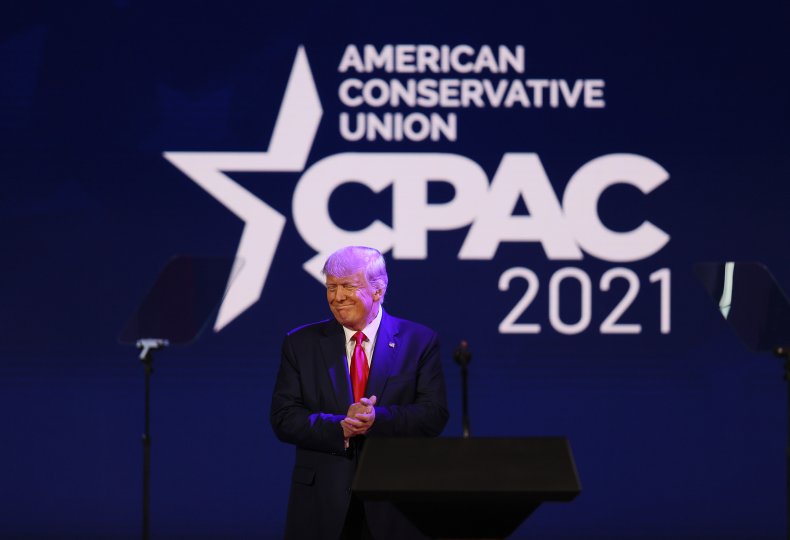 But this year and the next are bound to bring developments that will steer voter sentiment in new directions. How will the COVID drama play out? Will any foreign policy crises arise? How will the economy fare? And can Republicans win back the House and perhaps even the Senate in the midterms? All of these storylines will feature the potential for boosts or fresh challenges for Republican prospects.
This year's poll of CPAC attendees showed Trump as a prohibitive favorite if he chooses to run again. With his name removed, the favored nominee was Florida governor Ron DeSantis, whose willingness to open his state and speak out against media attacks earned him approval from Trump-loving attendees.
But the question will ultimately be: what will Republican voters thirst for as the 2024 primaries approach? Will the policies of the Biden term prod them toward the heaviest-caliber political weaponry to fight in the opposite direction? Or will they seek a more nuanced approach, sure to be offered by several candidates delivering solutions with a milder flavor and a lower volume?
Trump began his remarks with the question that will shape his future: "Miss me yet?" The obvious answer at CPAC was yes, with plenty of agreement spread across the conservative landscape. If he senses nostalgia for his leadership two years from now, and does not view any other candidate as a fitting inheritor of his legacy, a reboot is plausible. Anyone thinking his brand is forever damaged by the Capitol riot and ensuing failed impeachment forgets two things: our famously short national attention span, and the fact that claims of Trump's political expiration date came almost exclusively from people who never liked him in the first place.
So who is the leader of the Republican party today? In terms of daily stewardship of the party's agenda against Biden administration policies, it is Senate Minority Leader Mitch McConnell. If that title changes to Majority Leader after the 2022 midterms, it will add to his clout. But if fate smiles on Republicans and they reclaim both houses of Congress, and if those victories are driven by an engine of Trump-like or Trump-approved candidates, GOP voters' focus will shift away from legislative nuts and bolts toward sweeping, big-picture topics: borders, voting transparency and cultural battlegrounds like gender and cancel culture.
With those themes resonating, there will be no Republican voice more powerful than Donald Trump's, whether he chooses to run or not.
Mark Davis is a talk show host for the Salem Media Group on 660AM The Answer in Dallas-Ft. Worth, and a columnist for the Dallas Morning News and Townhall.
The views expressed in this article are the writer's own.