Law enforcement officials in Harris County, Texas, say that a manager of a Cracker Barrel restaurant was shot and killed Saturday after someone attempted to rob one of her employees.
Robin Baucom had worked at the Cracker Barrel for 34 years and leaves behind a husband, three grandchildren and three children of her own, according to a statement her family sent to local station ABC 13.
According to the Harris County Sheriff Ed Gonzalez, the suspect attempted to take the employee's purse when she arrived for work. Baucom then "opened the door to assist and let her employee in."
"The suspect then shot the manager," Gonzalez wrote on Twitter. "Our condolences go out to her family. Sad to think these victims were simply starting their day, working. Suspect(s) are armed & dangerous. Help us solve this crime and prevent suspects from hurting/killing anyone else."
When the employee arrived for work and was waiting to be let into the Cracker Barrel, a man got out of a Dodge Charger and asked if the business was open, reported Texas news station ABC 13.
Gonzalez said that at least two people were in the car and that "the possible shooter exited the front passenger side."
As Baucom moved to let the employee in, the suspect tried to grab the worker's purse, and when Baucom pushed back, the gunman shot her, according to the station. She was later pronounced deceased at a hospital.
Baucom "was always trying to help wherever she was needed," her family said in its statement. "She is our hero and we hope she will be remembered as a hero because she lost her life trying to protect her employees and Cracker Barrel. She was always taking care of business wherever she was needed. Please if you know anything, call and let someone know."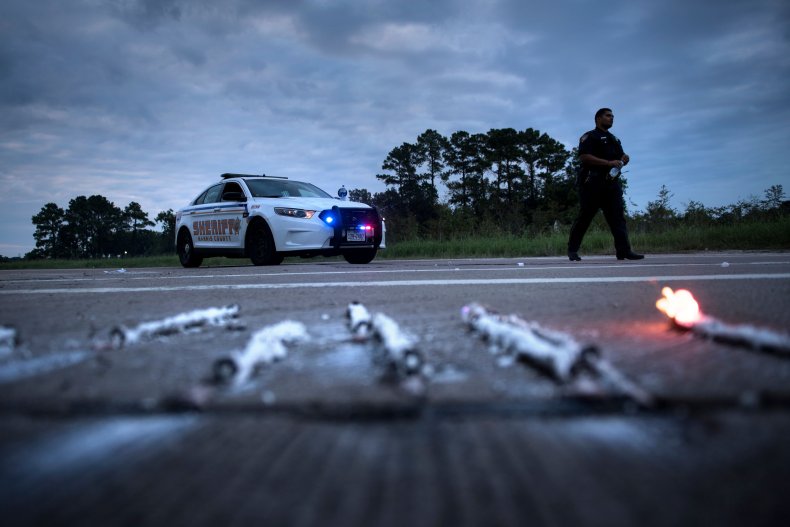 Newsweek reached out to the Harris County Sheriff's Department for details and updates about the investigation but did not receive a response before publication on Sunday morning.
In a separate case in June, a Dunkin' Donuts manager was fatally shot during a robbery. The manager, Christine Lugo, was opening the Philadelphia outlet when a man with a gun forced his way in, according to police. He demanded money before shooting her in the head and fleeing. The manager was pronounced dead at the scene.