Cracker Barrel Turns Away Church Group For 'Discriminatory Treatment' of LGBT People and Twitter Rejoices
Known for their all-American comfort food selections, Cracker Barrel is bringing a level of comfort to the LGBTQ+ community after turning away a Tennessee costumer and his "discriminatory" church group.
Knox County Sheriff's Office Detective Grayson Fritts and his church group planned to host a meeting at the restaurant June 29, but after the chain caught wind of the Fritts' plans, Cracker Barrel wanted no part in it.
Fritts, who also serves as a pastor at All Scripture Baptist, reportedly called for the arrest, conviction and "speedy" execution of those who identify amongst the LGBTQ+ community.
"Cracker Barrel is not affiliated in any way with Mr. Fritts or All Scripture Baptist and we disagree strongly with their statements of hate and divisiveness," the chain said in a statement posted to Twitter Tuesday. "We are not hosting any event on June 29, and Mr. Fritts and his group will not be permitted on site."
The statement continued: "At Cracker Barrel, we work hard to foster a culture that is welcoming and inclusive–we have a zero-tolerance policy for discriminatory treatment or harassment of any sort. We take pride in serving as a home away from home for all guests and in showing our communities and our country that the hospitality we practice is open to everyone."
"Our corporate policy strictly prohibits any type of protest or public demonstration on our property or in our stores," the statement added. "We have advised All Scripture Baptist that their event will not be allowed at Bracker Barrel."
The statement concluded: "We serve everyone who walks through our doors with genuine hospitality, not hate, and requires all guests to do the same."
Following the chain's public statement, Twitter users rejoiced in Cracker Barrel's decision to "fostering compassion and not hate" and not following the example of other restaurant chains.
"I commend @CrackerBarrel for turning away a bigoted 'religious' group who has called for the execution of LGBT people," one Twitter user noted. "Cracker Barrel will continue to be my restaurant of choice when traveling through the United States."
Cracker Barrel's stance on the LGBTQ+ community comes nearly two months after students at two universities called for fast food chain, Chick-Fil-A to be banned from their campuses for their repeated anti-LGBTQ+ views.
The chain's CEO, Dan Cathy, has previously spoken out against same-sex marriage.
"We're inviting God's judgment on our nation when we shake our fist at him and say we know better than you as to what constitutes a marriage. And I pray God's mercy on our generation that has such a prideful, arrogant attitude that thinks we have the audacity to redefine what marriage is all about," Cathy said in 2012 during an appearance on The Ken Coleman Show.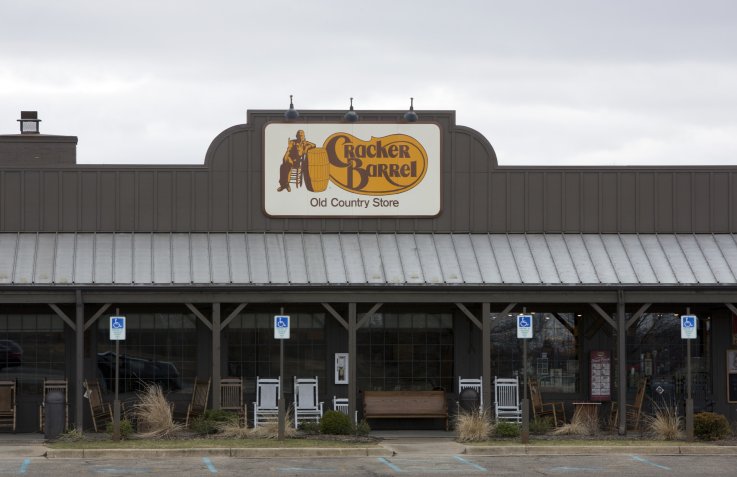 Cracker Barrel Turns Away Church Group For 'Discriminatory Treatment' of LGBT People and Twitter Rejoices | Culture