TNT Sideline Reporter Craig Sager, 65, Passes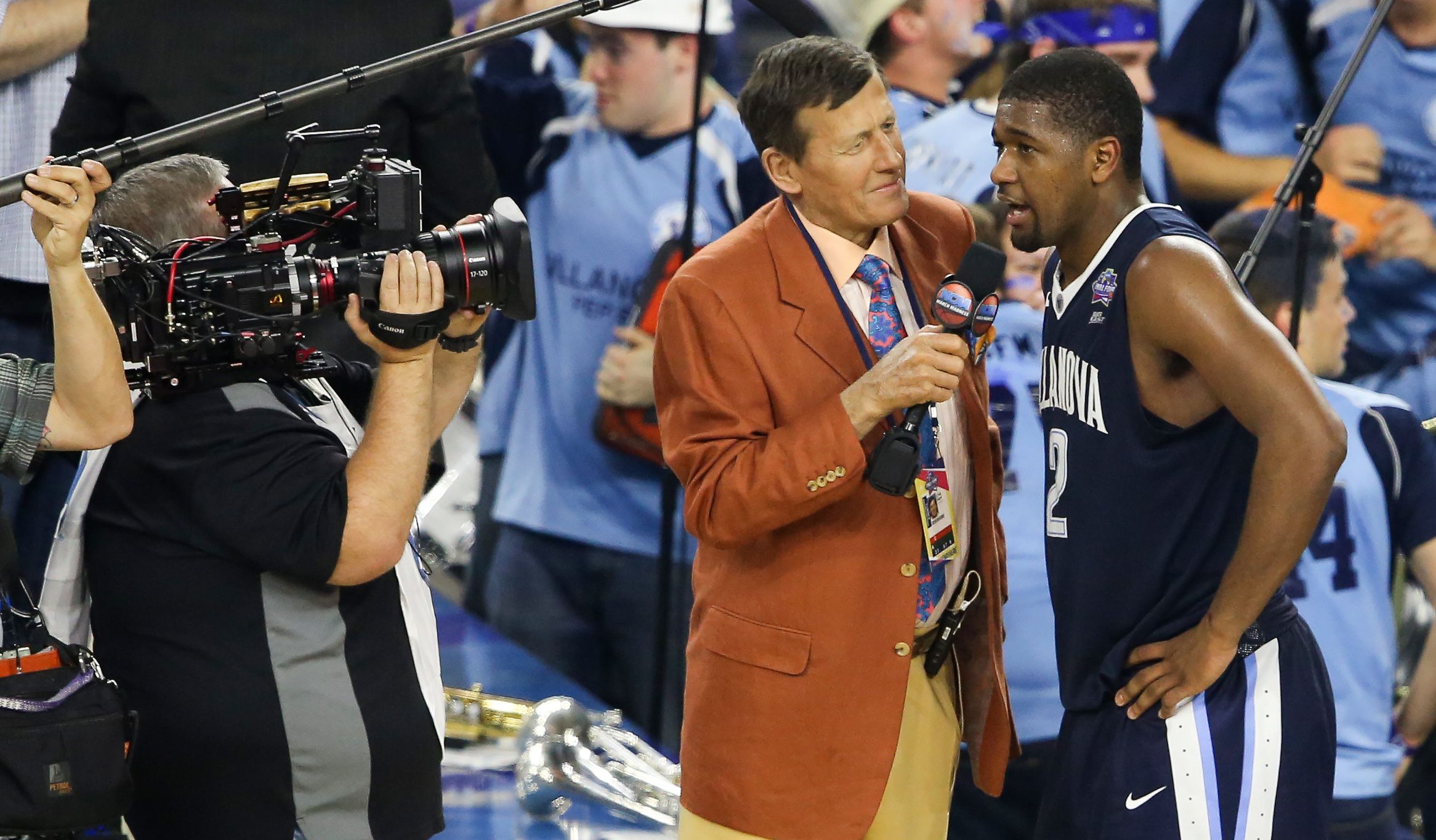 Like the polychromatic blazers he donned for every sports telecast, Craig Sager was bold and colorful. The charismatic TNT sideline reporter passed away on Thursday afternoon after a two-year battle with leukemia. He was 65.
Sager did not live life off-the-rack, in navy blues and distinguished grays. He strutted into NBA arenas like a peacock, his outlandish wardrobe opening doors with the NBA players and coaches he interviewed for decades. His was a disarming strategy designed to elicit grins of disbelief before the first question was asked. It usually worked. That he remained committed to sports coats that looked as if a Crayola box had been tossed in the microwave for the last quarter-century of his career only brought respect. Sager may have looked like a clown, but he was as passionate and informed about sports as any television reporter working today.
Related: The ESPYs proved once again that they're the only awards show that matters
A native of Batavia, Illinois, Sager attended Northwestern University, where he served as the mascot for the school's sports teams, Wildcat Willie. As a $95 per week news director at a Sarasota, Florida, radio station, Sager interviewed Henry Aaron after he blasted his record-breaking 715th career home run in April 1974. Make that immediately after. Watching the footage, you can spot Sager, just 22, in a long white coat waiting alongside Aaron's Atlanta Braves teammates at home plate.
If Sager was in need of a sartorial tutorial, he was never wanting in a lesson on how to enjoy his work. He slept in a stall alongside Seattle Slew on the eve of the thoroughbred's 1977 Triple Crown triumph at the Belmont Stakes. In 1979, he sat on a team bench during a Final Four contest until NCAA staffers booted him. That summer, he bailed out Morganna, aka the Kissing Bandit, after she was arrested for dashing onto the field during the Major League Baseball All-Star Game (he could empathize). Sager met his second wife, Stacy, while covering the Chicago Bulls during the glorious Michael Jordan era. She was a Bulls dancer who, like Sager, turned heads while working the sideline.
Sager, who lived most of his adult life in suburban Atlanta, covered eight Olympics, two dozen Masters golf tournaments and about as many Super Bowls. What he will be best remembered for, however, is his seamless and jovial work as TNT's sideline reporter for its Inside the NBA telecasts. Players and coaches alike doffed their masks around him, a display of respect that no other non-former player in that role is ever afforded. MVPs teased him—Steve Nash once stole Sager's pocket square to blow his nose, while Kevin Garnett advised "you gotta burn that suit"—but always answered his questions with candor.
That respect was both earned and reciprocated. In 1999, Charles Barkley ruptured a tendon in his left knee during a game in Philadelphia, a career-ending injury. Sager was working the game and after asking the requisite questions ("What do you think you injured?" and "Do you believe you played your last game?"), he handed Barkley a business card. "Here is Dan Levy's phone number," Sager said. "He runs Turner [Sports]. He has a job for you."
Barkley followed up on the lead and has since become a transcendent figure in sports broadcasting. There are even people who don't know Barkley was once the NBA's Most Valuable Player.
Sager's most intriguing on-air counterpart in his final decade was San Antonio Spurs coach Gregg Popovich, who is notorious for being gruff and taciturn with the media. Through the years, by virtue of his unfailing professionalism and good humor, Sager even wore Pop down. Last December, when Sager returned to cover the NBA after missing all of the 2014-15 season undergoing cancer treatments, he was greeted by an ebullient Popovich. "I've got to honestly tell you, this is the first time I've enjoyed this ridiculous interview we're required to do," Popovich told Sager on camera. "That's because you're here and you're back with us. Welcome back, baby."
Popovich then embraced Sager.
Last summer, ESPN honored Sager with its Jimmy V. Courage Award at the ESPYs. Sager, looking somewhat gaunt while sporting his rainbow-colored blazer, delivered a speech every bit as poignant and eloquent as the one a terminally ill James Valvano gave back in 1993. "What is time, really?" Sager asked after describing the route of a model train at his medical center, a circuit that lasted two minutes and 20 seconds, that Sager had taken to watching each day. "Time is something that cannot be bought, it cannot be wagered with God, and it is not in endless supply. Time is simply how you live your life."
Craig Sager brought a splash of color into every room and arena he entered. His approach to living will never go out of style.
Read more from Newsweek.com:
- Why are NBA teams reportedly abandoning Donald Trump hotels?
- 'Lose Some Weight, Baby Girl!': When ESPN Sideline Reporters Attack
- The case for why the Warriors are like the tech startup in HBO's Silicon Valley