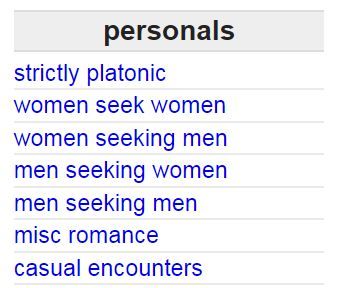 Craigslist's personals section shut down today in response to the passage of H.R. 1865, also called the Fight Online Sex Trafficking Act (FOSTA) bill, the company announced Friday.
"U.S. Congress just passed HR 1865, 'FOSTA', seeking to subject websites to criminal and civil liability when third parties (users) misuse online personals unlawfully," Craigslist said in a statement. "Any tool or service can be misused. We can't take such risk without jeopardizing all our other services, so we are regretfully taking craigslist personals offline."
Craigslist's personals section featured several categories including "strictly platonic," "women seeking women," "women seeking men," "men seeking women," "men seeking men," "misc romance" and "casual encounters." When a user clicks on any personals link now, they are directed to Craigslist's statement about the section shutting down.
The FOSTA bill easily passed the Senate with a 97-2 vote this week. Congress put some of the blame for the ongoing sex trafficking problem directly on websites like Craigslist.
"Section 230 of the Communications Act of 1934 (47 U.S.C. 230; commonly known as the 'Communications Decency Act of 1996') was never intended to provide legal protection to websites that unlawfully promote and facilitate prostitution and websites that facilitate traffickers in advertising the sale of unlawful sex acts with sex trafficking victims," the bill said. "(2) websites that promote and facilitate prostitution have been reckless in allowing the sale of sex trafficking victims and have done nothing to prevent the trafficking of children and victims of force, fraud, and coercion; and (3) clarification of such section is warranted to ensure that such section does not provide such protection to such websites."
While the decision was lauded by politicians across the aisle, not everyone is happy about the passage of FOSTA. The Electronic Frontier Foundation said FOSTA is "a bill that silences online speech by forcing internet platforms to censor their users."
The EFF, a nonprofit that defends civil liberties online, said the amendment to Section 230 is particularly worrying because it's "the most important law protecting free speech online. Section 230 protects online platforms from liability for some types of speech by their users. Without Section 230, the Internet would look very different."
Some Craigslist personals users quickly moved to other sections of the online classifieds website to rant about the section closing down while others started using other verticals for postings normally found on personals. In the rants & raves section of Craigslist NY there are several listings Friday that would, in theory, appear in the personals section including "Young Sexy Dark Black Girl Needed," "lets have fun," "sexy dress up and roleplay" and much more.
"WOW, looks like CL has closed down personal ad areas. Now where do we go if we want to find sex or whatever indulgence it is you were looking for? We need a free, easy to use, private way of connecting. Help! Let's pass the word and find a new gathering place," one user wrote.
Craigslist said while the personals section is shutting down, it may not be gone forever.
"Hopefully we can bring them back someday. To the millions of spouses, partners, and couples who met through Craigslist, we wish you every happiness," the company said.
As pointed out by USA Today, Reddit also took steps after the bill passed. Reddit said users may not use the platform to "solicit or facilitate any transaction" that involves firearms, drugs, "paid services involving physical sexual contact," stolen goods and personal information.
"When considering a gift or transaction of goods or services not prohibited by this policy, keep in mind that Reddit is not intended to be used as a marketplace and takes no responsibility for any transactions individual users might decide to undertake in spite of this," the company said in a statement.
The FOSTA bill now awaits approval from President Donald Trump.