Cranberry Juice Can't Prevent or Treat UTIs, Health Experts Say
Updated | Nothing cures a urinary tract infection (UTI) quite like a few glasses of cranberry juice—or so the old wives' tale goes. But health officials in the U.K. are the latest experts to say they aren't convinced by this claim.
A UTI is caused by bacteria entering the urinary tract (bladder, kidneys, ureters and urethra). The most common form of UTI is a bladder infection known as cystitis. Because a woman's urethra is shorter, women are more susceptible than men to the condition, and between 50 to 60 percent of women in the U.S. will develop a UTI at some point in their lives. Symptoms include a burning sensation while urinating, urinating more often and a slight fever. People with UTIs may also have cloudy urine and experience pain in the groin or abdomen.
A common belief is that cranberries contain a substance that supposedly stops bacteria from sticking to the walls of the bladder. It's one of the health claims that that cranberry juice manufacturers have pumped millions of dollars into trying to prove.
However, a public health body in the U.K. is the latest institution to question whether cranberries live up to their reputation for fighting UTIs. The National Institute for Health and Care Excellence said in draft guidelines released Tuesday that there is not enough evidence to support the advice that the juice is effective in preventing or treating recurrent infections, or "lower" UTIs that affect the bladder and urethra.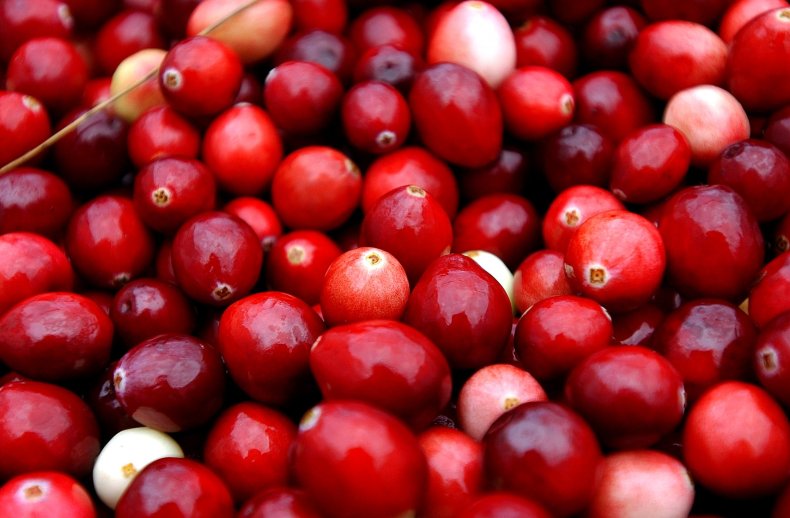 While the institute noted some evidence to suggest that cranberries could be used to prevent UTIs, specifically in patients fitted with catheters following operations, the findings weren't replicated widely enough in the general population to form the basis of health advice.
In 2012, Cochrane—a nonprofit organization that attempts to inform health decision-making—came to a similar conclusion regarding the little red fruit.
Its researchers reviewed 24 studies on cranberries and UTIs involving almost 4,500 participants. They concluded: "Cranberry juice does not appear to have a significant benefit in preventing UTIs."
Research funded by cranberry behemoth Ocean Spray studied whether cranberries can help prevent UTIs in people who report common symptoms, such as painful urination. But independent researchers couldn't replicate the same results in people confirmed to have bacterial infections, not just symptoms, Ruth Jepson, who was involved in the Cochrane study, recently told The Washington Post.
Last fall, Ocean Spray tried and failed to gain permission from the FDA to advertise that its products reduce the risk of recurrent urinary tract infections in healthy women. A spokeswoman for Ocean Spray claimed the relationship between eating a cranberry product each day and the reduced risk of recurrent UTI in healthy women was "well-supported."
She added: "This claim [Ocean Spray's FDA application] is currently under review for a qualified claim, which is typically the type of claim made on natural food products. For example, tomatoes, olive oil, green tea and walnuts have all received qualified health claims."
Plenty of water or fluids, painkillers and, in more serious cases, antibiotics were found to be the best method for fighting a UTI, according to the U.K. institute. It plans to publish its final advice on June 5.
This piece has been updated with a comment from Ocean Spray.