One Dead, Three Injured as Crane Falls in New York City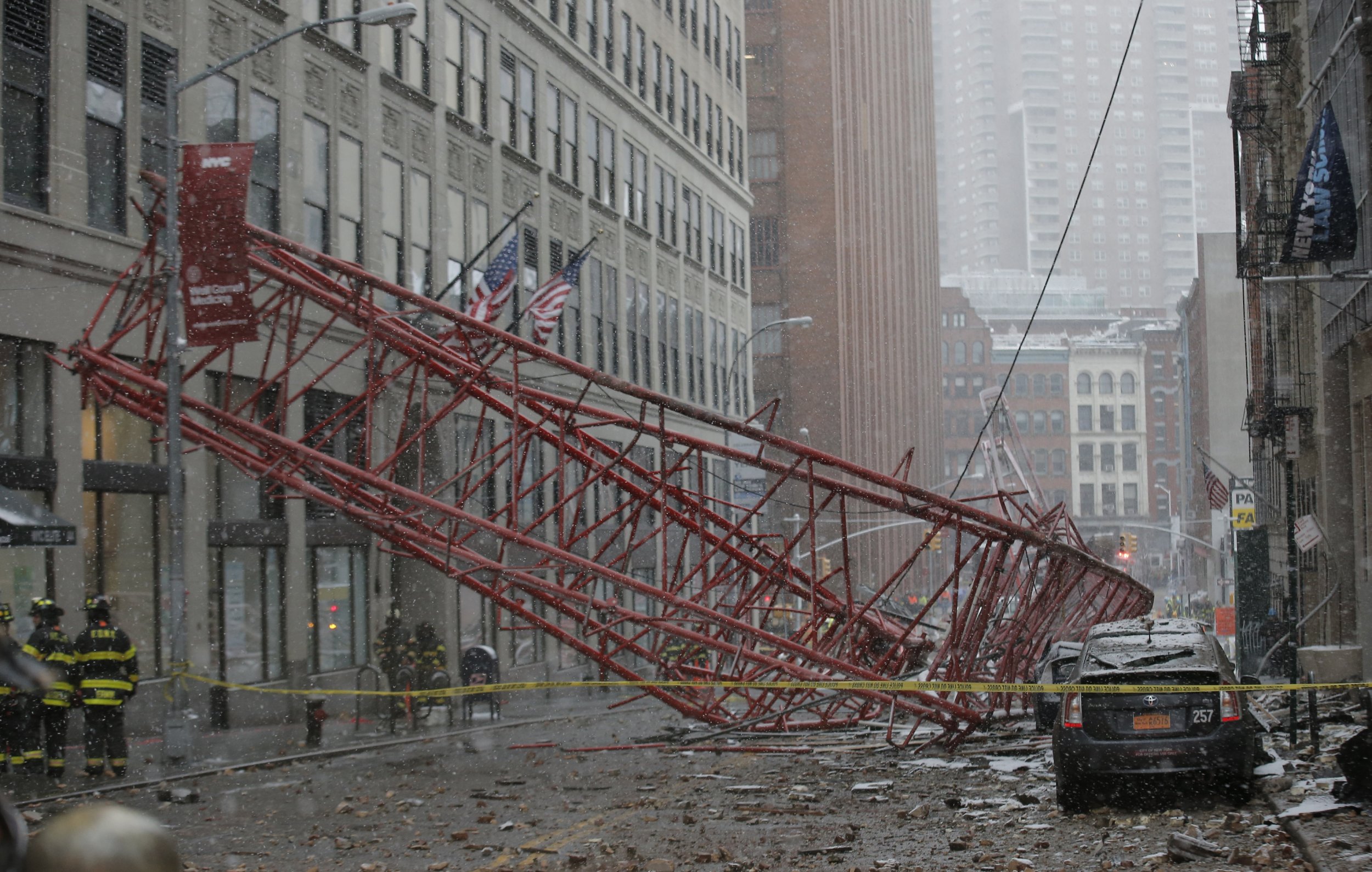 Updated | Two people were seriously injured and one was killed when a crane collapsed in lower Manhattan on Friday morning, the New York City Fire Department said.
The reason for the crane's collapse at the intersection of Worth Street and West Broadway is not yet known. The crane was last inspected on Thursday morning by the Department of Buildings and was determined to be "in full compliance," the mayor's office said in a statement. It was being used to replace air conditioning units and generators on the roof of 60 Hudson St.
The deceased was identified by the NYPD as David Wichs, 38, a resident of Manhattan's Upper West Side. A 45-year-old female victim sustained leg and head injuries and is being treated at Beekman Hospital. A 73-year-old man is being treated at Bellevue Hospital for a head injury. Both are in stable condition and have not been identified. A fourth person, also not identified, sustained a minor injury, the nature of which was not made public.
Cars parked on the street where the crane crashed down were crushed during the incident. Over 140 firefighters and emergency medical personnel were on the scene to investigate.
Nearby buildings did not sustain any structural damage when the crane fell, but about 100 people were left without water service as a water main in the area had to be turned off and an unspecified number were left without gas.
Public transportation was also affected, as several subway stations had to be closed, and vehicular traffic was banned in the area.
"Crane safety is a crisis, but the City has not treated it like one," Comptroller Scott Stringer said in a statement after the crane collapse. "There have been at least four significant crane collapses in New York City in just the past two and half years and yet dangerous, life-threatening conditions still exist. When cranes collapse, it shakes everyone's confidence that we live in a City where people can feel safe and build their families and businesses."
This story has been updated to include new information about the incident.