'Crash Bandicoot 4: It's About Time' Is Coming to PS4 and Xbox This Fall
Crash Bandicoot 4: It's About Time has officially been revealed, and it's coming to PS4 and Xbox One on October 2. The upcoming game is sure to bring with it all of the precise platforming, memorable characters and cartoony goodness that fans of the series have come to expect, all courtesy of Activision and Toys for Bob.
It's been more than 10 years since the most recent entry in the Crash Bandicoot franchise, and this one picks up after the end of 1998's Crash Bandicoot: Warped, with Doctors Neo Cortex and N. Tropy stranded on a distant planet. After decades of failed attempts to leave, the diabolical villain squad finds a way home by tearing through the fabric of time. This sets a course of events in motion in which the iconic evil scientist once again vows to crush the dastardly marsupial.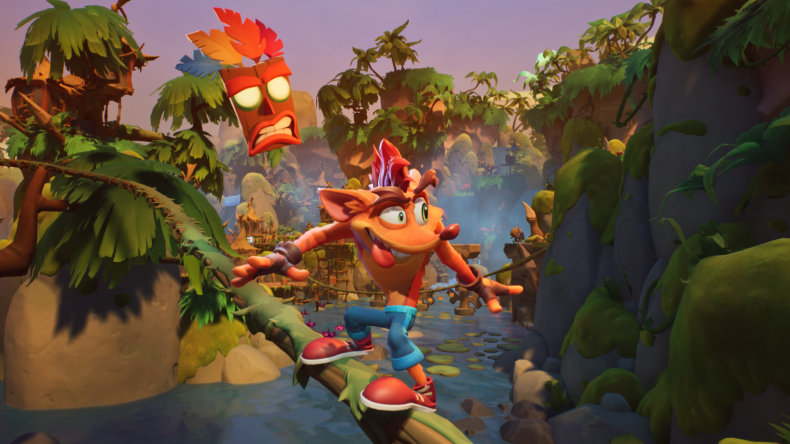 With regard to its base gameplay, much of the core of Crash Bandicoot 4 remains as fans would want it. The trailer features colorful linear environments littered with enemies, pits, Nitro Crates and other hazards. In fact, even the gimmick-based levels (like the dino-chase sequences and jet ski rides) are making their triumphant return, with an all-new graphics style befitting current-gen hardware.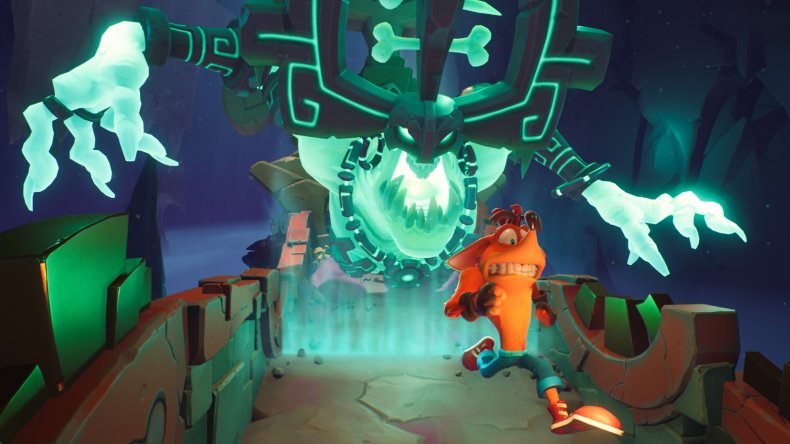 And while a collection of entirely new levels would be nice enough, It's About Time takes matters one step further by introducing a fresh mechanic called Quantum Masks. When worn, these special power-ups give Crash a suit that imbues him with unique abilities not possible in previous games.
The Time Mask briefly slows down sections of the level, for example, while the Gravity Mask flips Crash upside down so he can walk on the ceiling. These changes, obviously, open up new gameplay opportunities. While old-school Nitro crates used to mean instant death, the Time Mask offers a last-second opportunity for escape. If you're having trouble with a specific cluster of foes, just use the Gravity Mask to walk above them.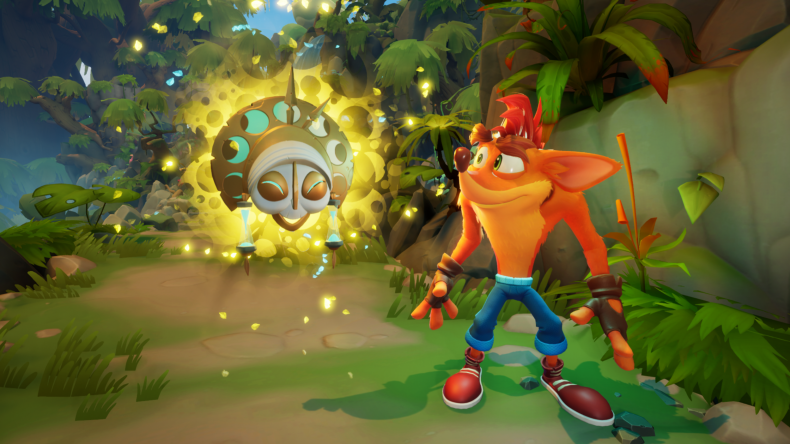 Also new is the ability to play as Cortex for the very first time in the main series. In contrast to the standard platforming Bandicoots, our villain features his own unique mechanics, such as an added dash and the ability to turn enemies or hazards into static or bouncy platforms. This introduces a puzzle-like element to existing maps while possibly making more challenging ones a bit more bearable to complete.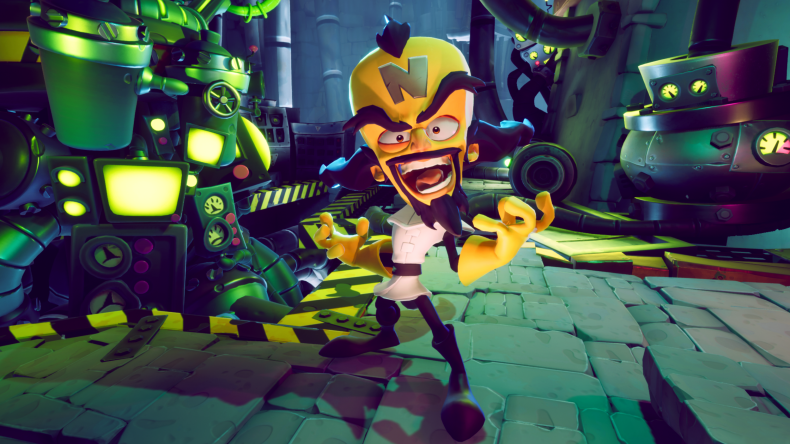 This air of classic accessibility trickles down to the game's two distinct modes as well. Retro Mode offers the traditional fruit collecting, live counts and game-over screens that longtime fans remember, while Modern Mode makes things a bit more of a splatformer, with an unlimited stock of lives and an ever-accruing death counter. In that mode, special gems will be awarded to players who make it through tough levels with a small amount of deaths. Whether playing in Retro or Modern varieties, the previously freeform warp zone model has also been swapped out for a linear level map that helps developers craft challenge curves more deliberately. Measures like these prevent some of the odd difficulty spikes some may have encountered in the remastered N. Sane Trilogy.
Above all, the game's developers just want fans to know that It's About Time is meant to be a love letter to Crash's passionate and growing legion of fans. "Crash Bandicoot 4: It's About Time stands on the shoulders of the core precision gameplay we all fell in love with in the '90s," said Paul Yan, Co-Studio Head at Toys for Bob. "This epic new adventure spans space and time, introducing new ways to platform that both long-time fans and new players alike will enjoy mastering. Get ready to fall in love with the mutant marsupials all over again!"
Crash Bandicoot 4: It's About Time will be released October 2 on PS4 and Xbox One.
Are you excited for Crash Bandicoot 4? Which of the new features do you want to know more about? Tell us in the comments section!