'Crash Team Racing Nitro-Fueled' Plagued By Online Issues at Launch; PS4 Fix Already Pushed Out
Day one issues are common for new video games, but those who were hoping to play the remake of Crash Team Racing with friends online were disappointed that it simply wasn't working.
According to many users - as well as our own experience - playing online has been a bug-filled slog.
A Reddit thread posted in the early hours of Crash Team Racing's launch highlights some of the recurring issues. Players reported that character models were not synchronizing with the mini map, and players would drop out of games at random causing the only remaining character to win first place.
Our own experiences with online include having characters "blink" in and out of the game, which caused your position to change randomly during a race.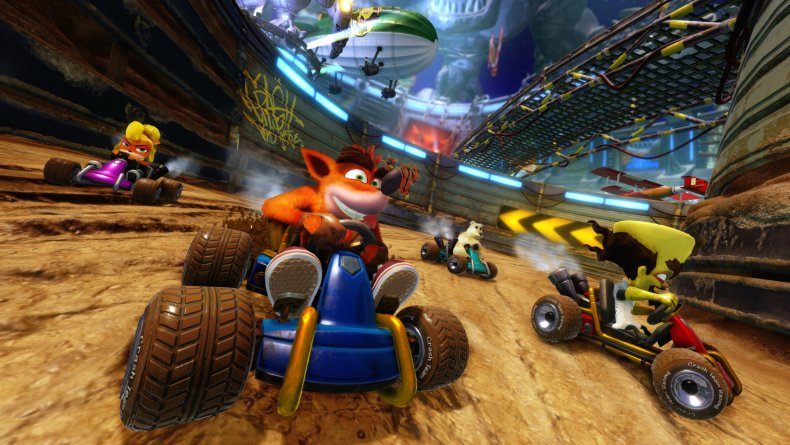 Beenox, the studio behind Crash Team Racing: Nitro-Fueled, took to Twitter early Friday to give players an update on the online experience.
"As CTR Nitro-Fueled launches globally and our online service is ramping up, we are monitoring feedback and making adjustments to the game. An immediate fix is in the works to address the online multiplayer experience. We appreciate your patience and we will keep you posted."
Beenox would give another update Friday afternoon to say that an update has been pushed out for PS4, which has seemingly resolved the online issues. However, those playing on Nintendo Switch and Xbox One are still waiting for their own fixes.
We'll continue to update this story as more updates for CTR are pushed out on the other platforms.
Newsweek's Rocco Marrongelli gave the new CTR an 8.5 rating for the Nintendo Switch saying, "CTR is a kart racer that keeps you guessing with its explosive antics and zany gameplay. But long load times and tricky controls can put the brakes on the fun right away. You will have to spend a little more time with this racer, really digging into the levels to unlock and explore even more ways to play and defeat your friends."
Crash Team Racing Nitro-Fueled is available now for PS4, Xbox One and Nintendo Switch.
Are you still experiencing online issues with the new CTR? Let us know your platform and specific issues in the comments section below.