Crayola Worker Shows How They Make Iconic Crayons in 'Satisfying' Video
Crayola produces almost 3 billion crayons every year, and has made no secret of just how it does it. In fact, with its Crayola Experiences across the U.S., visitors are able to watch them being made in a workshop.
For those not able to attend one of the experiences, or perhaps a little above the age range, former Crayola employee Sarah Richman has shared the process online, amassing over 700,000 views and 170,000 likes on her TikTok video.
Richman worked as a Crayonologist at the Crayola Experience in Plano, Texas. Crayola Experiences are activity places where children are able to meet Crayola characters and play in activity studios, among other things. Richman worked in the crayon factory show, where visitors watch the crayons be made, guided by animated crayon characters and a resident Crayonologist in a "live theater show."
"Here's to me making my 375,000th crayon," she captioned the post, along with the hashtag #lastdayofwork.
In the video, Richman began by giving a thumbs-up in the mirror while in uniform, before getting to work. After turning on the machines and pipes, she showed the melted red wax mixing in a large container before being poured into a bucket via a tap. Crayola wax is made from paraffin wax and color pigment, and is heated to 170 Fahrenheit in a "kettle" machine.
Next, the wax was captured being poured into the metal moulds, where it was then left to cool. The wax takes around four to seven minutes to solidify.
Richman proceeded to scrape away the excess wax by hand, before using the machine to scrape off the rest. According to her comments, the leftover wax is ergonomically re-melted and used for a later batch.
The last clip showed the final product in the traditional shape, the Crayola product we all recognize.
"It is fantastic," said Richman in a comment about the wax smell in the workshop. "But I can barely smell it anymore."
Smell isn't the only sense the crayon-making process hits, as further videos by Richman show the wax making an intense bubbling noise as it trickled down the metal mould—something viewers dubbed "satisfying."
"Anyone else feel major satisfaction when the last part on the bottom right was covered?" asked one TikTok commenter.
Some viewers recalled seeing the process of crayon-making on an episode of Mister Rogers' Neighborhood. The episode aired in 1981, but the process doesn't seem to have changed all that much.
"We found it. The coolest job on earth," commented one TikTok user.
"What criteria do I need for this job," asked another.
One viewer even dubbed the behind-the-scenes peak into crayon making as "God's work."
Newsweek contacted Sarah Richman for comment.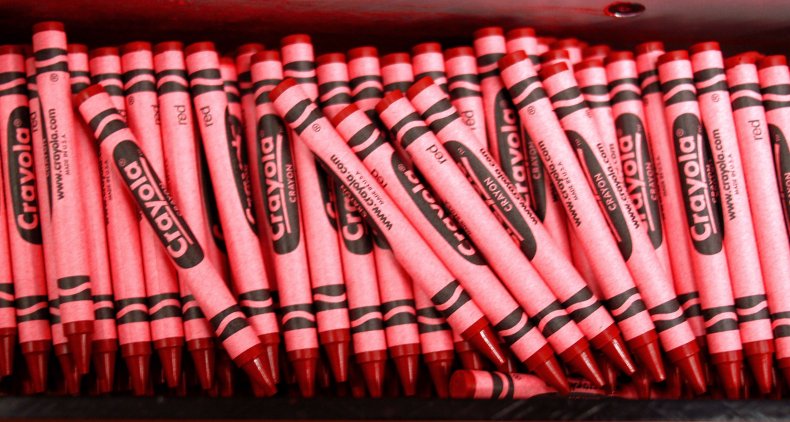 Correction 7/8/21, 11:11 a.m. ET: This article was updated with a correction of Crayola crayons' melting point.