'Crazy Delicious' Judges and Host: Who Are Carla, Heston, Niklas and Jayde?
Netflix viewers have put Crazy Delicious squarely into the streamer's top 10 chart. Though judges Heston Blumenthal, and Niklas Ekstedt are well-known in food circles in the show's native U.K., many U.S. viewers will be meeting them and host Jayde Adams for the first time. Fellow judge Carla Hall, however, may be recognisable to fans of American cooking competition shows.
Who are the judges on Crazy Delicious?
Heston Blumenthal
One of Britain's most famous chefs, Heston Bluementhal, 54, is the proprietor of The Fat Duck, a restaurant that was named the world's best in 2005 and is one of the few in the U.K. to have three Michelin stars.
He became known for his experimental flavours, with his recipes like bacon and egg ice cream and snail porridge becoming a punchline for many tabloid writers. From this notoriety, however, Heston was able to build a career for himself as a TV chef, famed for creating exactly the kind of fantastical dishes the contestants of Crazy Delicious are trying to make.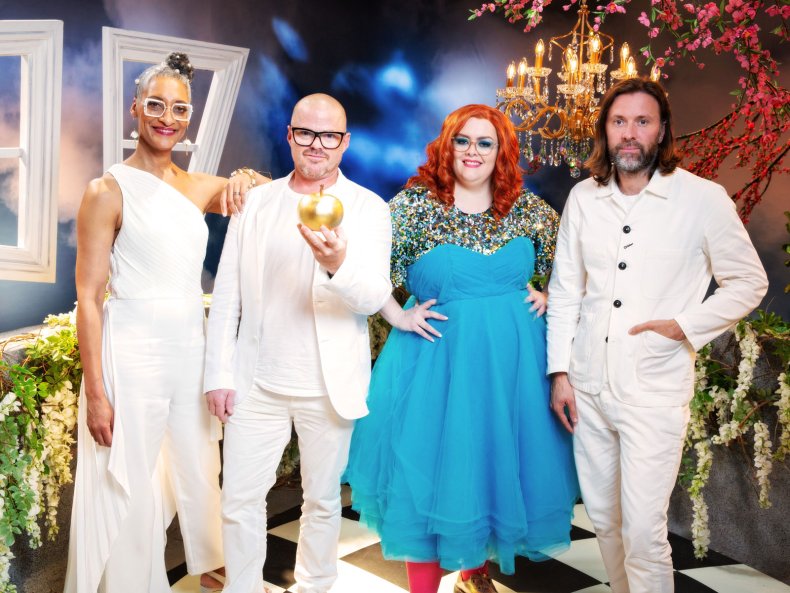 Carla Hall
U.S. food fans may already know Nashville-born chef Carla Hall. She was a runner-up on the 2008 season of Top Chef: New York, and then took part in the 2010 All-Stars edition of the show. The following year, she started co-hosting ABC's food-based talk show The Chew.
Though her Kickstarter-funded restaurant in Brooklyn closed after a year, she has developed a media career for herself which including appearances as herself in BoJack Horseman and General Hospital.
Niklas Ekstedt
Ekstedt is a Swedish chef, who has owned several acclaimed restaurants in his native country. These include Niklas in Helsingborg, Niklas i Viken in Viken, and Restaurant 1900 and Ekstedt, both in Stockholm. He is also a TV chef in Sweden, where he presented Mats ("Food" in Swedish) and other shows. American food fans may have seen Ekstedt in his stint presenting New Scandinavian Cooking.
Who is the host on Crazy Delicious?
Jayde Adams
U.K. stand-up comedian Jayde Adams has been seen on a number of British comedy shows, including 8 Out of 10 Cats, Red Nose Day and Say Whaaat?, while American viewers may have seen her on NBC's Before the Morning After and Amazon Prime Video's Good Omens. Starting her career as an Adele impersonator on the U.K.'s drag scene, many viewers of Crazy Delicious have been drawn in by her flamboyant fashion sense.
Crazy Delicious is streaming now on Netflix.