Netflix's latest true-crime drama follows the unrelated mistakes of two strangers and a double-sided scandal that rocked the entire Massachusetts legal system.
It's no Making a Murderer, given the clear culprits. But it's a true-crime series that's just as unbelievable. So if you're looking for something else to binge, give How to Fix a Drug Scandal a try.
The four-episode series, which was released on Netflix on Wednesday, comes from filmmaker Erin Lee Carr (also known for HBO's 2019 documentary At the Heart of Gold: Inside the USA Gymnastics Scandal). It largely centers on Sonja Farak and Annie Dookhan, two Massachusetts drug lab chemists with futures that looked promising—that is, until they made dire, somewhat opposing mistakes that ended with the dismissal of over 35,000 legal cases.
Farak and Dookhan's jobs sound straightforward. They were each responsible for testing confiscated drugs and sharing their findings in court. But both women's test results, which helped land thousands of people in prison, were compromised. Farak was high for most of her Amherst Lab career, while Dookhan lied about testing every sample—in reality, she tested only a fraction of the samples that she claimed to.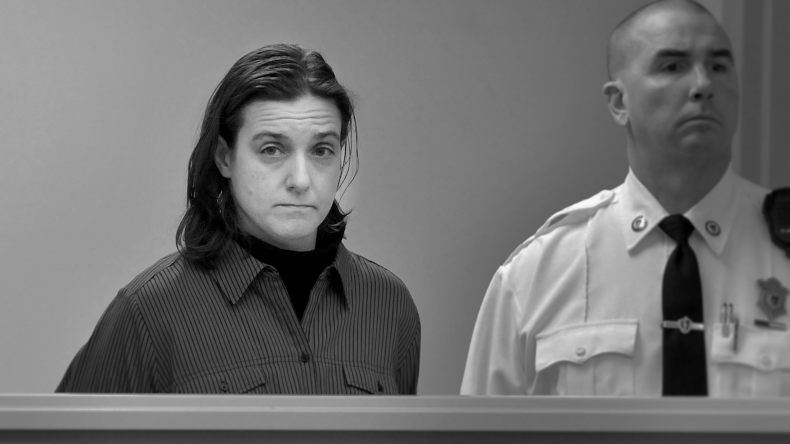 Dookhan was arrested in 2012, just six months before Farak was arrested in 2013. The segments focused on Dookhan explain that her much-applauded work ethic at the Hinton Drug Lab was really just "dry labing." This means that instead of testing individual substances as required, she'd gather a handful of cases—around 13 or 15—and eyeball the substances altogether. It's the reason that she performed astoundingly well compared to her colleagues, who tested substances at an average rate.
Farak, on the other hand, developed a serious drug problem on the job. For years, she used the Amherst lab's already-tested drugs—including liquid methamphetamine, cocaine, LSD and crack—to cope with her personal problems, like a lack of energy that seemed to stem from long-term depression.
The series jumps between Dookhan and Farak, and eventually explores a possible coverup involving the Massachusetts Attorney General's office. It's revealed in the doc that Dookhan had a personal relationship with prosecutors, and a vocal bias to please the state. We learn that Dookhan often exchanged emails with the AG's office in which she clearly saw herself as part of their team, and not as an unbiased party. It also seems that occasionally the AG's office would imply via email that Dookhan should help convict a suspect with her drug-lab findings.
As for the AG's office's connection to Farak: The doc raises questions about whether the state withheld evidence from Farak's 2014 conviction after she was arrested for cocaine possession—evidence that could have helped free those wrongfully convicted under her watch.
How to Fix a Drug Scandal relies heavily on the testimonies of attorneys and journalists to recount its events. Farak's family members are interviewed, too. Her own words are featured in a recreated court scene that speaks to just how vulnerable she was, and how willing she is to admit her wrongdoings. Video footage from both court cases is included briefly, but much of what we see is creative interpretation.
For this series, the draw is its story. One of the main subjects was a cheating all-star, not really doing all the work she was heralded for doing. The other subject was high while she tested substances. Both compromised the legality of their findings.
And, as we see in the doc, their individual arrests brought tens of thousands of convicted cases back into the public eye through bystander outrage. In April 2017, 21,587 cases were dismissed because of Dookhan's involvement, according to Bustle. In 2019, the Boston Globe reported that over 24,000 charges from around 16,000 cases were dismissed due to Farak's involvement. How to Fix a Drug Scandal reveals that, actually, all of the cases Farak worked on were dismissed.
That's when the scope of Farak and Dookhan's actions—and the alleged corruption of the AG's office—becomes clear. The doc makes sure to highlight the lack of initial transparency from the AG's office, who apparently tried to bury some of Farak's paperwork—like candid admissions of drug abuse to her therapist. This directly contributed to an almost-six-year prison term for one inmate, whose attorney was denied access to that information before his client's trial.
It's been argued by organizations like the ACLU and the Innocence Project that that qualifies as withholding evidence. There are still ethical questions surrounding the AG's office's conduct because they did hand over some of Farak's paperwork when asked, but the documentary makes it clear that not every helpful piece of information was included with what they turned over.
In How to Fix a Drug Scandal, Carr offers a look at a state-wide broken system. Viewers can decide for themselves whether or not they think the Massachusetts AG's office was irresponsible—if they tried to cover up Farak's wrongdoings, and if those convicted because of Dookhan and Farak's tests should be freed because of the chemists' crimes.